November 2015
Okie dokie, as promised last year, I'm going to dive right in with a job update, since it's long overdue. A lot has happened since September!
Right after returning from our trip to Canada, I got hired by The Container Store for part-time seasonal work through mid-January. They did not have any full-time openings so I'm stuck with as many hours as I can get. However, they won't schedule for more than 5 hours at a time, which is good and bad since it gives me some income, but not enough to live on. The Shack isn't giving me a good amount of hours either, so between the two I'm still basically only working part-time.
At the end of September, I heard back from Moravia, a translation company where I had applied for a position as a Solutions Architect. They told me that they had offered the position to someone more experienced, but they really want me to work there and will keep their eyes open for a more suitable position. I was actually relieved to hear this because the more I thought about it, the more I wasn't sure that I was going to enjoy the traveling for work. It didn't sound like a lot, but I could see it interfering with all sorts of other things.
So, turned out that they were creating a brand-new position called Solutions Content Coordinator, which is one level below the Solutions Architect and would involve creating, maintaining and organizing marketing and proposal content. So it would entail developing proposal templates and frequently-used content, combining data from the sales and solutions teams to build proposals for prospective clients, editing their content as necessary, and maintaining a centralized library of documentation and content. Right up my alley!
I applied for the position the same day and a month later, I was offered the job! I accepted and begin on November 30th. It's work from home, the sales and solutions teams are all in the US, great benefits, great pay, and opportunity for bonuses. I can't wait to start down this new path and feel like it's just perfect for me because I can still apply my knowledge of the translation industry while at the same time be more of a technical writer than engineer.
In other October news, the hockey season started and we once again got a partial game plan for the Colorado Avalanche. We attended the home opener against the Minnesota Wild and it was pretty embarrassing. We'll see how this season plays out but that was not a good start at all! In addition I went to see the musical If/Then and OMG if you have the chance to see it, go to it! It's about life choices and it really hit me hard at this time of my life for obvious reasons.
In addition to my two jobs, I also signed up to become a volunteer for the Wild Animal Sanctuary! It's something that I've been meaning to do for some time now and I finally stopped feeling guilty about not doing it and, well, did it! I attended volunteer orientation and training and have my first day scheduled for early November. There are two main areas between which volunteers alternate: Animal Care (which is basically preparing their food) and Education (being on the guest walkway educating people and ensuring that they have a good time and behave). Every time I go there I just smile from ear to ear and am so happy there, so in addition to being a donor for years now, I definitely feel good about giving back to this wonderful place. One day I hope I can meet the founder, Pat Craig!
Anyway, that's the big October update. In my last update I had shown you most of our Canadian trip in September, so here is our last stop, Québec City, which was my favorite. It totally feels like you're in France in that city, between the architecture, food, and language. I was getting very comfortable speaking French by the time we left!
We spent the entire time in the old city, which dates back to the 1700's and is just too adorable. I loved the old stone houses, the little balconies, and the narrow streets.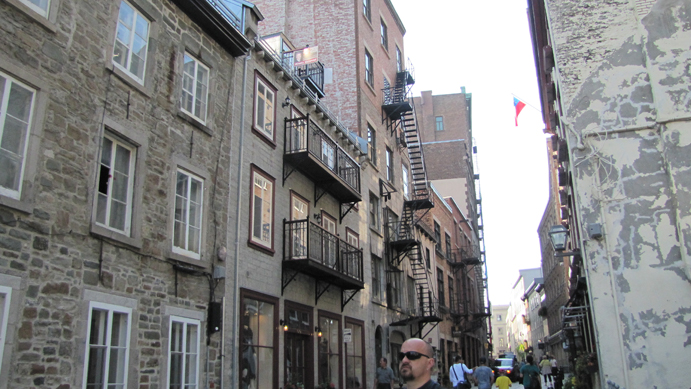 Here's a mural along the side of a huge building displaying Québec's heritage and pastimes.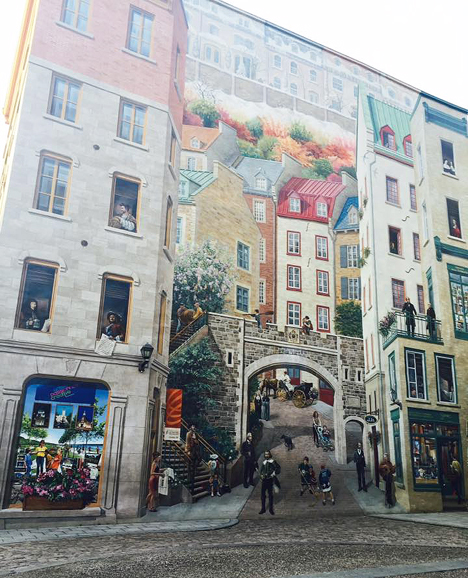 How adorable is this!? This is a restaurant called "Le Lapin Sauté" or The Leaping Rabbit!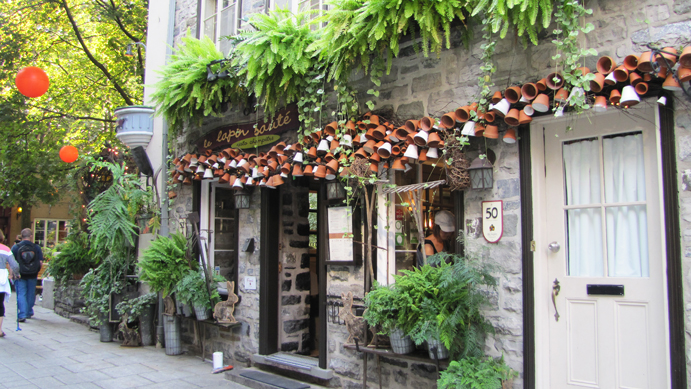 Here is the whole troupe--Leah, JC and Joyce--on one of these quaint streets filled with shops. The "Cochon Dingue" restaurant behind us was just too cute. It means Silly Pig.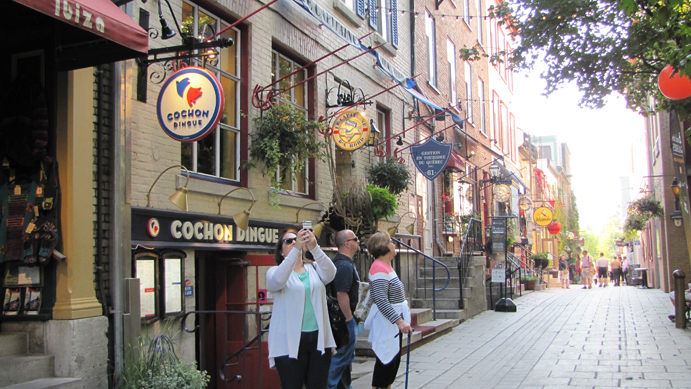 A gorgeous view from the street of the Château Frontenac on the hill, another street of old buildings, and a little bit of the fortress wall on the bottom right.
Then we took the Hop On/Hop Off bus to see some other areas of the city. This is an old house converted into a night club in a posh area of town. Madonna and other celebrities party here.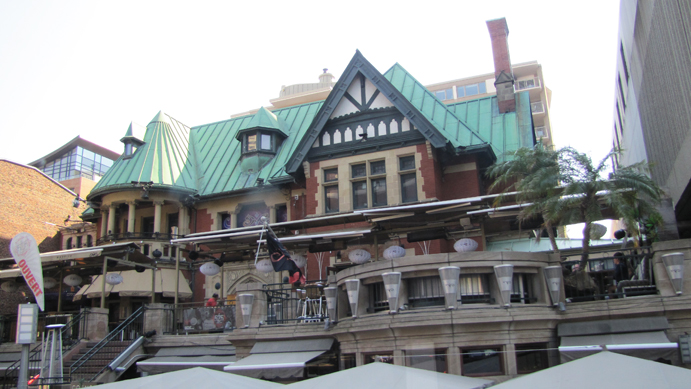 The view of the main downtown area of Québec from the park.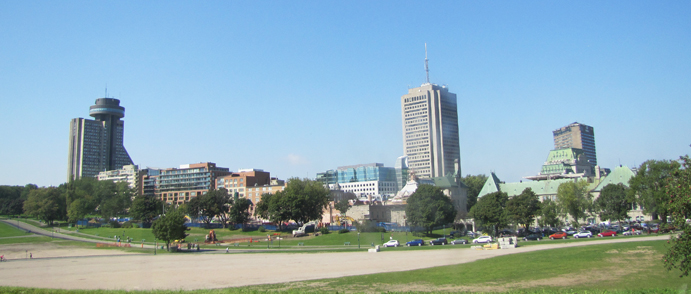 This street, forgot its name, is another really nice renovated area of town and they have these huge lanterns hanging over the street that light up at night.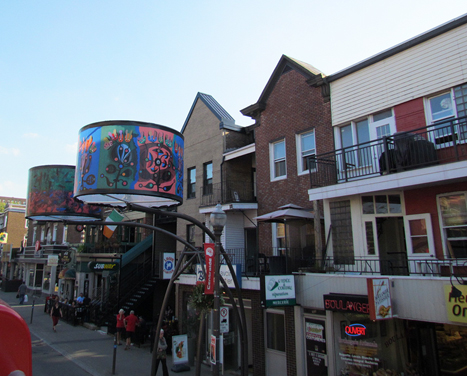 Me with the largest cup of coffee I've ever had. Kick ass.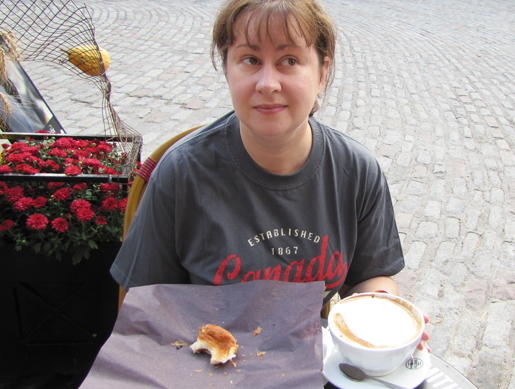 Ascending the Funicular in the old city to get to the Château Frontenac on the hill.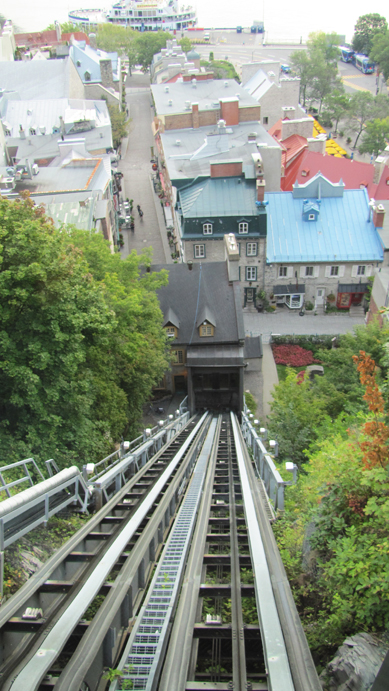 One of the routes for the bus was to Montmorency Falls just outside of town. It was rather pretty but there was nothing to do there other than walk up and over the falls. We did not venture down the staircase on the right, though!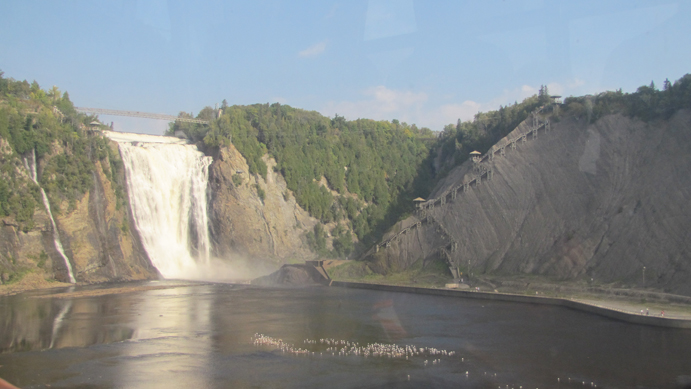 Back in old Québec, a view of one of the old fortress gates. I love when old fortress walls are preserved!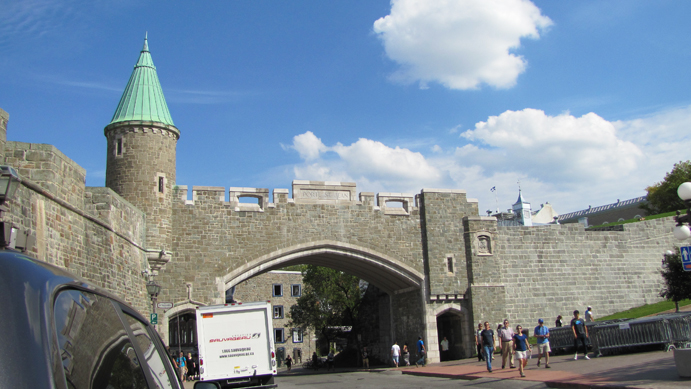 Lastly, the elusive Campbell's and pigeon statue. It was difficult to get a photo of while we were on the bus because of trees and we couldn't get close enough to it for a clear shot. However, on our last night in town, it was late and dark and we decided that we just wanted to get some pizza or something fast to eat before bedtime. We ended up walking a very long distance to arguably a very good pizza place, and lo and behold! The pigeon statue was right there. Score!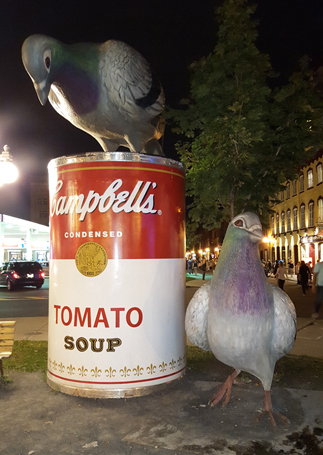 Here comes the big 40!