October 2016
OK, so you think the only trip we took in September was to Portland? Wrong! Of course, you know I like to turn-and-burn my vacations. I was home for two solid days before flying out again, this time to LOVELY DC to begin my Annual Beaver Sisters' Reunion! This year, we shifted from spring to fall to take advantage of the beauty that is our old stomping ground, where it all began, our alma matter, PENN STATE!
I flew in late Thursday night and Steph graciously picked me up and let me crash at her place...the four hours of sleep that we got before we had to get up to pick up Dana and then drive 2.5 hours to lovely State College on Friday. It was a fun drive as we got to catch up and talk about all sorts of stuff. That afternoon, we all got massages and hung out in bathrobes at a nearby spa. Then we went to bed at like 8:30, cause that's how we roll.
Lisa and her crew (husband and two boys) arrived that night, but we met up with them Saturday morning, along with Angelina and her boyfriend Chris who drove down. Finally, the whole group is back together, and then some! We began the official reunion day with a yummy lunch at Baby's, known for amazing burgers and fries.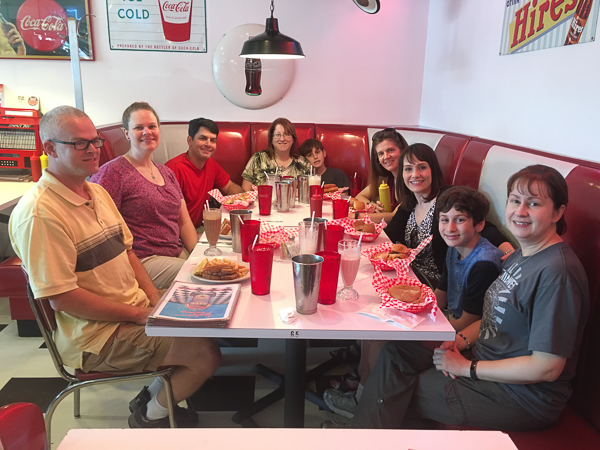 Next we did some shopping for PSU swag before walking on campus and checking out Beaver Hall, the residence hall where all five of us met. (I bet you were wondering where we got the 'Beaver' in 'Beaver Sisters' Reunion', eh?)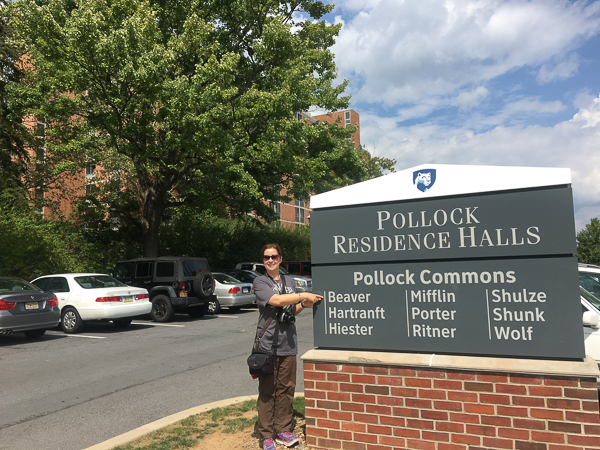 Here's the five Sisters and two nephews. Half of us snuck inside the building to get photos of the third floor where we lived. When we were there, it was the International Languages Hall, full of people either learning languages, or foreigners. It was a great floor, full of diversity and lots of different cultures. It's hard to say if it's still there because all of the beautiful colors on the walls, the globe mural in the study room, have been painted asylum white. Charming.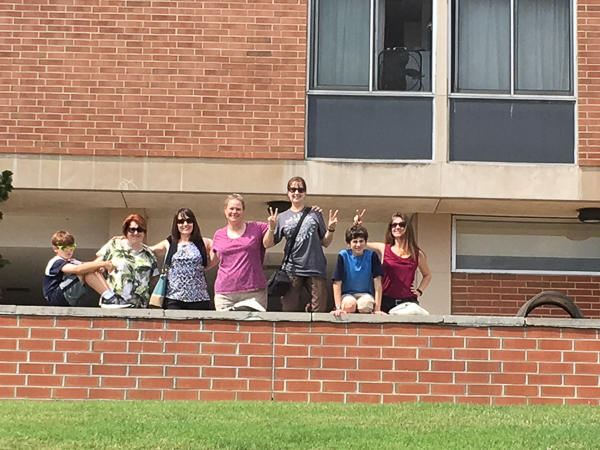 My attempt at an artistic photo.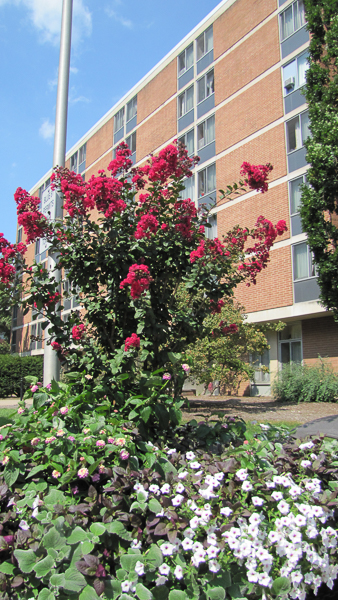 After splitting up for a bit and roaming all over the place, we reunited in the HUB, which is the main social gathering spot. It contains the campus bookstore, lots of eateries, rooms for studying, and offices for some clubs and groups. I hadn't seen these gorgeous murals before, focusing on all that Penn State is known for.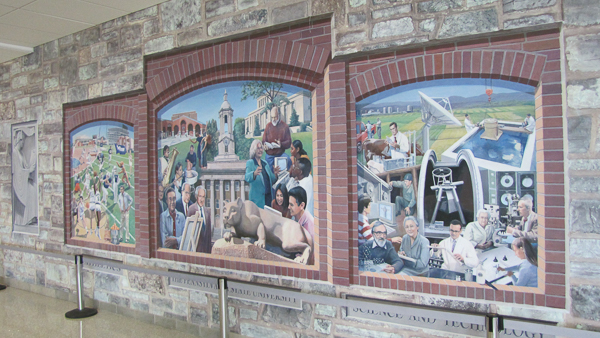 The most iconic building on all of campus, Old Main.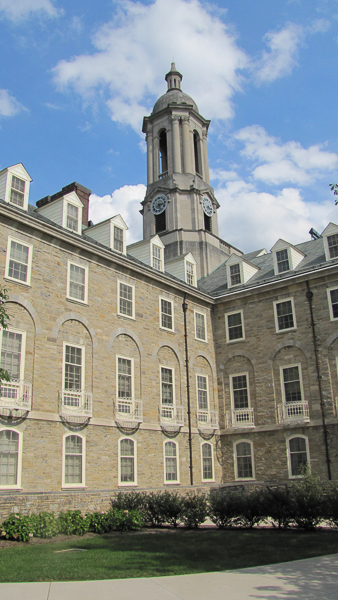 Another artistic photo. I think that's the Earth and Mineral Sciences Building. Clearly I never went in there.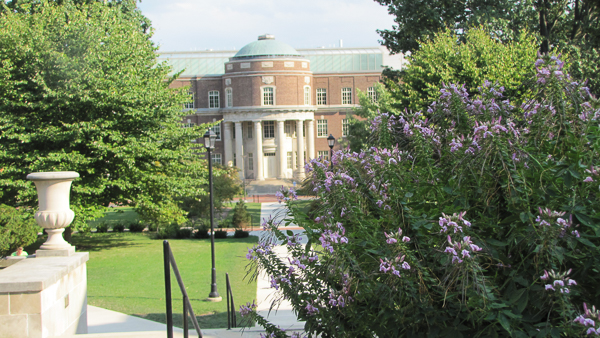 Then we decided to 'kick it old school' and have dinner in the dining hall! I had read an article in the Penn State alumni magazine that the dining halls have gotten ultra posh with lots of fancy food options, and that they are now open to the public. Sadly, it was just ok; during the weekends, they close most of the dining hall and provide limited options. Still, we got free Penn State Creamery Ice Cream!
Finally, towards the end of the day, we made our way up to the Nittany Lion Shrine for the obligatory photos. Every single person that visits campus, goes to school here, and graduates gets their picture taken at this statue. We chose to not only get a group photo of all of us...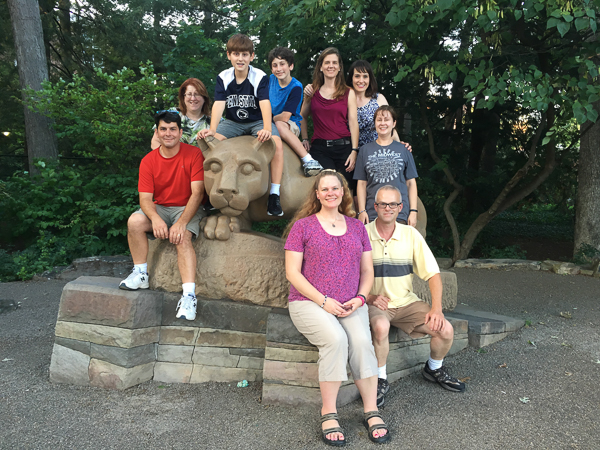 But to recreate a photo of us from 2002 that Steph somehow managed to find on MY Facebook feed! What do you think?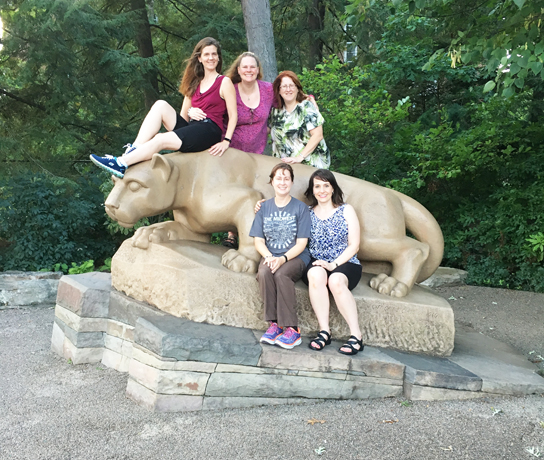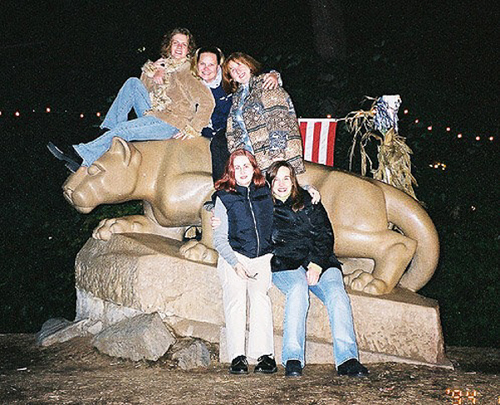 One of the gorgeous frat houses. I always felt sad walking past these because they are beautiful, old, historic houses, and you know they're totally trashed on the inside.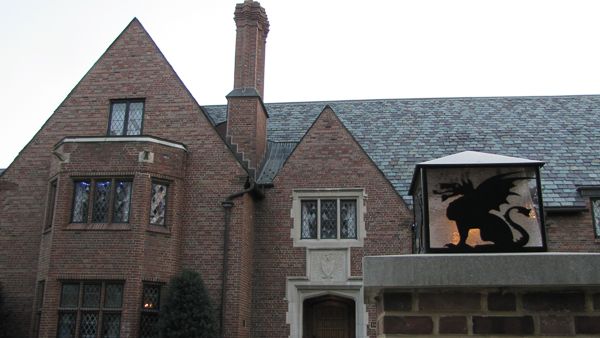 We left campus and walked back to downtown, then went back to the hotel where Lisa and crew were staying. We had a blast drinking wine and chatting for several hours while the boys swam in the pool.
The following day, it was back to just Steph, Dana and I. Angelina and Chris drove back home late Saturday night, and Lisa and her crew flew home in the morning after one last breakfast with us. The three of us bought much more swag, roamed more of campus, ate more Creamery ice cream, nearly got kicked out of the new ice arena I had to see, and had to hunt down and get a photo at this relatively new statue that I heard about: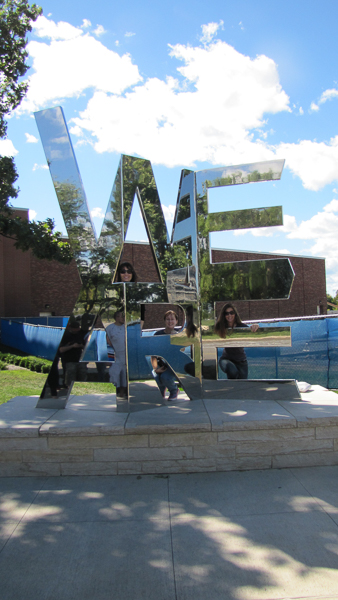 In the afternoon, it was all about wine, baby! There is a new winery called Happy Valley Winery that is very close to Dana's parents' house, where we stayed. The wine is AMAZING and after buying half a case to ship to Colorado, we bought another bottle to crack open and enjoy on their lovely patio overlooking the vineyard on a lovely fall Sunday...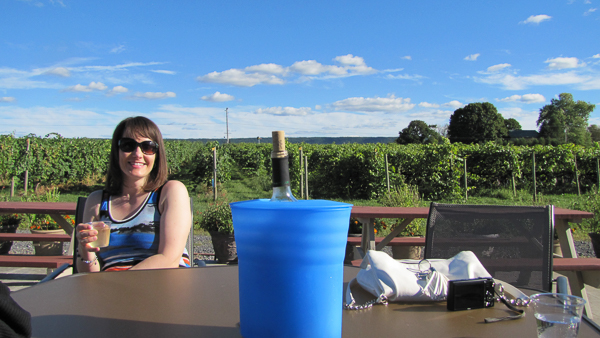 Here we are, two drunk and one sober. Can you figure out who is who?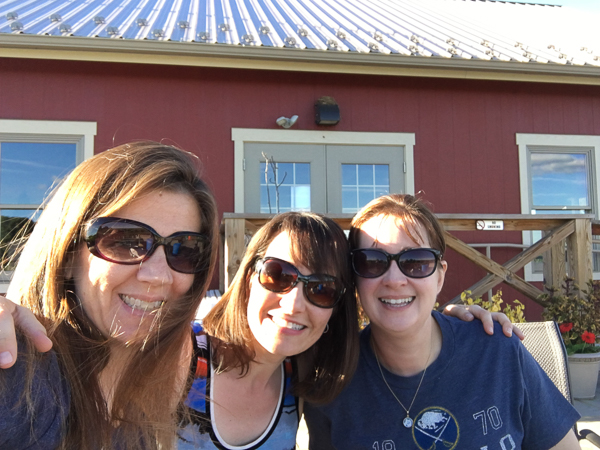 A view of the lovely fields as we took nice walks in the evening around the neighborhood, watching the sun set on Happy Valley and our annual trip.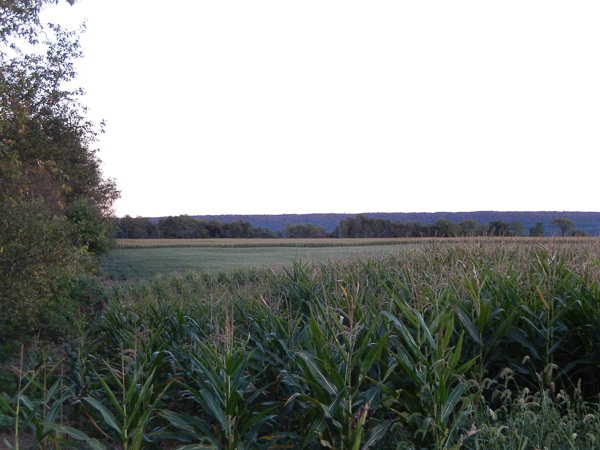 I still can't believe it had been ten years since I saw the campus. I don't feel like I know it anymore, nor that I belong there. The kids are so young, the place has changed so. It was a weird feeling: comfortable and familiar, yet not. In any case, even though we only had all 9 of us for just one day, we had a BLAST. I hadn't seen the boys in ten years, so it was amazing to see how much they've grown (Lisa's husband included). And all of us got to meet Chris.
I still like roaming to new places for our reunion every year, but definitely don't want to be away from PSU for another ten years.
No--not two whole months at home!