December 2008
The deed is now completely done, we are MARRIED AND PARTIED OUT! I am now exhausted and quite sick actually!!
We had literally two weeks between the time we returned from Prague, and when we flew out to Buffalo, NY, to celebrate Thanksgiving and our wedding with relatives and friends who could not be in Prague. I spent one whole week of nights and weekends cataloging and uploading all of our photos from Prague--all 1,700 of them! Granted, these were a combination of photos from several sources, but weeding through them all was quite an undertaking!
The second week home was spent writing thank yous from Prague, making Buffalo placecards, and setting up the few final details for the next trip.
In Buffalo we had a great time. We stayed with my sister and her husband in their home in Rochester, NY, which we had not yet seen, so it was nice to spend some extra time with them. We flew in on Tuesday before Thanksgiving with just enough time to get MIGHTY TACO for dinner. YUM YUM YUM!
On Wednesday the day before Thanksgiving JC and I drove three hours up to Toronto, Canada, to go to the Hockey Hall of Fame, which I had never been to!! It totally ROCKED! They had awesome displays of everything from famous players, to every NHL franchise, to college and minor leagues, to memorabilia to the actual trophies themselves, including the STANLEY CUP!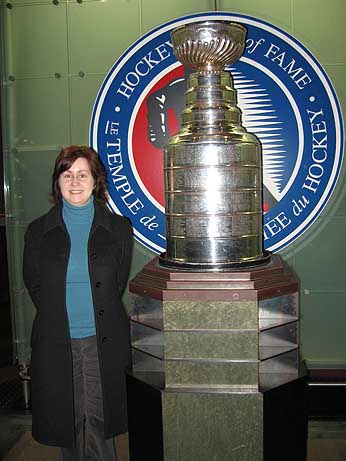 No I did not touch it, that would be sacriledge!
On Thanksgiving we had a traditional feast at my aunt's house consisting of way too much food, football games, random children and animals, and everyone screaming over one another. Yep, just like old times! Except this year, no one spilled any wine!!
On Black Friday JC and I visited with some of my friends from high school with whom I recently got back into touch, and who I had not seen in YEARS! That was good fun to meet their families and get caught up!
On Saturday we had our wedding reception, which was absolutely beautiful! We had fantastic decorations of autumn flowers and leaves on the tables, and our cake was simply gorgeous! I had planned the whole thing through a phone call one Wednesday afternoon between my mom, sister, and the bakery, so for having no idea what they were actually going to do, it turned out to be fantastic!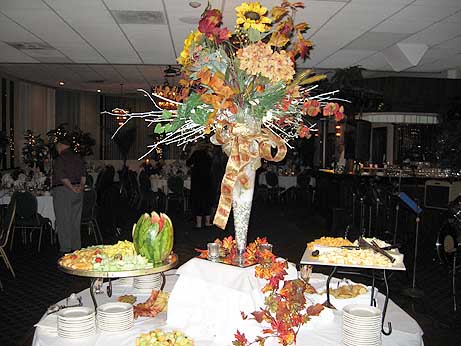 Some of the beautiful decorations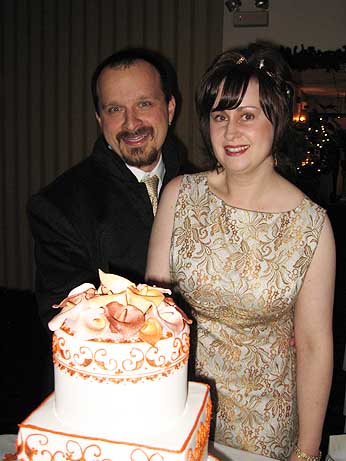 Us cutting the cake. NO I did not want to swap pieces, that is too dangerous!!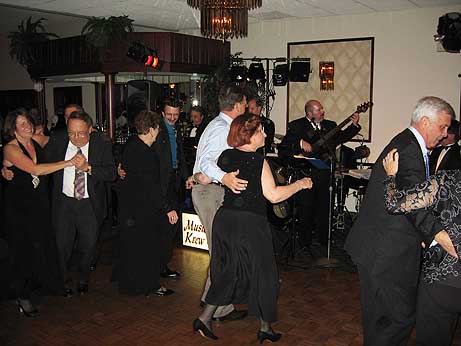 A bunch of guests enjoying the awesome live band
A big THANK YOU to everyone who came and I hope you all had a wonderful time! I know that we did and we loved seeing all of you again!
My only regret is that the night was too short--I never got a chance to chat with so many people that I wanted to catch up with!!!
If anyone wants a lovely getaway in sunny Colorado...please come visit us! Because traveling during the holiday weekend was a nightmare and we don't plan on doing that again soon, tee hee!!
Wedding Photos Website
Once again, here is the link to the website where ALL of our photos from Prague and Buffalo are available to view, download and order!
http://jilljcswedding.shutterfly.com