June 2014
Well, May continued to be busy! After Mikey's graduation the first weekend, we all went to see Varekai, another Cirque du Soleil show, the following Saturday. Unfortunately, it was a very weird day. In the morning/early afternoon I went to a scrapbook expo down south with a friend, and came home just in time to head back out again for the show. JC ended up not coming along because on that day, of all days, his brand-new work computer was being delivered, and despite leaving the depo at 7am, which is a 15-minute drive from us, at 3pm it still hadn't shown up. So, I went with his parents and Mikey without him. The show ended at 6, and his machine arrived at 5:30. :P
Then we were supposed to have dinner to celebrate Mother's Day but we didn't make a reservation in a timely fashion and ended up with a 7:30pm reservation. The weather turned cold, overcast and rainy and since JC would have had to drive to the restaurant to meet up with us, and Mikey couldn't come to dinner, we called the whole thing off. Very, very weird day indeed.
The next day, we got 6 inches of SNOW, so.....yeah....
The following weekend was our big adventure! We went "Bucketlisting" to knock more states off of our Bucket List! On Friday, we flew to exotic Des Moines, Iowa, and spent the rest of the day and half of Saturday checking it out with our constant travel companions Leah and Melissa. It's actually a very lovely city, just big enough that it has stuff to do. There were several areas that were being renovated that contained lovely restaurants and shops, including our very first stop: Zombie Burger. We heard nothing but great reviews of the place and it did not disappoint! The decor is amazing, totally industrial and zombie-focused, and the food was incredible. I had a mac and cheese burger that consisted of two fried "buns" of mac and cheese, burger patty, and another heap of mac and cheese! Plus we had incredible shakes for dessert that contained cereal!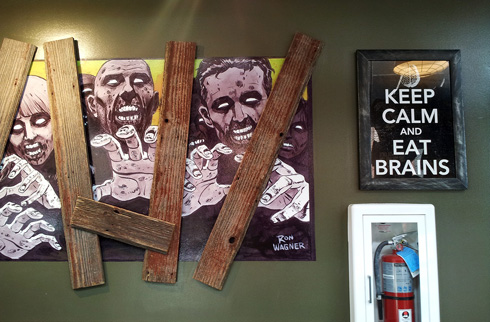 We walked around and checked out downtown: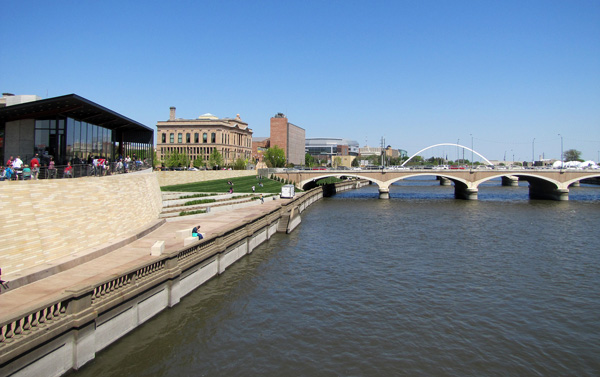 And found THE most amazing store ever: Raygun. They are only located in the Midwest and they specialize in making fun of the Midwest. For example: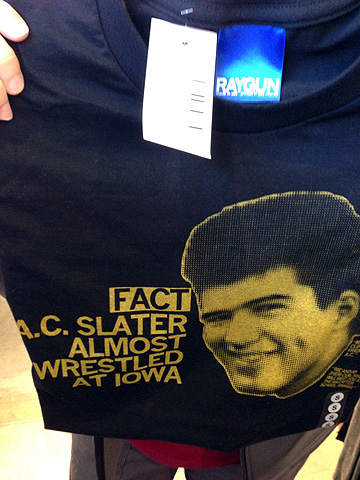 On Saturday we took in the amazing Farmer's Market and had to take photos with mascots, if you can call this a mascot of the Des Moines city works. The kids really wanted to get in the photo with us!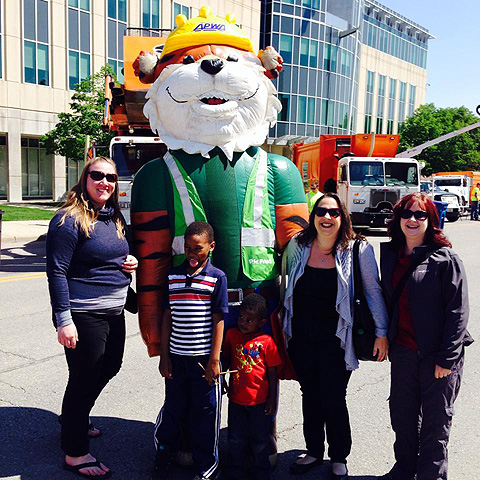 When there was absolutely nothing left to do in Des Moines, we headed out to Kansas City. First we crossed straight through Missouri to Kansas and had lunch in Leawood, KS. Then we went back into Missouri and spent the evening driving around KC, getting lost, touring the ghetto, and generally having a great time.
The next day, Sunday, we attended a KC Royals baseball game! It was also National Negro League rememberance day so all of the grounds crew were dressed in 1920's-era newspaper boy attire AND we all got a free FEDORA!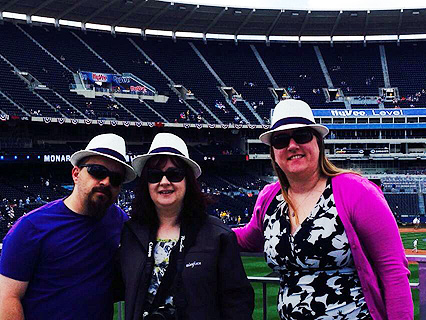 The park is really beautiful and contains a whole kids' area complete with mini baseball pitch and carousel, and there is the KC Royals Hall of Fame! I particuarly loved the scoreboard with the crown on it.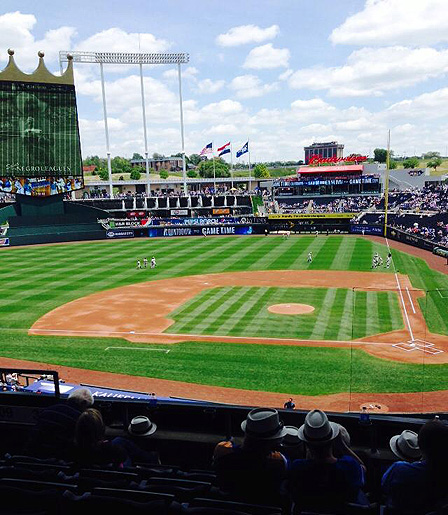 And, of course, the hot dog race.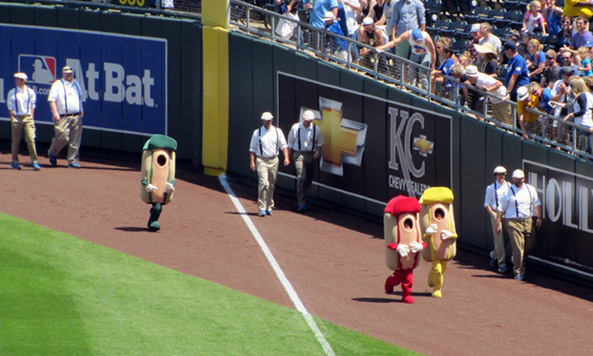 After the game, which the Royals won in exciting fashion (I'm not being sarcastic, it was honestly the most exciting baseball game I've ever attended!), we walked around the Country Club Plaza area of KC that looks, well, Spitalian. It consisted of a whole "Little Italy" and "Little Spain" style of architecture, along with what KC is famous for--fountains. This one was our favorite with the water coming out of the horses' nostrils.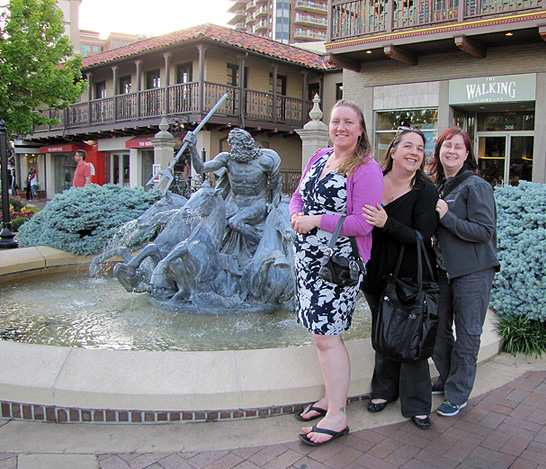 Then we spent the evening walking around the Power and Light District which is downtown. Sadly, it was a Sunday night so the place was a ghost town. Some pretty architecture though.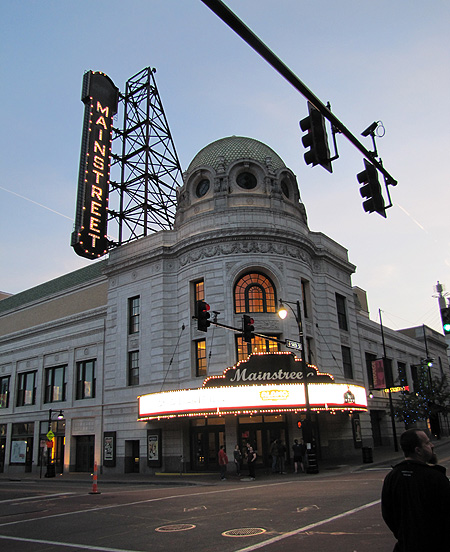 On Monday we went to the Westport District and after stumbling upon an amazing place for breakfast, we found an adorable kitchenwares shop called Pryde's Old Westport. The place was packed to the rafters with too much cool stuff. Then, because we were once again out of things to do, we returned to the Country Club Plaza district for lunch and some more roaming around before we all flew back home.
It was just enough time to visit these two really nice cities and experience the grandeur that is the Midwest!
TOTAL STATES NOW VISITED: 35!