2018
December
November
October
September
August
July
June
May
April
March
February
January
2017
December
November
October
September
August
July
June
May
April
March
February
January
2016
December
November
October
September
August
July
June
May
April
March
February
January
2015

December
November
October
September
August
July
June
May
April
March
February
January
2014

EUROPE PHOTOS
December
November
October
September
August
July
June
May
April
March
February
January
2013

December
November
October
September
August
July
June
May
April
March
February
January
2012
PORTUGAL PHOTOS
December
November
October
September
August
July
June
May
April
March
February
January
February 2017
Ah, January. That month when I never plan any travel because it's right after Christmas and I can't get my act together, yet I'm ok with not traveling because it gives me a chance to get caught up on scrapbooking. Or I book myself so busy again that I get nothing done. :P
January saw two Avs hockey games (which we lost because we absolutely stink this year), and a Cirque du Soleil show called Ovo. It's a trip into the insect world so the costumes were amazingly detailed and very accurate to real bugs. The acrobatics were stellar, including a guy on a tightrope--no, a guy on a unicycle on a tightrope! I love those shows but they make me nervous!
I did actually get some scrapbooking done towards the end of the month, and did a few other scrapbook-related activities. I attended two card classes by my Stampin' Up! consultant, and we took a short trip down to Colorado Springs one weekend. We drove down Friday night, had dinner, and crashed. Saturday morning we had breakfast with my dear friend Cathy.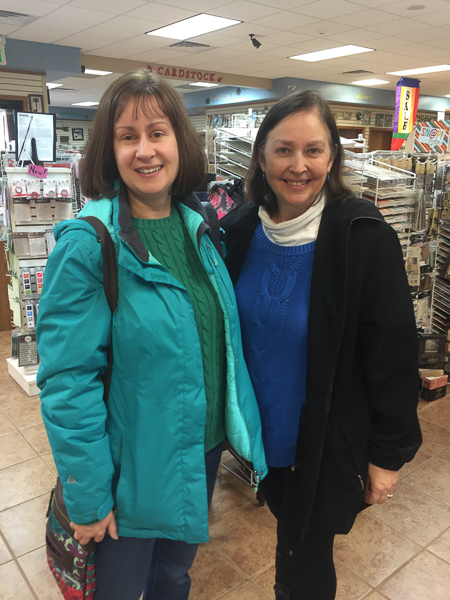 Then while JC went to his hobby store, she and I drove to a couple of different scrapbooking stores. Then, in the afternoon I took a great class at Simple Pleasures scrapbook store on using Copic markers to color marine animals. We colored a dolphin, zebra fish, and goldfish. You be the judge--these are my samples from class, how did I do?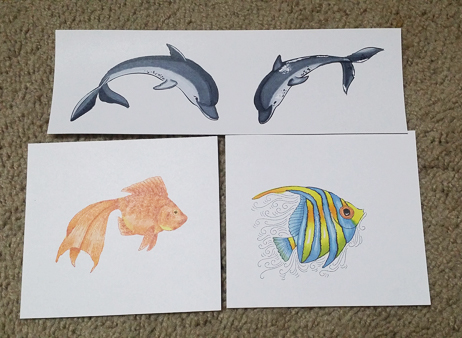 We also got to see and hang out with several friends, which was really nice since sometimes we go months on end without talking to or seeing anyone!
So, I'm halfway through scrapbooking 2016, but I have all of my photos printed and layouts planned. Just need to get cracking! But you can check out my 2016 Album from time to time and see my progress and our adventures.
Oh, and parting shot is of a hawk that we found feasting on a dove in our backyard one morning. We feed the birdies and love watching them, but rarely do we see a hawk nearby, much less one that just had breakfast. He sat there totally puffed up, full of dove for quite a while! (Sorry if it's gross.)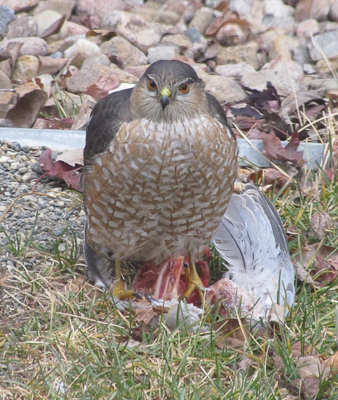 And with that, here's my 2016 Year in Review.
1. Highlights of the year

We both actually stayed employed at the same places for a whole year!
Went to two new states
Went to three new amusement parks
Visited my family twice
Purged a LOT of stuff--even stuff I never thought I'd part with
Lost 28.5-29 pounds, depending on the day
Developed amazing new habits of eating better, eating less meat, getting up out of my chair throughout my work day, and working out as much as possible
2. Lowlights of the year 

Let's not even go there...
3. What do you have at the end of 2016 that you didn't have before?
With greater financial security, I've been giving more and more to causes that mean a lot to me.
I have an embedded drive to keep losing weight, get exercise, and eat right.
I have a mostly empty basement for the first time in ten years. :)
4. Did you make any resolutions at the start of 2016 that you managed to keep?

I not only continued with my One Little Word, I made this amazing journal that contains everything in my life from large to small:
Values
Projects
Goals List (Bucket List is too depressing-sounding)
Monthly goals and progress on my One Little Word
Daily successes (I write down 5 good things about each day, and at least one is health-related)
I don't have it in front of me to look at my yearly goals, but the one I clearly remember is to lose 15 pounds. Since I nearly doubled that, I'd say that's a WIN.
Oh, and to heal my foot, which magically happened in around April. So yeah, that was badass.
5. Strangest thing of the year

SO not going there, people!
6. Funniest thing of the year

Going to Legoland with JC and our 26-year-old nephew. We totally looked out of place, but we had a BLAST.

7. Saddest thing of the year 

NO COMMENT.

8. Any goals for the new year?

Get two more states--got my eye on Idaho and Arkansas. What can I say, I'm running out of options!
Lose the remaining 6 pounds I want to get rid of.
Eat even more healthy, with less meat, and try vegan options.
Scrapbook more--I have a pile of little bits and pieces that I want to use on cards, and I must use those up!
Continue purging the categories of stuff that I didn't get to last year.
9. Summarize 2016 in a word or sentence

IMPROVED. Improved my health, my stress, my weight, my goals, my time, my priorities, my attitude, my clutter, my hangups...myself.

10. One Little Word for 2017

REFINE.

To continue on the good paths, and try to get away from the bad paths.
To learn more, try new things, meet new people, and expand my horizons.
To trim more 'fat' physically, mentally, spacially, emotionally, and time-wise.
Let's Do This!

2011
SPAIN PHOTOS
December
November
October
September
August
July
June
May - none
April
March
February
January
2010
ALASKA PHOTOS
December
November
October
September
August
July
June
May
April
March
February
January
2009
December
November
October
September
August
July
June
May
April
March
February
January
2008
WEDDING PHOTOS
December
November
October
September
August
July
June
May
April
March
February
January
JILL'S CREATIONS:
Album - 2017
Album - 2016
Album - 2015
Album - 2014
Album - 2013
Album - 2012
Album - 2011
Album - Penn State
Album - Cedar Point
Album - Wedding
Cards
LOAD513
LOAD214
Mini Albums - Coffee and Daily Junque