2018
December
November
October
September
August
July
June
May
April
March
February
January
2017
December
November
October
September
August
July
June
May
April
March
February
January
2016
December
November
October
September
August
July
June
May
April
March
February
January
2015

December
November
October
September
August
July
June
May
April
March
February
January
2014

EUROPE PHOTOS
December
November
October
September
August
July
June
May
April
March
February
January
2013

December
November
October
September
August
July
June
May
April
March
February
January
2012
PORTUGAL PHOTOS
December
November
October
September
August
July
June
May
April
March
February
January
January 2013
Christmas pics!
Happy New Year Everyone!

Well it's only the 13th day and already it's been a doozy! JC is beyond stressed out at work and hates his job, I applied for a different position at work that got put on hold indefinitely, and my favorite store in the whole wide world, Archiver's, is closing in February. Yeay new year!

Anyway, enough of that. I finally have Christmas photos to show you!

On Christmas Eve, we tried to Skype with my family who were at my parents' house. It was my parents, sister, brother-in-law, nephew, aunt and uncle. Unfortunately, half of the world tried to Skype that night so it took us hours to connect. We finally did, and got to see little Leonardo scoot around the house in his new sled!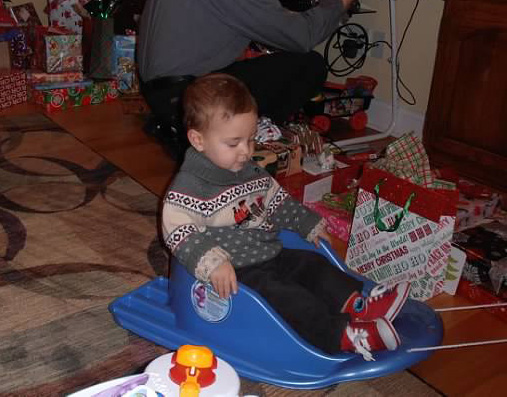 Plus the usual antics from Gino and Erica...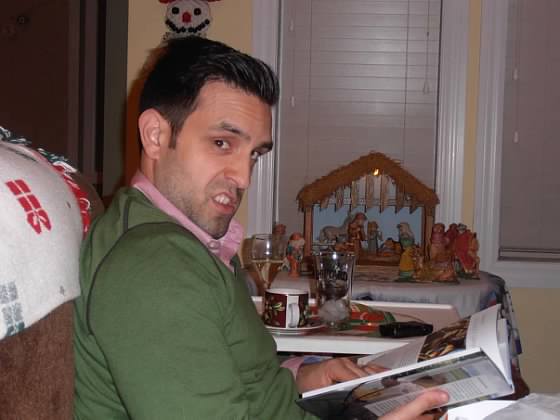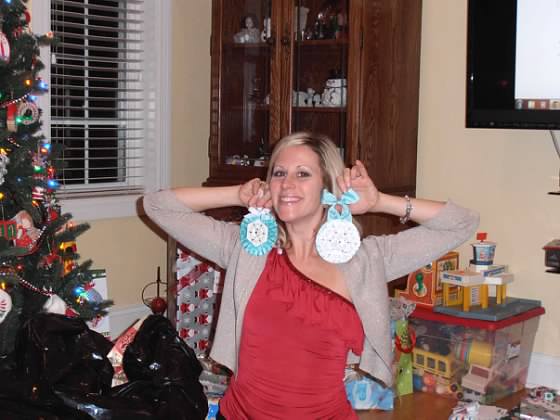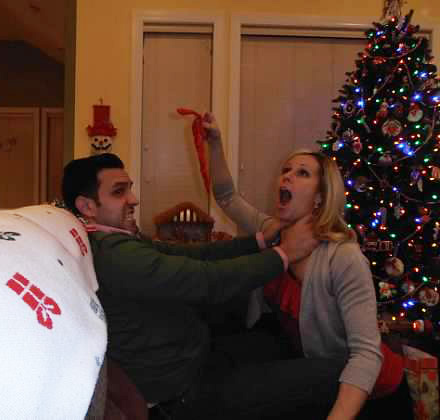 Auntie and Uncle playing with Leonardo!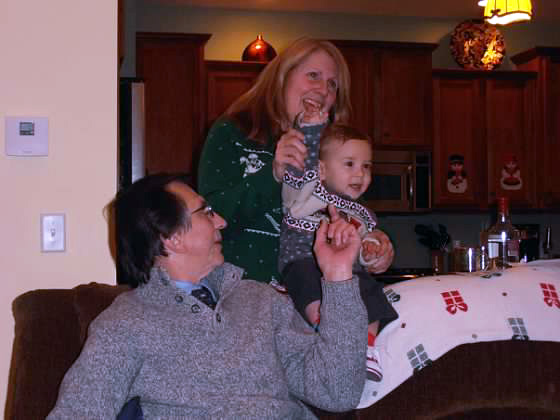 Mom and dad opening a few gifts...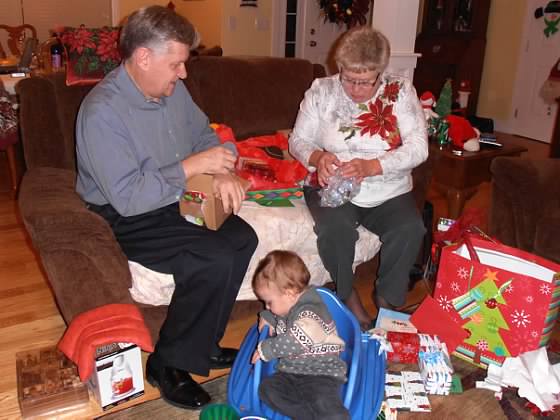 And a little elf!!!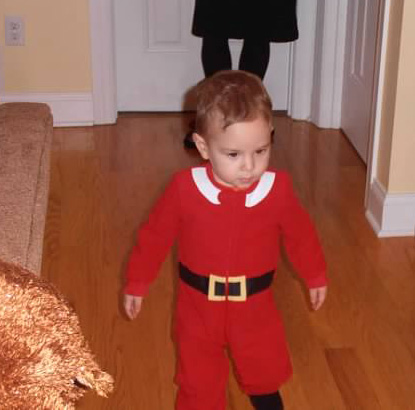 Christmas Day at the Polanycia house is very casual and mellow. First, we have a nice lunch, then we all tear into our presents at the same time. All that work and effort is gone in like half an hour. So we get one picture of the tree before it's all torn to shreds!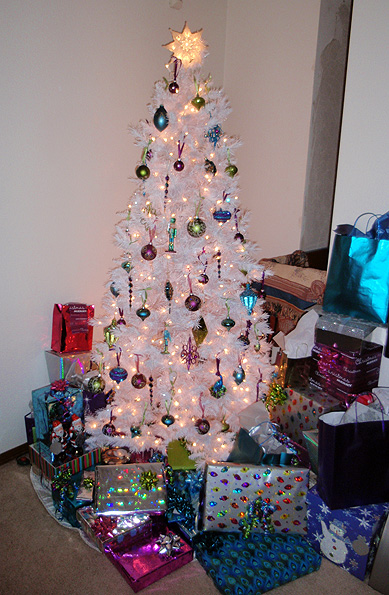 Noel started a new tradition this year--whoever sits down last has to divvy up the presents...and wear the very classy hunter's hat with reindeer antlers that move and play a charming Christmas song bastardized into a hunting song...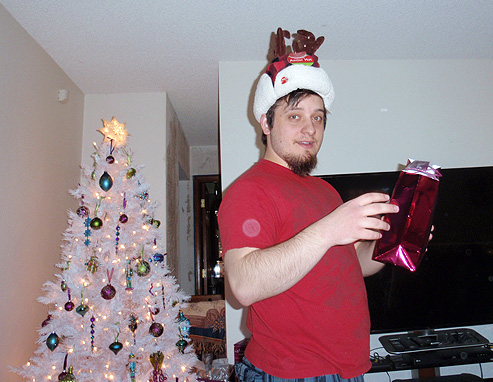 Then came the gift-opening. The theme of this year was weapons. JC and I, though did not get any weapons. Instead, we got clothes, scrapbooking items, a remote helicopter and kitchen items.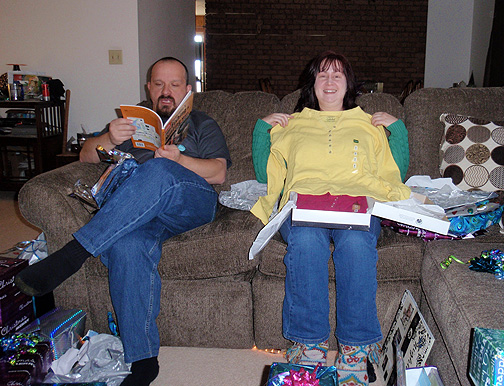 However, the other three got weapons. Mikey got a machete...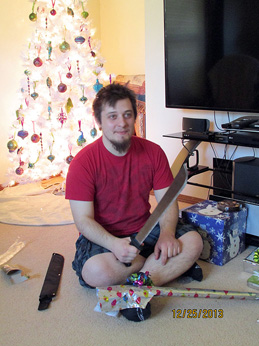 Noel got a nice, big wooden spoon (she used to hit the kids with a spoon when they were little!)....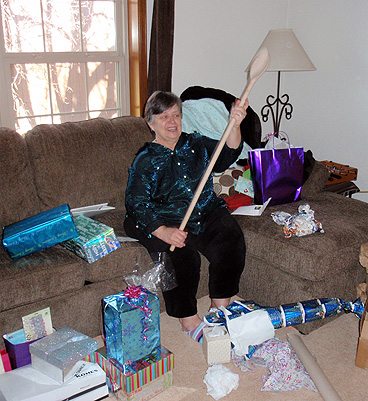 And Nick got a kit to modify one of his guns into a Tommy Gun.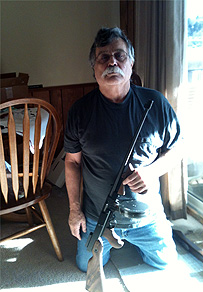 We even had "Ma Barker" try it out!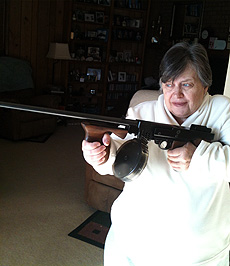 Year in Review
Well, it's the end of another year, and I figured I'd do another Year in Review. I've done this off and on for the past few years, ever since a friend of mine did it herself in a chain email (remember those?) and I decided it'd be nice to do. The last one I did was a review of 2009!

I'm changing it up a bit, though, to remove the Concerts section (let's be honest, none of you care or even know the bands we listen to these days), and am adding One Little Word.

One Little Word is a pretty hip thing these days. I don't know how rampant it is throughout standard society, but in scrapbooking it's a big deal. The goal is to come up with one word that will describe your life's journey for the next year, then scrap and live by it.

1. Highlights of the year

Getting a lot more scrapbooking done, including a variety of different projects
Visiting Cedar Point with family for the first time in decades
Attending my cousin's wedding
Injuring, then healing, my hip
Staying employed
Seeing my in laws both retire
2. Lowlights of the year

Not coming any closer to solving my issues with fatigue and weight management
JC moving from job to job
Losing my last living grandparent
Injuring, then healing, my hip
3. What do you have at the end of 2013 that you didn't have before?

A chance to make a change in my life to get myself moving forward. Details to come, if it works out. Lots more scrapbooking stuff, hee hee! And a rice cooker.

4. Did you make any resolutions at the start of 2013 that you managed to keep?

Nope, not a thing. It's been an "off" year in many ways--job changes for JC, possible job changes for me, injury, lack of exercise, cessation or reduction in activities we used to do often, and not knowing still what I want to be when I grow up. I usually don't bother making resolutions anyway because I end up forgetting what they even were two weeks into the year.

I do need to revisit and enhance my Bucket List, though. That thing needs a dusting off.

5. Strangest thing of the year

JC changing jobs twice. After 17 years stable at CU, it was time for a change, but not exactly two!!

6. Funniest thing of the year

My mother elevating her game now--from injuring herself during a visit with us, to injuring herself BEFORE a visit with us. This year she broke her pinky finger en route to Denver. :)

7. Saddest thing of the year

All of the natural disasters that happened--tornadoes, hurricanes, Superstorm Sandy, the typhoon in Asia Pacific, and the floods in Colorado. Just crazy.

8. Any goals for the new year?

Try to get out and move more--run, exercise, play hockey, etc. I gotta get more mobile.
Learn something new--a language, read some books about an interesting topic, something!! I feel stagnant.
Get to Europe again--got an itinerary all planned out already! It's been too long (14 months).
Improve further upon flying with no fear and evolve this fearlessness to other adventures and avenues I should be pursuing.
Get more connected--with friends, with communities, with purpose.
9. Summarize 2013 in a word or sentence

BLESSED. Although this list may not sound super exciting or cheery, I learned to take a step back and still be grateful and humble for what God has given us. It may not be perfect, but I have the grace to realize that and work towards making it better.

10. One Little Word for 2014

RETURN.

To places I want to explore.
To goals I had forgotten about.
To having dreams and making them come true.
To feeling good.
To loving more.
Here's to an awesome new year!!!

2011
SPAIN PHOTOS
December
November
October
September
August
July
June
May - none
April
March
February
January
2010
ALASKA PHOTOS
December
November
October
September
August
July
June
May
April
March
February
January
2009
December
November
October
September
August
July
June
May
April
March
February
January
2008
WEDDING PHOTOS
December
November
October
September
August
July
June
May
April
March
February
January
JILL'S CREATIONS:
Album - 2017
Album - 2016
Album - 2015
Album - 2014
Album - 2013
Album - 2012
Album - 2011
Album - Penn State
Album - Cedar Point
Album - Wedding
Cards
LOAD513
LOAD214
Mini Albums - Coffee and Daily Junque