September 2014
August was definitely busy for us. We got our Shakespeare on at the annual festival in Boulder, we had yummy fondue with friends, and we had endless appointments to consolidate/migrate/maximize our investments. We also thought about buying a car, but didn't. I began thinking about other things to do that would provide income such as changing jobs, changing careers entirely, and starting up a business. But best of all, I had not one but TWO vacations!
Nothing starts a month out right than going to a spa resort in Phoenix. I attended my first ever ScrapHappy Reunion. ScrapHappy is a membership-based community for die-hard scrappers where you chat on Facebook, participate in challenges, conduct swaps of things like cards and tags, and attend scrapinars (webinars). The group meets once a year somewhere in the US and I decided to go this year to check everyone out and most importantly, meet LAIN, my idol, my superhero, who is the founder of ScrapHappy as well as Layout a Day.
Here is where we stayed: Wild Horse Pass Resort and Spa. It's on Native American grounds, completely themed and decorated as such, and the spa was loooveeeelllyyy...I had an awesome massage with a homemade blend of native herbs and oils that was made that morning by the Medicine Woman that works there!

It was SUCH a fun weekend! Everyone rolled in between Thursday and Friday and by Friday afternoon all 25 of us were there. We sat in a rectangle with huge name tents at our places so that we could figure everyone out. LAIN is the one standing up as the MC.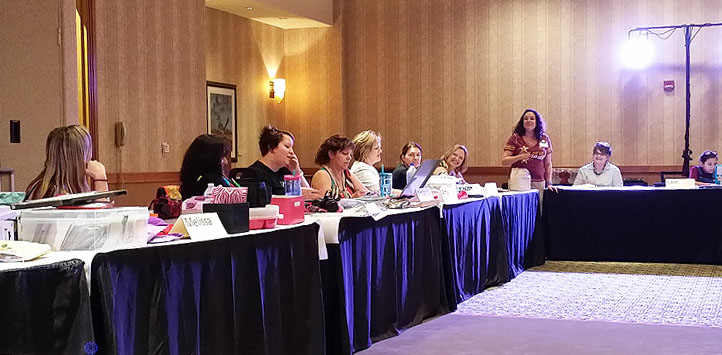 The first thing we did was introduce ourselves, then we were whisked off to dinner. The place is called Organ Stop Pizza and it is UN-FREAKING-REAL. It's a very casual place where you sit in long rows of tables like a medieval dining room. Then, the lights go down and rotating up from beneath the stage is the organist in front of this enormous black organ from the 1800's. It's actually the organ that was in the Denver Theatre until they removed it in the 1930's! INSANE. He took requests in 30-minute or so intervals, and played everything from pop to rock to classic to musicals (Phantom of course). There were dozens of pipes blowing in the room behind him, along with other instruments dangling from the ceiling all over the place--drums, playing pianos, xylophones, cymbals...craziness! I have to take JC there!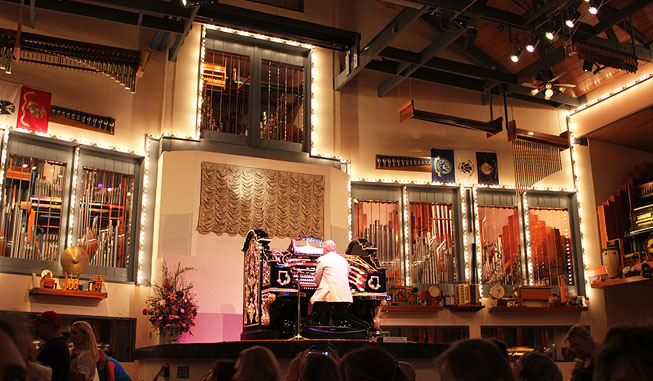 After stuffing ourselves with super yummy pizza we headed to--where else--a scrapbook store! Scrapbooks, Etc., kindly kept their doors open for us crazed shoppers after they closed to the public. I equate the scene in all honesty to the candy store scene in "Willy Wonka's Chocolate Factory". We rushed in there and were giddy schoolgirls grabbing all sorts of stuff! We compared receipt lengths at the end and some gals spent hundreds!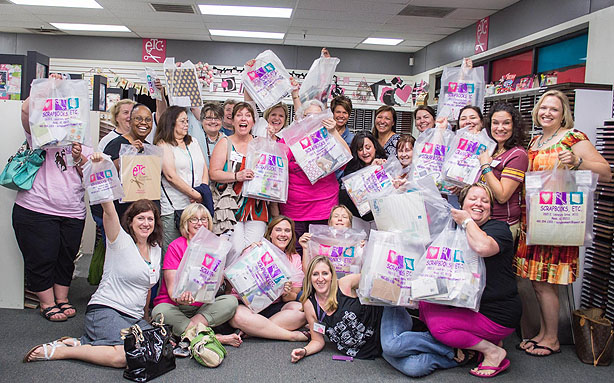 On Saturday there was no sleep to be had! We instead began with our tag swap. We each had to make tags to give to the other gals that represented us in some way. Each tag was totally different and it was a great way to learn about each other!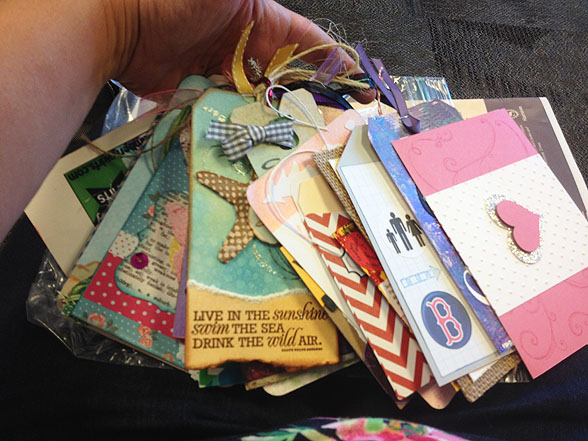 Next we had a fantastic mixed media class by the famous Stephanie Ackerman. We each got a deck of cards and did all sorts of fun decoupage on them with hearts, washi tape, book pages, and words cut out.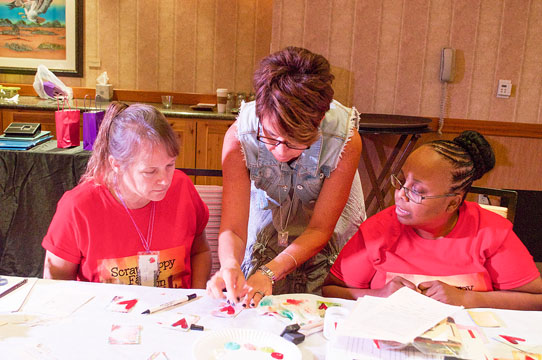 That afternoon we all went in various directions: some went shopping, some went swimming, some stayed and scrapped, and I went for my massage. Groups fragmented out for dinner and most of us teetered out from scrapping all night! But not without being goofy taking pictures! Here I am with Cathy, who together made up the Colorado contingent because she is in the Springs! I can't wait to meet up with her again! There were also 2 gals from Wyoming so we are planning a get together!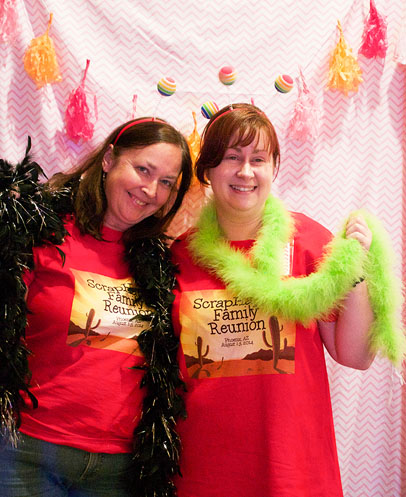 Sunday was a bummer because people began leaving in the morning, but I managed to actually get some scrapbooking done around meals, chatting, doing make-and-takes (little free projects) and saying goodbye to my new-found friends! It was too short of a weekend but now I have some great scrap friends all over the US that I can now visit!
Then of course I had to get a photo with Lain: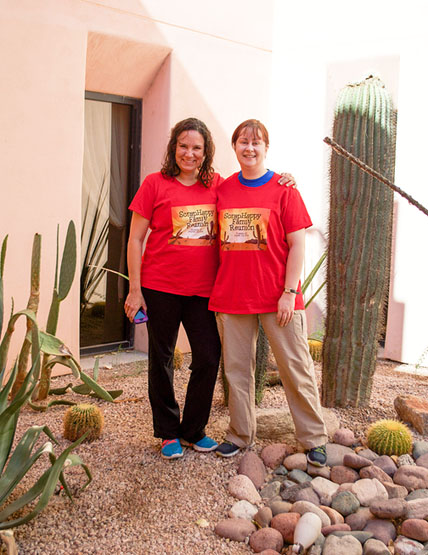 And here's the whole happy group!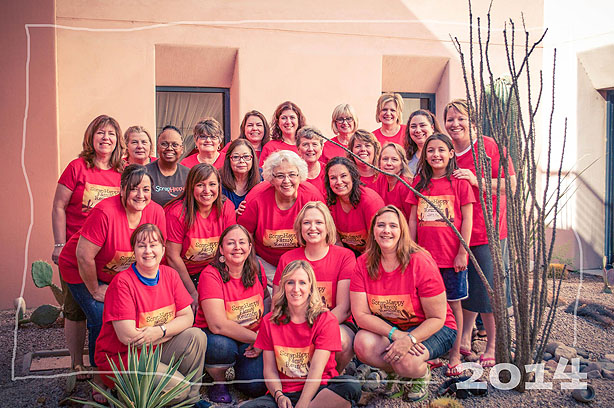 Two weeks later mom and I went to our annual Creating Keepsakes Convention, and this year we went back to Tulsa! Mom arrived on Tuesday morning and we scrapped, scrapped, scrapped all day Tuesday and Wednesday. We headed to Tulsa on Thursday for the convention on Friday and Saturday, and flew back to Denver on Sunday when we scrapped, scrapped, scrapped HARD all day Sunday and Monday before she headed back home on the following Tuesday. WHEW!
Usually we are way too busy taking classes and shopping to take photos, but we managed to get a couple taken this time. One was at a local scrap store that we visited on Thursday. They stayed open late because of the convention and had these cute doors decorated as perfect picture backdrops!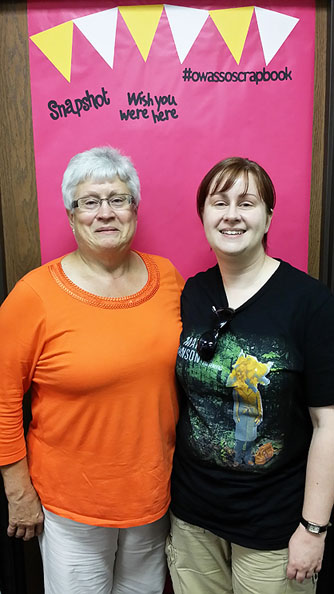 The other photo we managed to take was with Stephanie Barnard who owns The Stamps of Life which is one of our favorite stamp companies! She's also just adorable.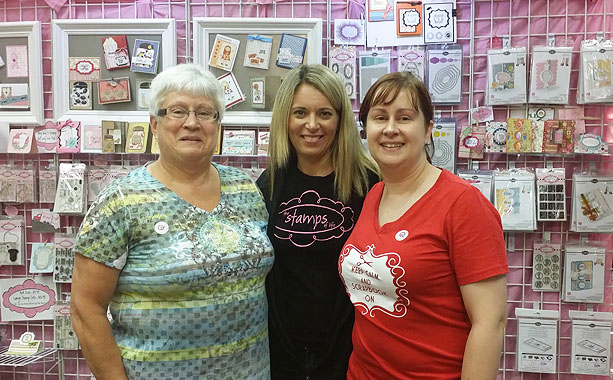 And here's everything that I bought...believe it or not, there are several hundred dollars sitting here!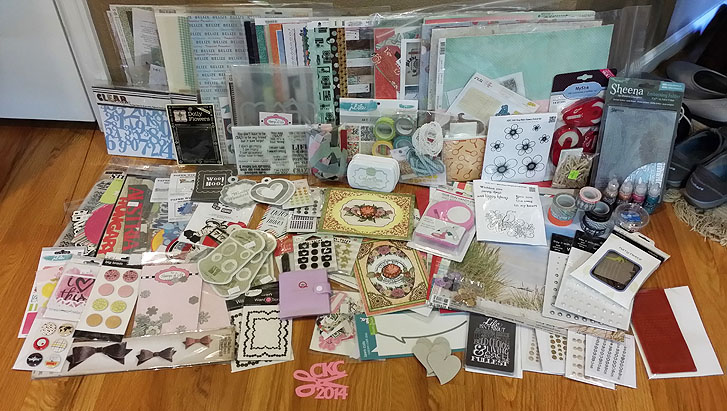 SCRAP HAPPY!