February 2008
So, the new year is upon us and in full swing, and it's time to evaluate priorities and assess what you want to do. In this new year, I have decided that I would like to pursue a couple of new hobbies: hockey, which you already knew, and scrapbooking in terms of making homemade gift boxes, gift packaging and cards.
As a result, plus the added fun joy of planning our wedding, I've decided to close my Mary Kay business. It just isn't fun anymore, or profitable, and I have new, exciting interests. These days I'm more excited about selling stuff off than I was about keeping the business open!
Anyway, work is in progress on the wedding, and my dress is SORTED! I am getting it hand-made by Nadine, an awesome wedding dress maker/alterations specialist in Boulder. I showed her some photos and general designs and walked through her showroom and pointed at some beautiful antique lace dresses. So she called her lace connections in NYC and bought the most unique lace I've seen. I could not resist! So here it is: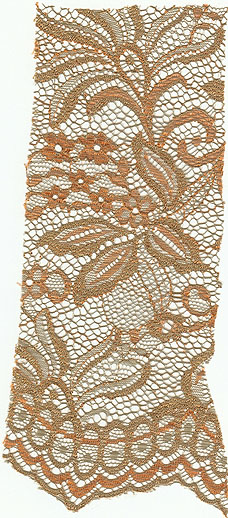 And the fabric will pretty much be the same light ivory color as you see here, just in a satin. This print will be on the whole dress, and the scalloped bottom of this sample will be both on the bottom of the dress and underneath the bustline. Then Nadine is going to put some jewels and pearls scattered throughout some of the middles of the flowers. The cut of the dress will be a bateau neckline (high, at the collarbone), with thick straps, no sleeves, gathering beneath the bustline, and then the skirt is a straight A-line with no train, just to the floor.
Different, eh??? I love it!
Christmas Photos
In addition, I didn't get around to getting the Christmas photos up in time for the January site, so here they are. You get to see JC's family!
This is Myko, JC's sister, sitting by our Christmas tree in our great room: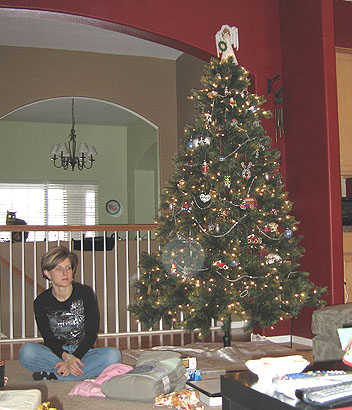 This is McKenna, Myko's youngest daughter, sitting on JC's Christmas present from me, a Colorado Avalanche bean bag: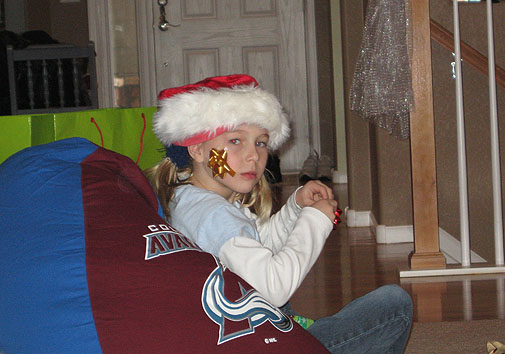 Here we have Mattison, Myko's older daughter, and JC's dad, Nick: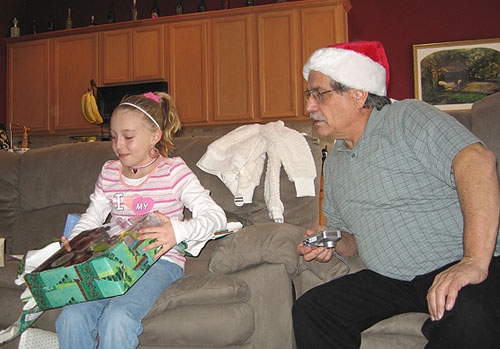 And finally, we have Noel, JC's mom, and JC sitting next to his Christmas present to me--a Buffalo Sabres bean bag. See a pattern?