August 2017
OK hang onto your hats because I have lots of stories from July!
I took a whirlwind trip that lasted the first 2.5 weeks of the month. I actually combined three trips in one: visiting family, going to the Creating Keepsakes scrapbooking convention, and having my annual reunion with my college girlfriends. It was money-saving, for sure, but that was longer than I usually go to Europe!
But first...an extraordinary coincidence
And it started off with a bang. My first flight from Denver to Philly was smooth sailing (or flying, hah). Then I had to sit in the Philly airport for like 3 hours for a layover. At 3:30, when my little plane from Philly to Rochester, NY, was about to board, they cancelled the flight. Along with those to Buffalo and a few other places. The weather was just fine in Philly so I assumed storms in PA or NY.
There were two more flights on this route later that night, but because these are small planes, they already had standby lists, and the customer service line was 100 people deep, I knew my chances of getting out of here were quite slim. I called the airline instead, and all they could book me on was something at 5am the next morning that was a totally messed-up route that got me into Buffalo, not Rochester, which meant an 1.5-hour drive for my parents to come get me.
Found out that many flights to Buffalo and Rochester were getting cancelled due to a combination of storms and air traffic control--the rescheduling of so many planes meant that air traffic control also had to tell certain flights that they could not fly because there was too much air traffic. Makes sense, but man what a mess. Turns out they had been canceling flights for TWO DAYS.
I ended up chatting with another Rochester passenger about what happens to our luggage if we can't get on a flight in the near future, and he mentioned that he had been trying to get home from DC for two days and had had enough. He was walking to the rental car shuttles that very moment, booking a one-way rental car on his phone.
Instinctively, I followed him. We found out that the drive was only 5 hours. He offered to take me along and split the cost in half. I agreed.
Turned out that the stars aligned for me, and it almost felt like I SHOULD have done that. The guy, Dave, was really nice. In his late 40's/early 50's, he lives in Rochester with his adult kids and his wife who is French. She comes from a little town in the area where I lived (no one would know this place who was not familiar with that northeast region). He speaks French too, and his wife is a translator. She was thinking of getting out of translating because of the changes in pricing and technology that my industry has seen recently. We honestly chatted about the translation industry for three of the five hours of driving. I've never been able to hold a conversation about my industry and what I do with anyone for that long. Not even JC cares about it that much!
Then we chatted about flying, fear of flying, travel, my summer internship in France, and much more. It felt like I've always known him. That was an unexpectedly cool start to my trip.
And drive through Pennsylvania #1.
Hangin' with the Fam
That was July 1st. On the 2nd, we hung out with Gino's side of the family at his nephew's birthday party. On the 3rd we went to Seabreeze amusement park and had a BLAST. And on the 4th, Gino and Erica had a big party with lots of relatives, a few friends, and lots of fireworks.
Here are some Seabreeze photos! We ran into Gino's cousin and her two little ones so the kids all got to ride some rides together in the morning. Leo is in red on the left in the blue car, and Domenico is cruisin' around with his little lady friend in the orange car!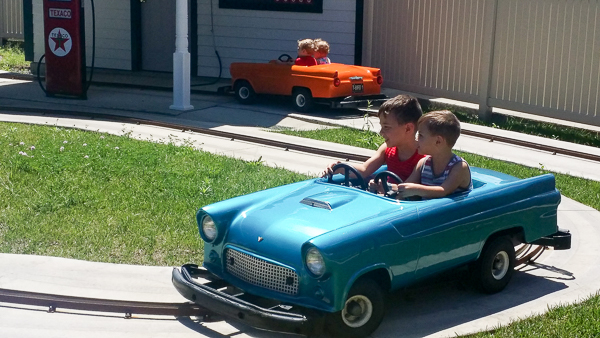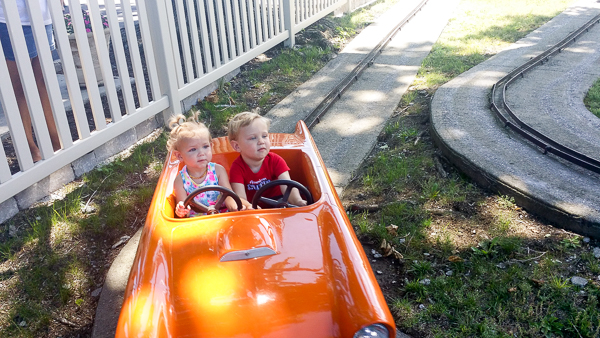 The boys "playing" a duck game, where every single duck has a letter on the bottom coordinating to buckets with prizes in them. Leo got an inflatable guitar and Domenico got an orange snake.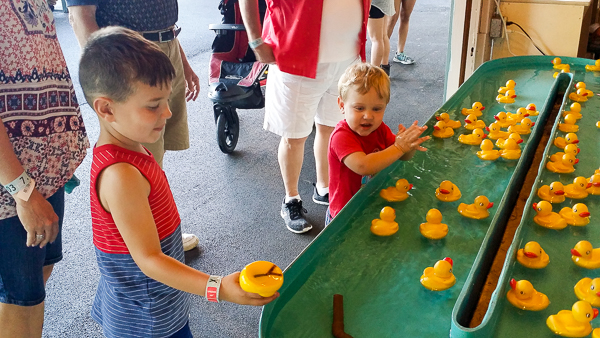 We spent a few hours in the water park too, of course. The boys love the water. This year, Leo also rode the adult water slides with us, including a really tall one that Erica and I were intimidated to ride! But he was a champ. Domenico still didn't quite figure out the slide concept; he kept getting stuck! And of course Leo didn't wait for him (Leo's at the bottom and Domenico is in the white and gray shirt trailing behind).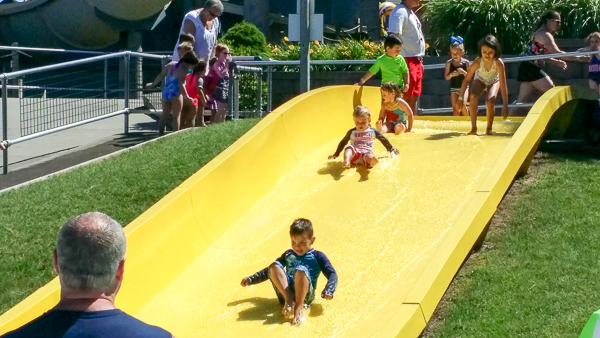 Erica, Gino, Leo and I on a ride that goes up and down, dropping us at random times and random depths.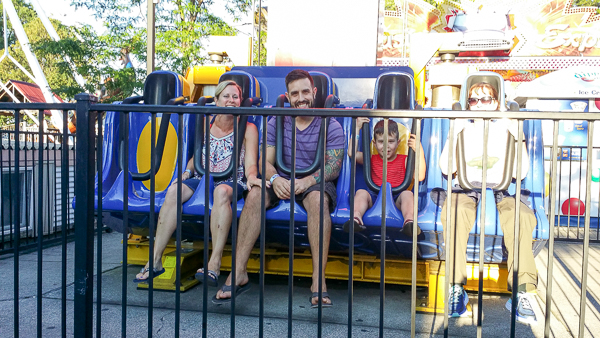 Gino and Domenico on a ride more their speed. :P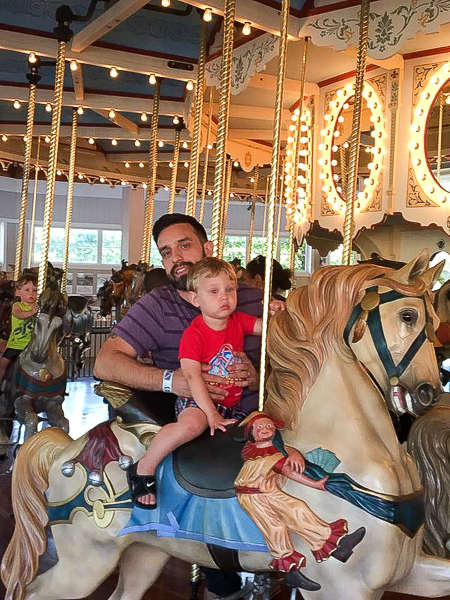 At the end of the day it was ice cream time! They have the BEST ice cream there, from a local dairy. Me and sis--my first ever selfie!!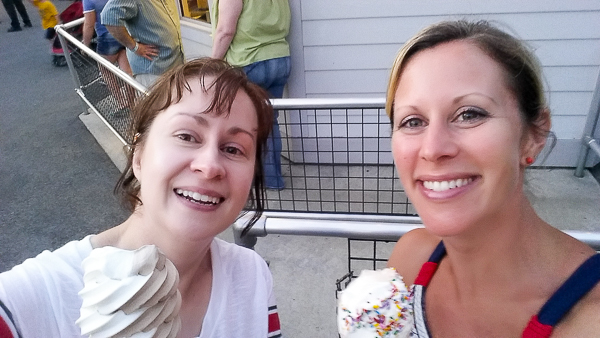 Here we are celebrating the Fourth:
A makeshift pool Erica got that was a big hit with the boys and all of their cousins and friends.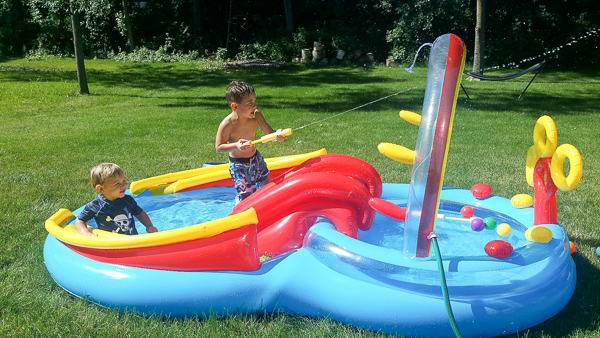 I mean, really? I'm SO scrapbooking this one!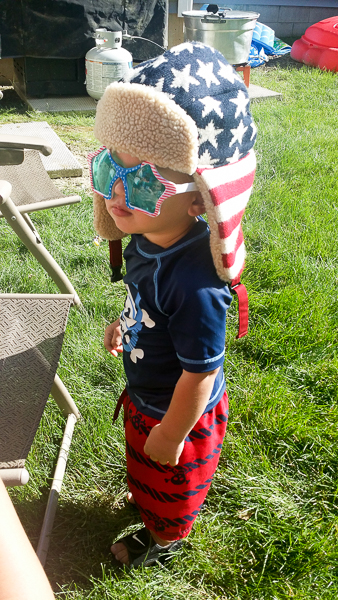 Gino's seafood feast. It was amazing.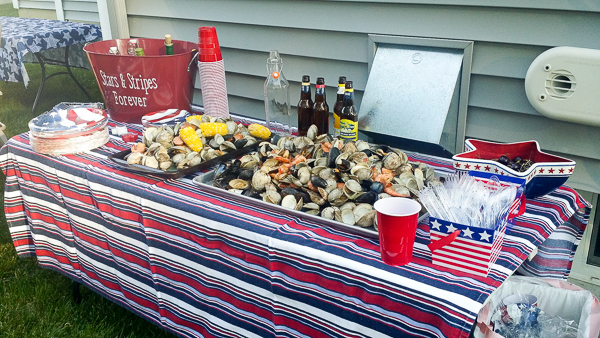 No July 4th is complete without SPARKLERS! That's Leo and his cousin Analisa.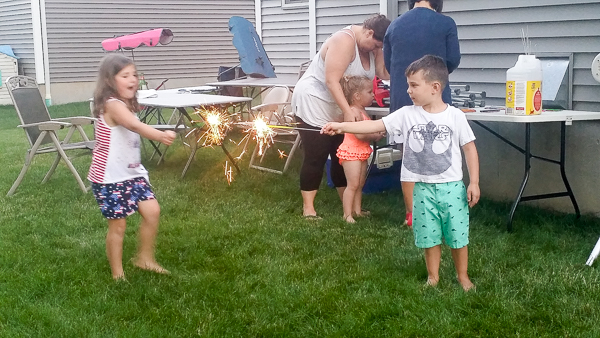 Gino's sister and brother-in-law showed up with a TRAMPOLINE, which the grandpas and dads spent the whole day putting together. It's a hit, though, and so much fun!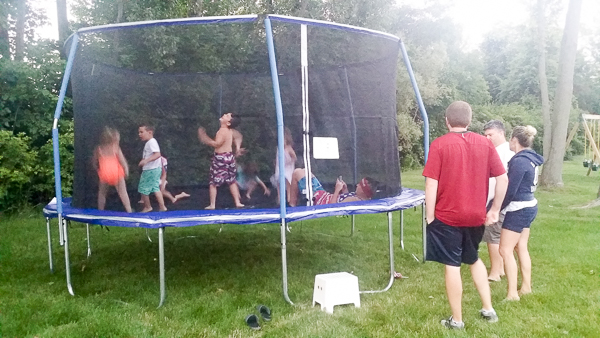 And Gino trying to blow his fingers off. He and my dad drove all day to Pennsylvania to buy over $400 worth of fireworks! They bought some pretty big and pretty illegal ones that were so large we had to walk down to the woods at the end of their street to shoot them off. It was a mini city fireworks display just for us!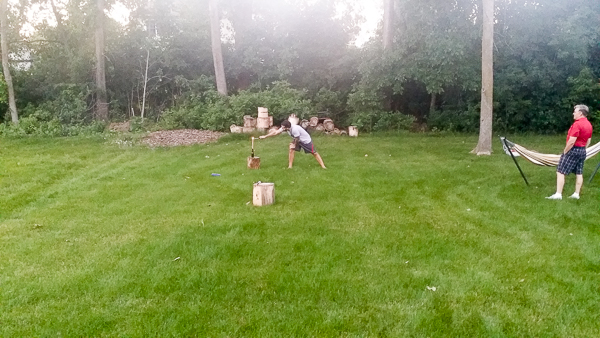 Yes, I Need an Intervention
The weekend after the fourth, mom and I drove down to Lancaster, Pennsylvania (trip #2) for our annual Creating Keepsakes scrapbooking convention. We always have a blast, and this year, it was just the two of us so we hit the road bright and early on Thursday morning so that we could hit local scrap stores en route! Who knew that PA had like 7 of them within our path!? Some weren't open, some were a little out of our way, but I managed to map a route that allowed us to hit four of them. I did not spend a ton at each one, but did find some amazing things--and every one had different manufacturers and products!
AND none of those products were at the convention! Score!
If you're down with spending hundreds of dollars, that is. This year, I was trying to behave and keep to a budget, but all that went straight to hell when I got Shiny Object Syndrome at the Queen and Company booth and bought a ton of expensive stuff. Seriously, I spent a record high amount of money. Damn them.
We took one fewer class than usual, but I really enjoyed them all. I took a class where we made pretty marine life-themed cards with 3D flowers, a scrapbook layout about cats, another layout with some of the infamous expensive Queen and Company products, and an amazing watercolor class that just blew my mind. Who knew I could watercolor!? Of course, I needed around $100 of stuff to replicate the technique at home...but meh.
We stayed in a different area of Lancaster than last year, ate at different places, sat in the pool's hot tub the whole time, and even got to drive through a bit of Amish country. The last local store we visited was nestled in someone's house in what looked to be an Amish neighborhood--a buggy even went by while we were shopping!
Too Much Drinking with the Sistahs
Drove back to Rochester on Sunday, and then I hung out with the fam through Thursday afternoon when I hopped onto a small flight to DC to begin mini-trip #3: my annual Beaver Sisters Reunion! This year we returned to Penn State so that Angelina and her little 6-month-old cutie Aquila could join us! It also happened to be the weekend of the Central Pennsylvania Festival of the Arts, aka ArtsFest, that none of us frequented much when we were in college.
Four of the five of us drove up to State College (trip #3!!) from DC on a lovely Friday morning, and had a blast chatting in the car. We stayed at Dana's parents' house like we did last year which conveniently is super close to an amazing winery. That was activity #1. We did a tasting, bought a couple of bottles, and drank until a group of seniors started taking over and setting up the band. Yeah....
Then we met up with Angelina and Aquila for a lovely dinner, followed by awesome ice cream at Meyer Dairy, and drinking at the house until 1am or something stupid like that. Here we are at the dairy that hasn't been updated since 1962: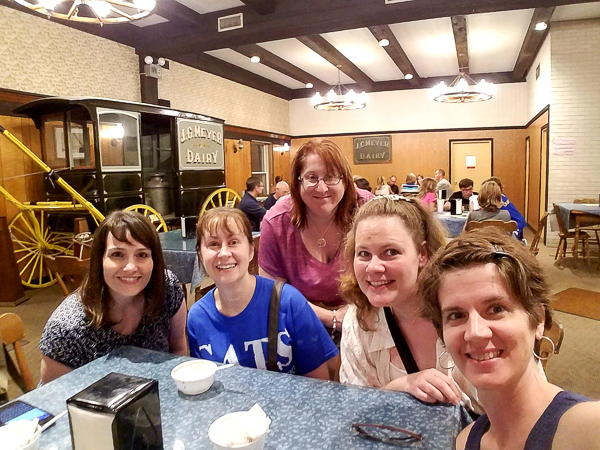 The next day we walked all over ArtsFest, checking out all of the booths. I bought a beautiful hand-cut really intricate piece of art made from paper: it's a heart full of floral vines and leaves with two birds kissing in the middle. I also bought some hand-made wooden utensils. Couldn't do much more than that because my suitcase was already overweight with scrap crap! Here's the scene down one of the main routes. The roasted almonds were amazing by the way.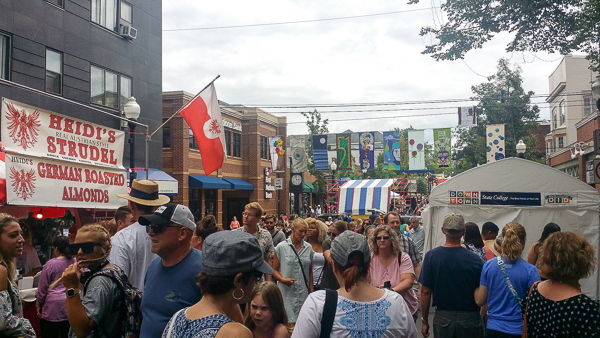 And Dana, the master of selfies, took care of ensuring we had plenty of Sistahs shots.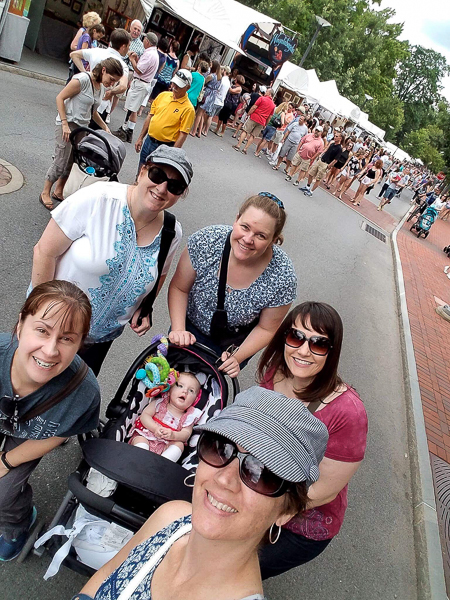 But it was nice to not have an agenda. We leisurely checked everything out, sat in the shade listening to a band, had a lovely Thai dinner, and--you guessed it--stayed up drinking, talking, and watching videos online until 2am. God I'm old, that really kicks my butt. Here are A&A. I have to say, Aquila is THE best behaved, most calm, and happiest baby I have ever experienced!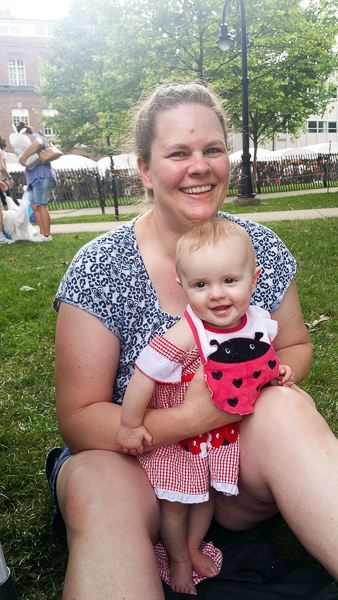 Unfortunately, A&A had to leave Sunday morning due to family issues. We said our goodbyes, and then the four of us drove 15 minutes to another winery, where we tasted, bought a couple of bottles, and had a lovely picnic on their back deck.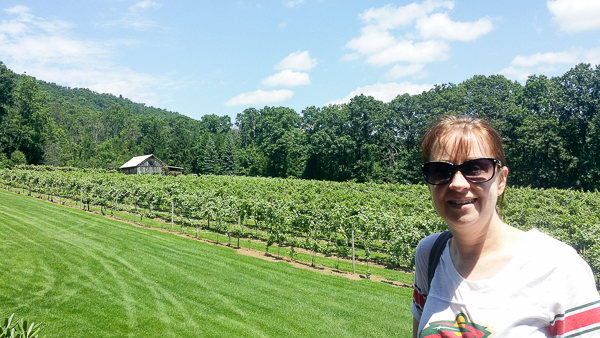 Next, we went to campus where we visited the Penn State Arboretum, something I had heard about for years but never saw. It's a bit of a ways away from campus so that's why we didn't see it last year.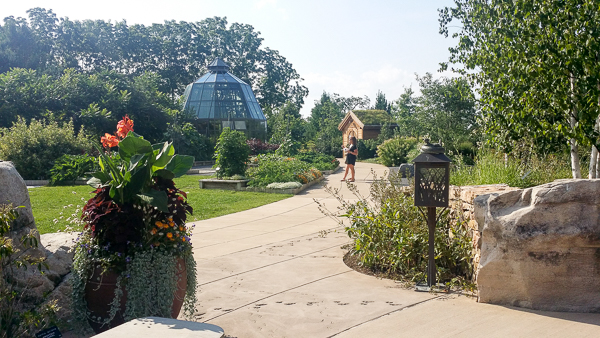 It's an eclectic location filled with a wide variety of plants and trees, some fountains, and this: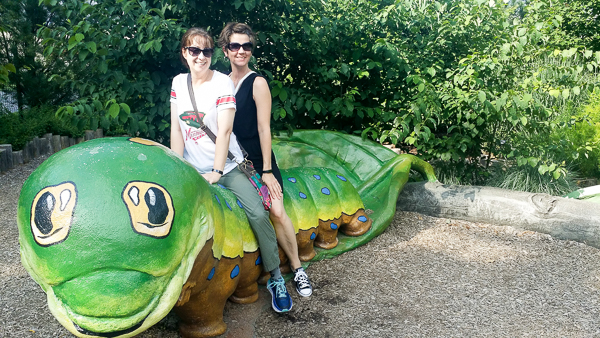 I got nothin'.
Then it was our annual visit to the Penn State Creamery, relaxing at the Airbnb, a lovely pizza dinner, and more drinking and talking.
On our last day, Monday, we had our annual spa treatments. This year, we checked out an awesome spa that has Himalayan sea salt lining the massage rooms. They had all sorts of different beds and therapies available so we all tried something different in addition to massages. I had a hand and foot butter treatment while lying on a jade roller bed. It felt SO good--these rollers really dug into my muscles, all the way up and down my back, and relaxed them such that my massage afterwards was one of the BEST I've ever had! And breathing in the salt is supposed to help with digestion, inflammation, breathing, and a variety of other things. I would definitely return there if we ever go back to PSU!
Then 3 of the 4 of us drove back to DC while Dana stayed a week with her parents. My flight home was delayed an hour (like the one to DC was, go figure), but it was awesome: we boarded quickly, the plane was one-third full, we took off early, we had the wind at our back, we had super smooth air and just went around the storms, and we only landed 20 minutes late! I love Southwest!!
Settling Back In
WHEW! I immediately had to go back to work, go to a card class, and drop JC off at the airport three days after my return home. He went to Vegas for 1.5 WEEKS for two back-to-back security conventions for work. We are now both exhausted and delighted to get back into a 'normal' routine.
However, I just found out that our favorite TV show, @midnight on Comedy Central, is having its last episode tonight. I am so heartbroken! It's a game show where comedians compete around current social media ongoings. The topics are scripted but the comedians are entirely improvisational and it is HILARIOUS. I've come to know SO many new comedians, learn about pop culture, and sortof get current news from this show. We have like 50 episodes on our DVR to catch up on but then I can't believe it'll be gone. :(
Oh well--more time to scrap I suppose!!!
Summer storms are so cool...when you're not flying through them!