August 2016
This month, I have one big event to tell you about rather than a bunch of smaller ones. I went home to Rochester, NY, to spend 2.5 weeks with family, celebrate my nephew Domenico's first birthday, and attend the Creating Keepsakes Convention with mom and her friends. I didn't have a ton of time off, so I took a day here and there to be able to hang out with everyone, as well as 2 days for the convention. Mom and dad usually have to babysit the boys several days a week, but my sister Erica quit her job and took a few weeks off before starting her new one, so that coincided perfectly with my visit. On one hand, I didn't get to see the boys all day, every day, but on the other hand I was able to concentrate on work, so I'm not complaining!
I flew into Buffalo, had lunch with mom, dad and Aunt Cathy at a nice pub, and shopped at Buffalo Stamps and Stuff before driving to Rochester and crashing. (Yes, I'm going to a huge scrapbooking convention where I will spend hundreds of dollars, but that doesn't mean I can't get some pre-shopping shopping on!)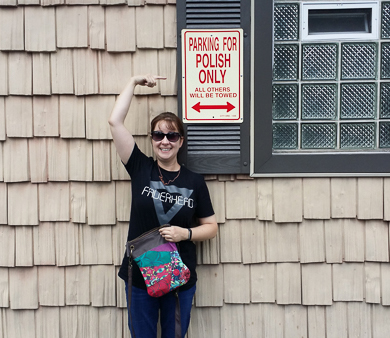 This was the first time I got to see the boys, the night after I arrived. We had a nice family dinner and they were so cute together in the sandbox!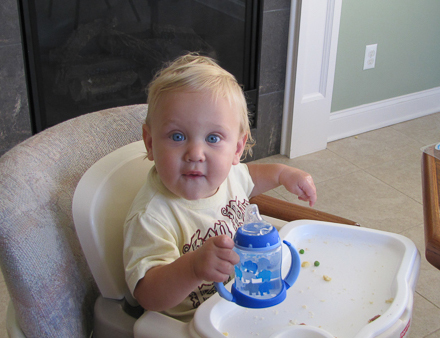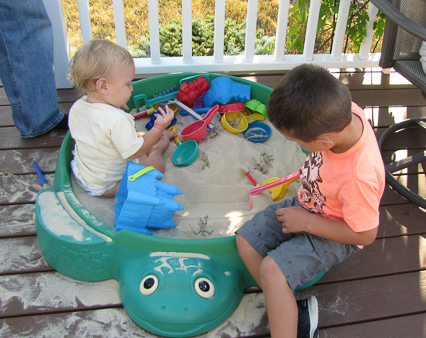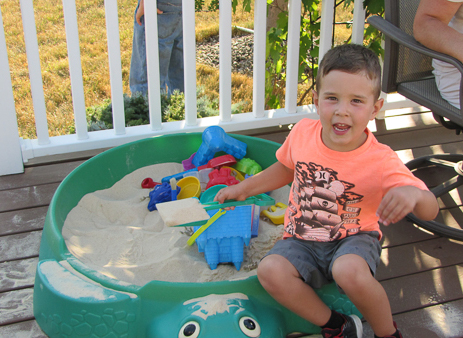 During another night when they came over, Leo helped himself to mom's die cuts, stickers, scissors and glue and made a card all by himself! He loves doing crafts! That's my godson!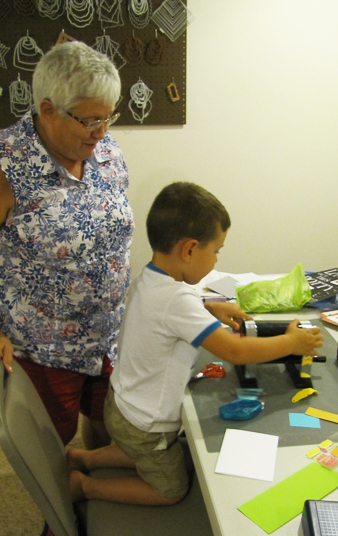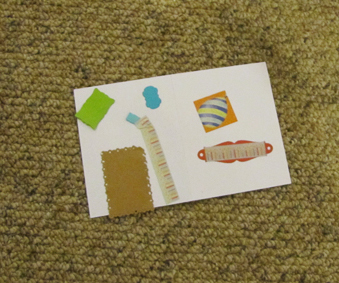 Domenico's first birthday party was very fun. The kids threw water balloons at each other, slid down a slip and slide, and played in little pools. Gino used his new smoker he got for his birthday to make the best pork and brisket I've ever had! Domenico wanted nothing to do with the birthday cake, though. He was happy with the balloons tied to the chair, and then had a cookie instead. Leo, however, quite enjoyed the cake. The theme of the party was Nemo and Dory.
Mom and Dad with Domenico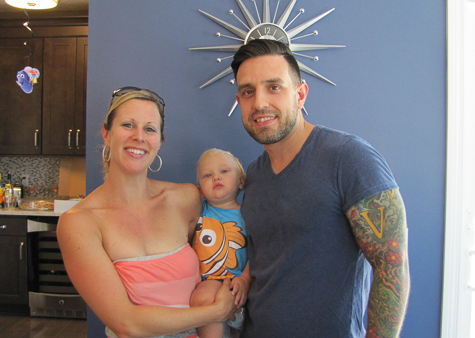 Check out that cake! I think they had extra for weeks.
Nonna (grandma) and Nonno (grandpa)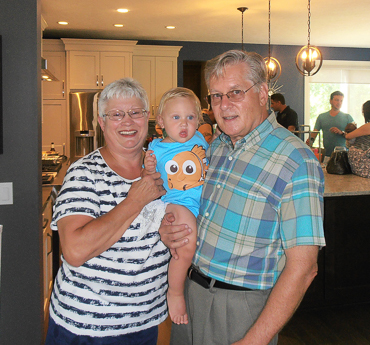 Looks like the cake is as big as his head!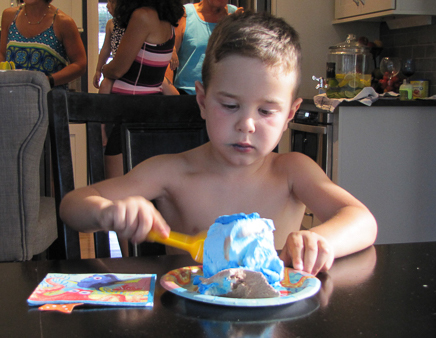 *****
During a non-kid evening, mom, dad and I made melt and pour soap. I'm very pleased with how it turned out! For those clear soaps with stars and bottles in them, we first made the inside pieces and let them harden, then you place them inside of the larger mold and pour clear soap around them. The soaps that look like mint chocolate chip ice cream are actually sage, basil and peppermint. I can't wait to use them!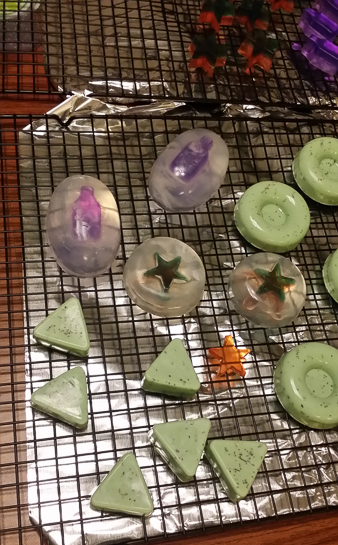 On another day, we drove to Buffalo to hang out with Aunt Cathy and swim in her pool. Both boys LOVE being in the water so we spent hours in the pool playing, getting Leo to swim into the deep end, and relaxing on a hot summer day.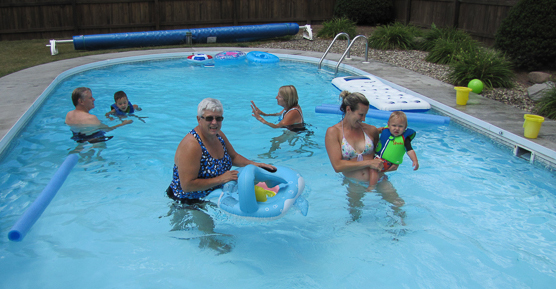 Look at this kid! He's already perfected the eye roll as well.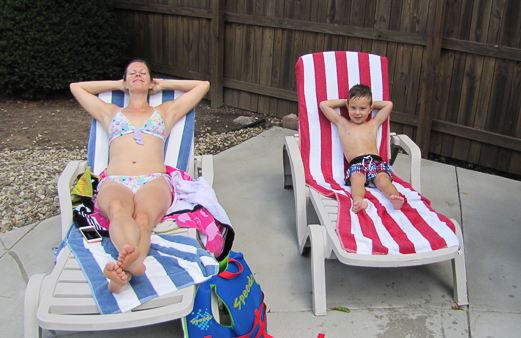 That's me scooting Domenico through the water to my dad.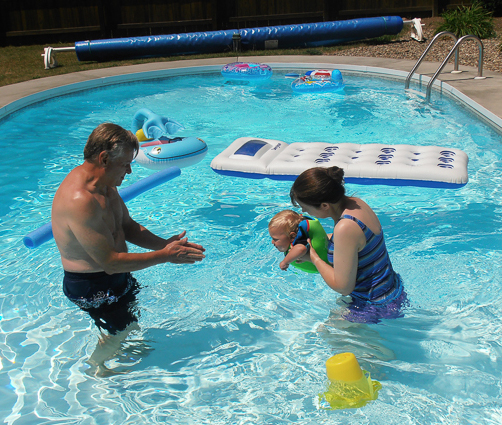 One day I took a quick break from work for an hour and we met up with Erica and the boys to go to a nearby park. Leo is quite the climber, and Domenico enjoyed being in a swing!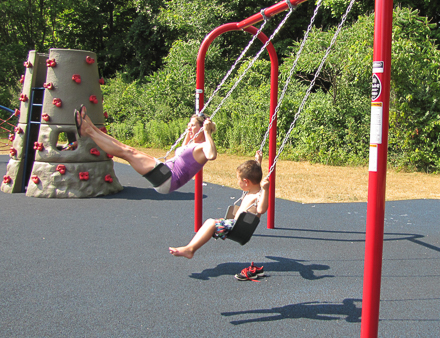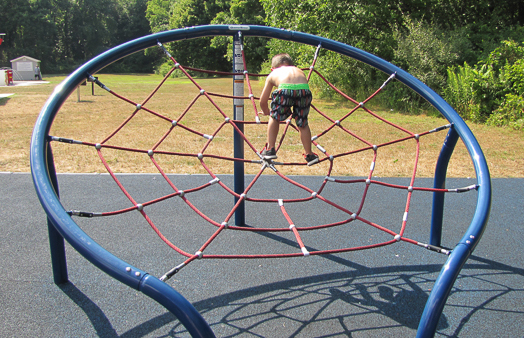 Then, mom and I had a 4-day weekend driving down to Lancaster, PA, with her friends Audrey and Jennifer to attend our annual Creating Keepsakes scrapbooking convention. It was Jennifer and Audrey's first time. They took two classes each and did a bit of shopping, then spent half a day driving around Amish country. Mom and I each took 5 classes and shopped until the very last minute of the show. I *might* have bought too much....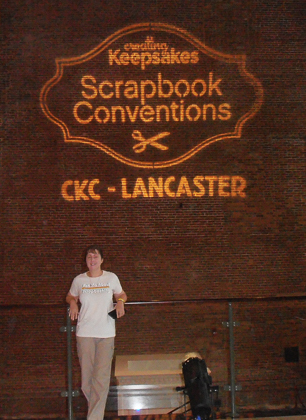 The four of us had lots of fun. We ended up having dinner at a different brew pub each night and they were all delicious!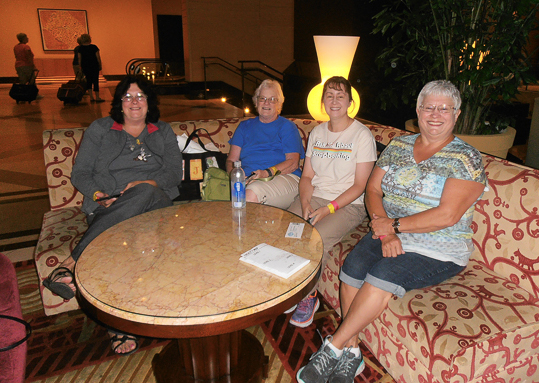 But here's one third of the show floor to give you an idea of how big this is and how much shopping there is to do!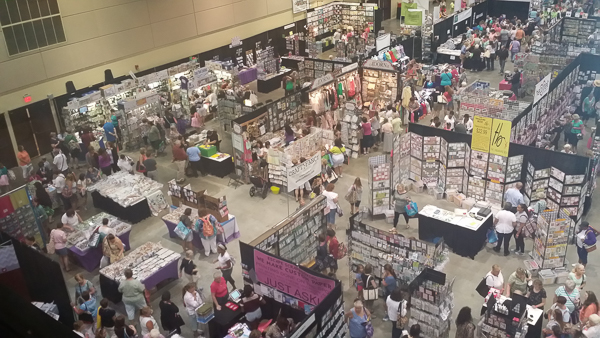 *****
The other highlight of the visit was a day trip to Seabreeze, a small yet really awesome amusement park in Rochester. The place was really, really nice--they had a large kiddie section, lots of adult rides including 3 roller coasters, an amazing water park and even a ride I had never been on before that slowly spun you upside down on a huge arm.
Leo takes after his mom and I--he has NO FEAR about rides, and rode everything he could! He even got upset when he wasn't tall enough to ride something that we thought he could go on. And we had to ride the Bobsled roller coaster with him twice! Here he is on the kiddie swings with cousins Christopher and Analisa.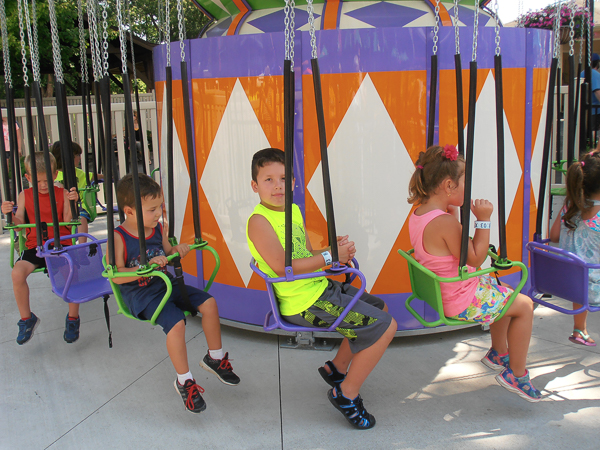 This ride was adorable because the kids didn't have to drive the cars, they moved automatically. It was one of very few rides that Domenico could ride! The boys in the car together were just adorable, and Leo really enjoyed driving his little brother around.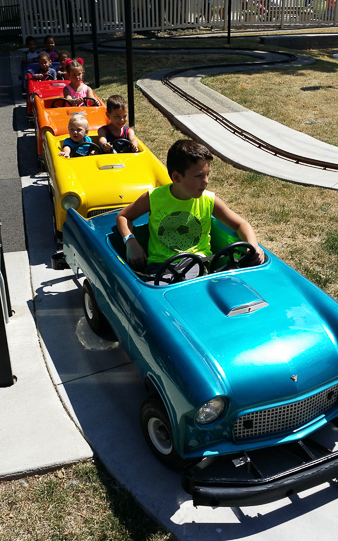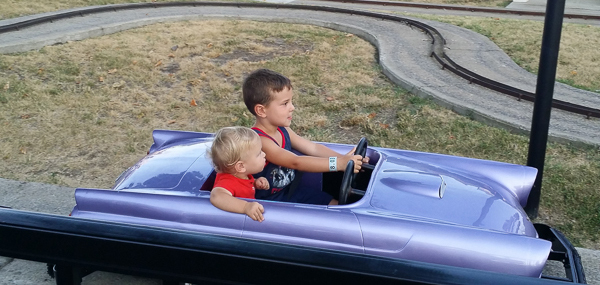 After a bunch of kiddie rides, we hit the water park. It is huge, with several different areas of slides for young and old, fountains, buckets that poured water down on you, and water guns. Leo rode the various water slides at least a hundred times. Domenico got to walk in shallow water and put his hands in a giant fountain.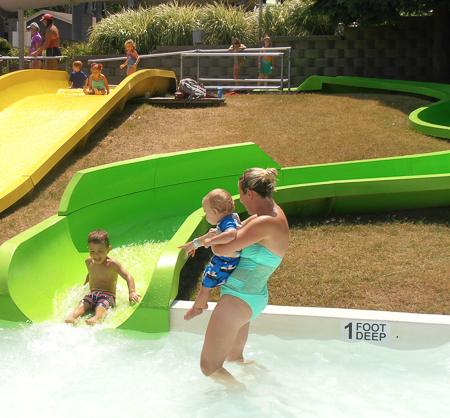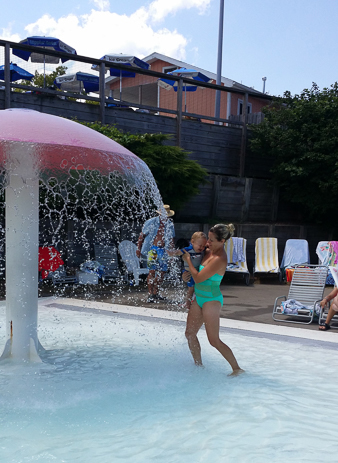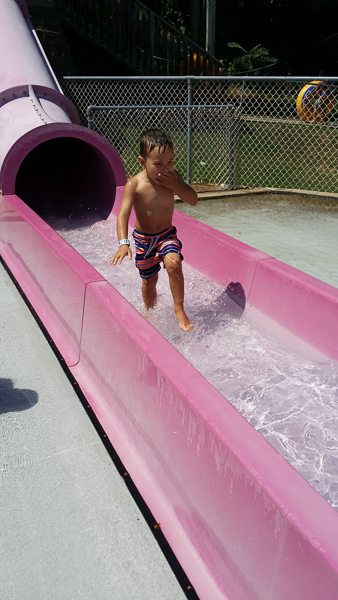 There were a bunch of adult water slides, but I was happy roaming through the kiddie pools and floating down the lazy river!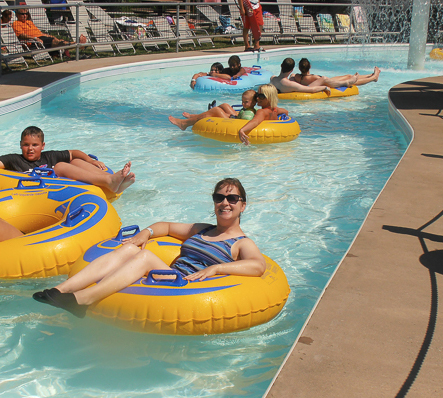 We took a break in the afternoon to eat dinner at Erica's house and let Domenico have a nap. The couch is coveted space for both human and animal.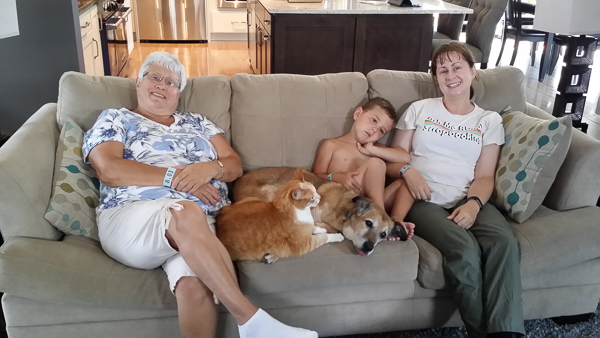 Dad joined us for the evening return to Seabreeze and we rode a ton more rides! This was an adorable train.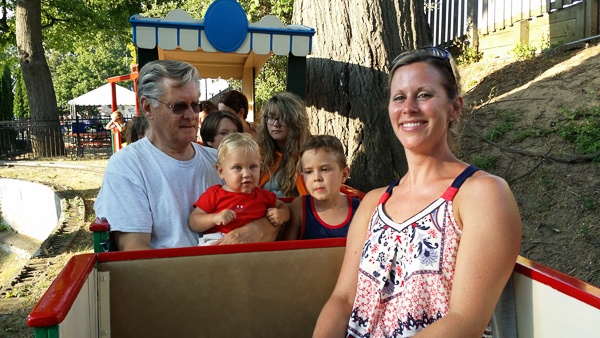 A kiddie coaster that mom and son could share together!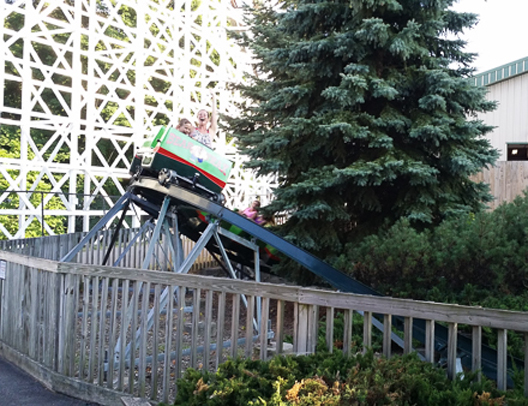 An adult coaster that is the second oldest coaster in the US. Called the Jack Rabbit and dating from 1920, the brakes are controlled by these heavy levers that need special training to operate. It was a fun little wooden coaster!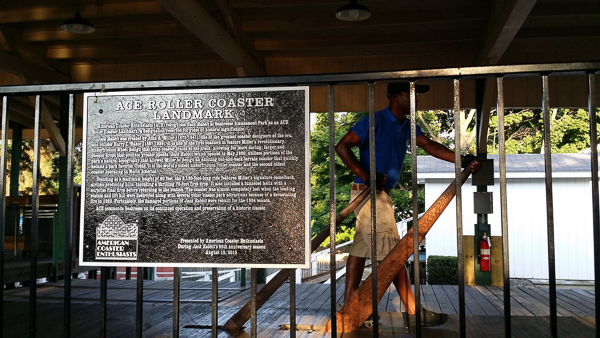 And of course the whole family can ride the carousel! The first time we took Leo on a carousel, he freaked out and cried the whole time. Domenico doesn't seem to be bothered by it!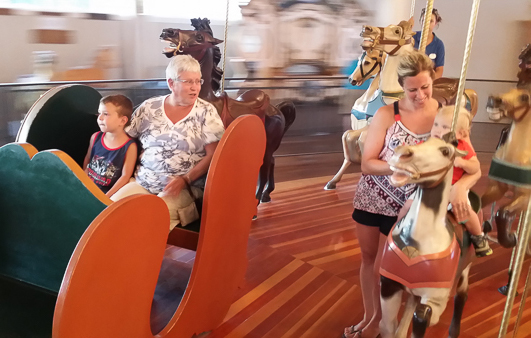 We tried to get Leo sick on the teacups. He was a rock.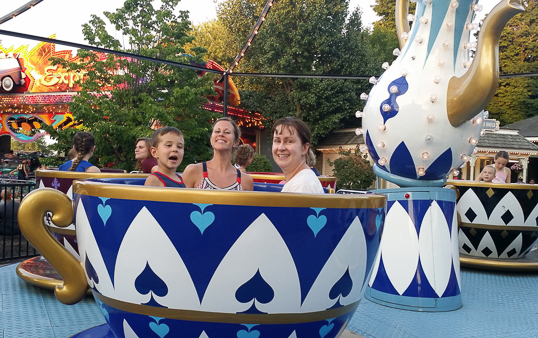 Finally, a yummy ice cream treat was in order to cool off on a hot day. Domenico LOVES ice cream, he just shoves his face into it. He had it up his nose and all down his chin!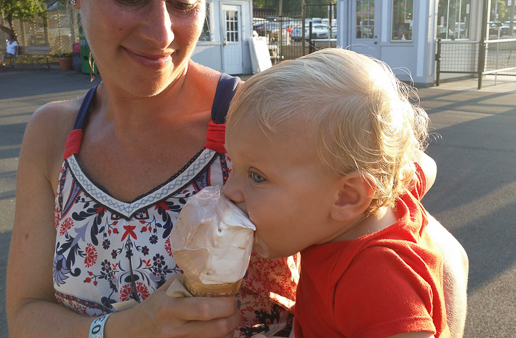 *****
Our final celebration was of Gino's and Dad's birthdays. I made a really cute shadowbox full of photos of dad with the boys and the word "Retirement" above it. Of course I didn't take a picture of it, that would make sense, right!? But Leo is my dad's barnacle so he had to help open the gifts.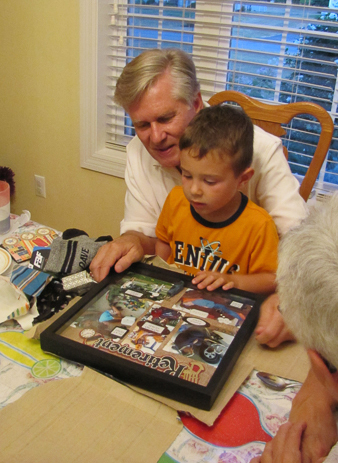 It was quite a long visit, but it was a lot of fun. Mom and I also managed to spend a good amount of time in the craft room. I stamped and die cut a bunch of stamps and dies of hers that I liked, and we also got a few more months of layouts done for Leo's album (Domenico's album is not even close to being started yet). I also enjoyed their hot tub on many a lovely summer evening!
Yeay Olympics!