September 2011
OK, so August was...interesting. Started off with an awesome trip and then just went downhill from there!
Our First GenCon
So the awesome trip JC and I took right at the start of the month was our very first trip to GenCon. GenCon is an annual convention for gamers in Indianapolis. Not video gamers, but "old school" gamers who whip out the dice, character cards and board games. People who play games like Dungeons and Dragons and Settlers of Catan. But it's much more than that. It incorporates a TON of games now, as well as miniature painting, role playing, artwork, costumes, you name it!
Our friends Heather and Derek go every year so we promised them we'd accompany them in 2011. I was not sure whether I'd be bored, miserable, or excited to be there, but you don't know until you do it once, right?
Turns out it was SO MUCH FUN! But before I go any further I must give credit where credit is due: all of the photos in this month's update are brought to you by Heather and Fortuitous Photography. She took AMAZING shots while we were there, so if you're in Colorado and need a photographer for an event--or to just have some fun--do contact her!
Here's the rundown: our friend Derek does speed painting competitions pretty much the entire convention, so he parked himself at the painting tables and painted away, winning one of the placements in almost all events. Here he is submitting one of his minis that he painted at home and submitted into the grand competition: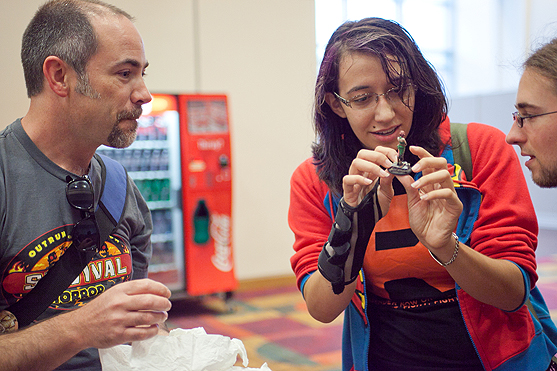 And here is the mini that they are "ooo-ing" and "aaahh-ing" over. He hand-painted the cherry blossoms on the dress and the stocking on her leg. Pretty freaking good, eh!?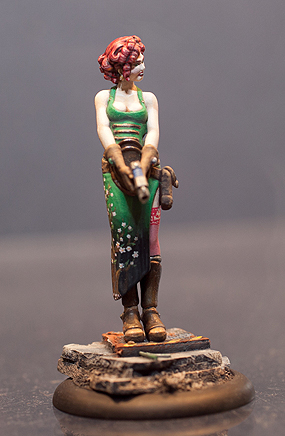 JC hasn't yet delved into the speed painting world, but he attended several painting classes, hosted by some of the best miniature painters around. He learned a ton of cool stuff and is now contemplating doing speed painting next year as well as submit a miniature into the grand competition.
But, JC did some good damage in the Exhibit Hall, which was an enormous vendor hall for everything and anything you could think of. He bought some instructional painting DVDs, a smarmy shirt (as did I), and some more miniatures to paint. Here's JC and Derek geeking out at a booth that sells minis: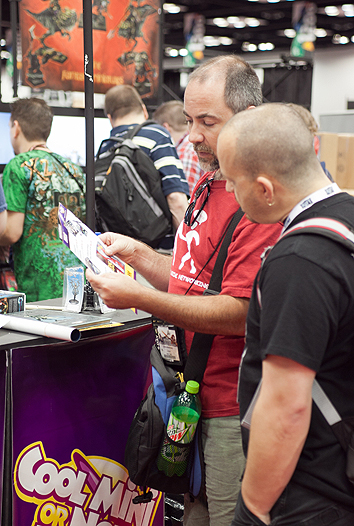 So while those two painted, Heather and I had fun with some classes of our own. I'm sure you are now asking: what classes could you possibly be taking at GenCon? Well, they actually have a wide variety of activites for the spouses, or "gamer widows", including...yes you guessed it...scrapbooking!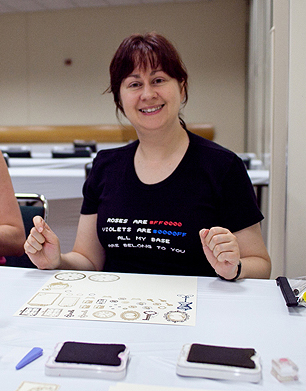 Happy in my zone!
We also left the convention for a while to check out downtown Indy, and we visited the old train station that is now a hall for events, as well as a hotel. It was pretty cool--they left some of the track in tact and put some train cars on it that are actually hotel rooms!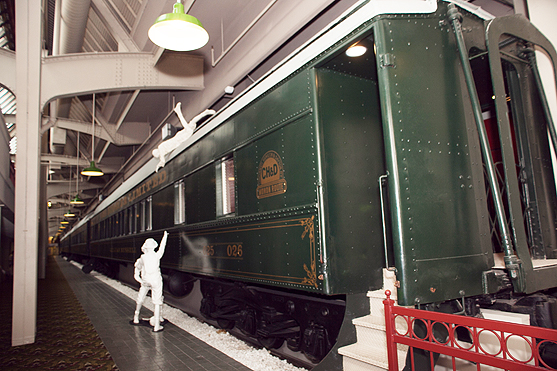 And, we attended the costume contest, which was super cool. They had many different categories of costumes and some of them were extremely intricate and really awesome, even though I had no idea what most of them were about!
Here are a few of the winners: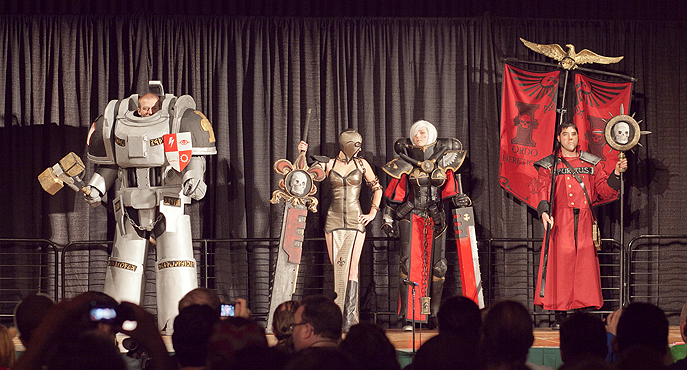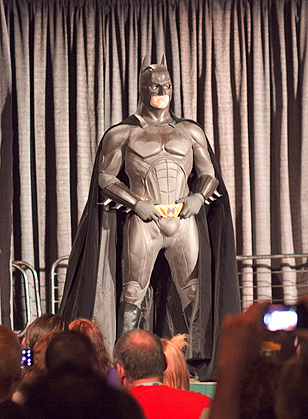 Yes he made that costume himself!
But of course, the costume contest is not the only place to see the costumes. People are dressed up and walking around throughout the whole convention!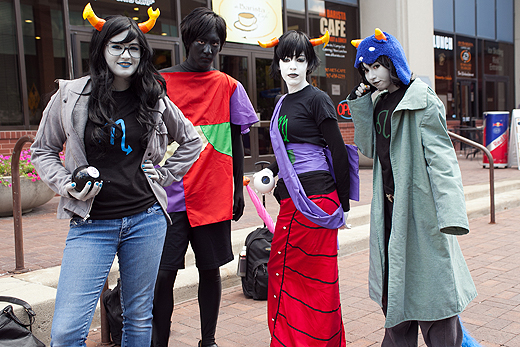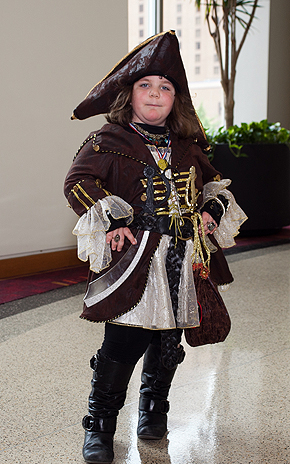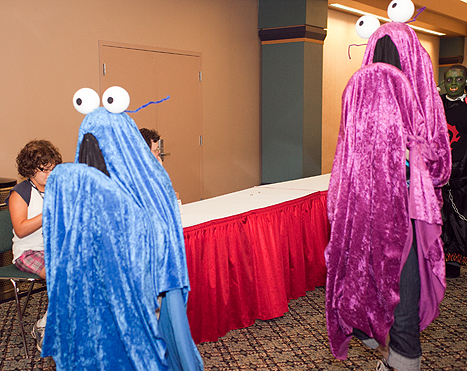 Remember these guys???
And as I mentioned, we roamed around checking out everything, including the massively huge Dungeons and Dragons room, complete with enormous monsters: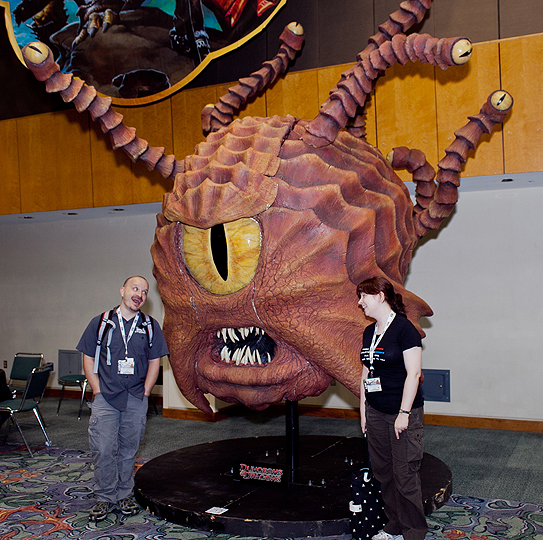 So all in all it was really fun checking everything out and learning about this whole world. JC and I did end up buying a game--mainly because it contained a lot of minis that he wants to paint--but I just might turn into a gamer after all!
One thing is for sure--we had a BLAST and are planning on doing this every year!
Other news?
In other news, two days after we came home from GenCon we both got pretty sick with some congestion/head cold thing. It even caused us to miss a concert we bought tickets for, as well as one of my playoff hockey games. I managed to make it to the following hockey game, despite still being sick, and we lost, so that ended our run in the playoffs. I was actually not too sad about that because I was still sick and had we won, we would've had to play the next night, ugh!
However we did manage to make it to another concert, Combichrist, who was headlining a goth festival. They did a short set, because it was a festival, but it was AWESOME because it was just them on stage without any fancy sets or lights, and they went back into the catalogue and played some old amazing stuff. JC was particularly stoked because he missed them the last time they came around last November, and then the time before that, 2 years ago, they had to cancel because of a huge blizzard. So FINALLY they are reunited.
It actually took us a full two weeks to feel healthy again. Too many GenCon cooties I guess. :)
Now that we are not traveling again until December, things are pretty low-key. I'm planning on getting a lot of scrapping done as I anxiously await the start of football and hockey seasons. Hopefully JC will be doing a lot of miniature painting as well as he now has a lot of minis to paint!!
As for work, JC's had a crisis the last week of August that caused him to stay overnight a couple of times, so that sucked. For me, the times they are a changing, and I'm all for it. There are 3 of us gals who are the XML lead engineers for a particular large client, and lately the work has been drying up, and we are incurring a lot of extra costs, thus making the projects no longer profitable. I've been tasked to be on an investigative panel to research the root causes of the costs and come up with further cost-saving measures. In addition, since we don't have the volume of work that we used to have, our manager made a drastic change: I am the only XML engineer staying on this client account, and my two coworkers are going to move on to other accounts. I think that was the best decision to keep the account afloat, but I'm wondering if I bit off more than I can chew with this! I guess we shall see...
BRING ON THE FALL ALREADY!!!