2018
December
November
October
September
August
July
June
May
April
March
February
January
2017
December
November
October
September
August
July
June
May
April
March
February
January
2016
December
November
October
September
August
July
June
May
April
March
February
January
2015

December
November
October
September
August
July
June
May
April
March
February
January
2014

EUROPE PHOTOS
December
November
October
September
August
July
June
May
April
March
February
January
2013

December
November
October
September
August
July
June
May
April
March
February
January
2012
PORTUGAL PHOTOS
December
November
October
September
August
July
June
May
April
March
February
January
December 2016
November seemed to have come and gone very quickly. Only towards the end of the month did the weather actually start feeling like winter; we were still in 70 and 80 degrees through my birthday!
Speaking of that "special" day, I didn't do anything exciting on the actual day since it was a Monday. I worked my day job, and then worked my night job. However, the weekend before was spent at a lovely scrapbooking retreat with my friend Lisa and other gals we see at these events now and then. We stayed at an Embassy Suites hotel near the airport, and most meals were included. It was very comfortable, and I got a record amount of scrapbooking done. I was in the ZONE! I made 88 Christmas cards, 5 cards to hold gift cards, and around 20 other birthday cards. Plus I won 7 prizes that weekend!
Next, we did our annual weekend in Vegas. This time, we stayed in The Cosmopolitan, the newest hotel on the strip, and while it was very nice, it wasn't as extravagant as the prices reflect. (We've been wanting to stay there ever since it opened, but the room rates are usually outrageous.) The most entertaining aspects were the floor-to-ceiling window between the shower and the bedroom, and instead of a bible in the nightstand, there was a Karma Sutra type book! Oh and the wallpaper in the toilet area was a subtle pattern of women. Guess you can figure out the target demographic of this place, which clearly isn't us!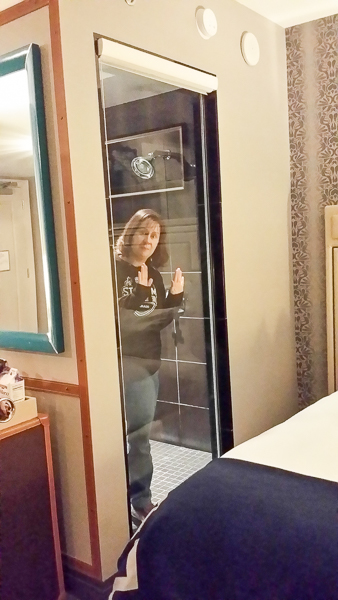 We actually had rather good luck gambling. We just roam around from hotel to hotel playing penny slot machines and electronic roulette. JC didn't do so hot on the roulette, while I kept winning a little here and there on the slots. I found two new favorite machines: Wonder Woman and Willy Wonka. In the end, I think we had a record winning weekend, as we came home with almost all of the cash that we brought with us!!
Here's the fall display at the Bellagio. They always do such a fantastic job.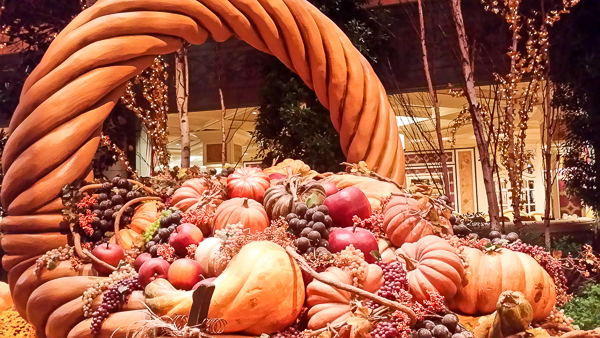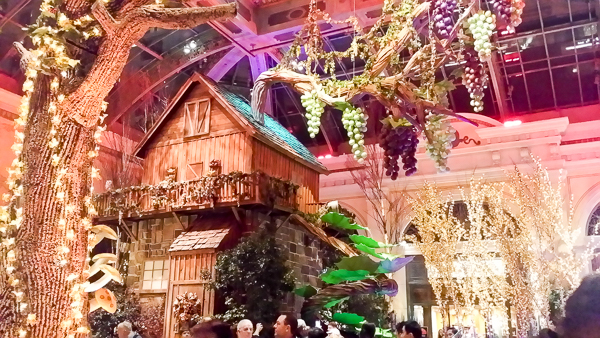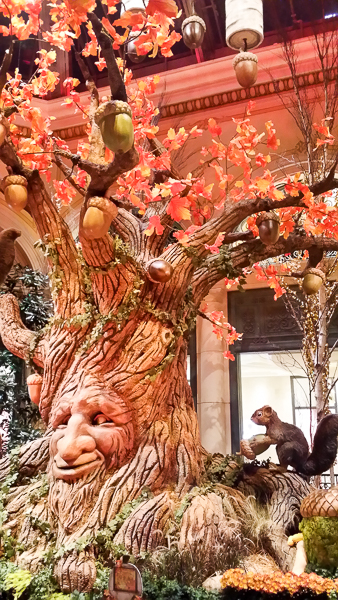 We found the Hershey's store and treated ourselves to super yummy chocolate milkshakes...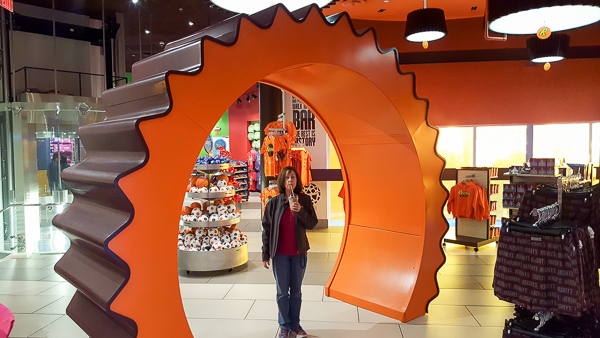 And went to some favorite, and some new, restaurants. We tried Jaleo, a really good tapas place, and Holsteins, a burger joint, in The Cosmo, as well as Eggslut (yes you read that right) for amazing breakfast sandwiches. The signature menu item is the Eggslut, which is mashed potatoes with a poached egg and chives. It's cooked in a glass jar, so I guess they want those back: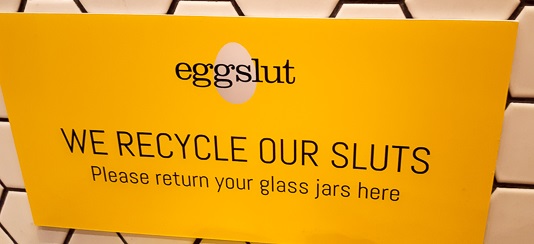 And here's one scene from a gorgeous Christmas display in the Wynn: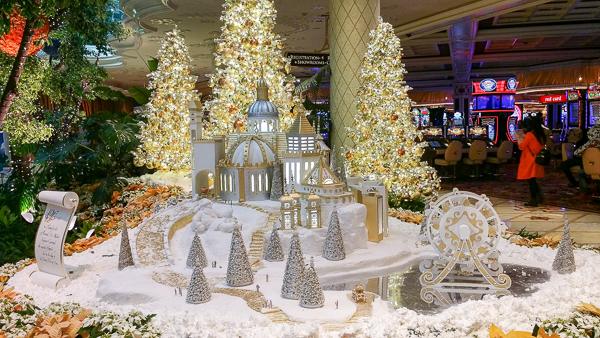 We also did more shopping than we typically do in Vegas. We found, in the same location, the Basin soap store, JC's Crazy Shirts store, and my nemesis, Desigual. I *might* have bought a couple of things...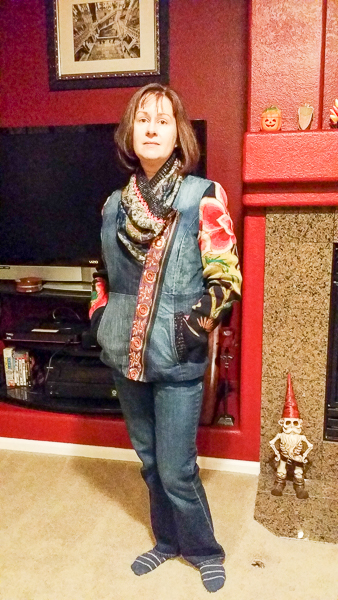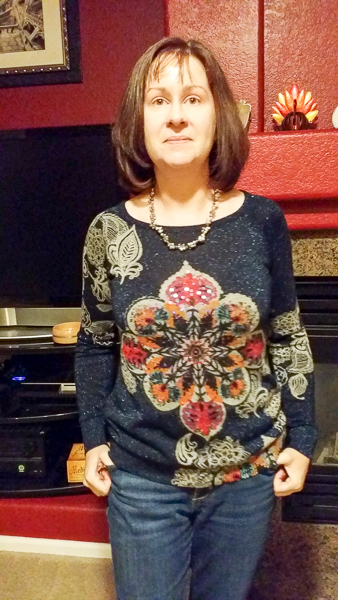 The main reason we went the weekend that we did was for an event: we saw Eric Idle and John Cleese, from Month Python's Flying Circus, live. They were AMAZING! They retold the history of Python and the gang, interspersed with photos and clips of them performing, some live skits that never made it into any of their TV shows, and some songs. They were hiliarous and it was great to hear the whole story of how they all met and formed Python, and the projects they did before and after Python.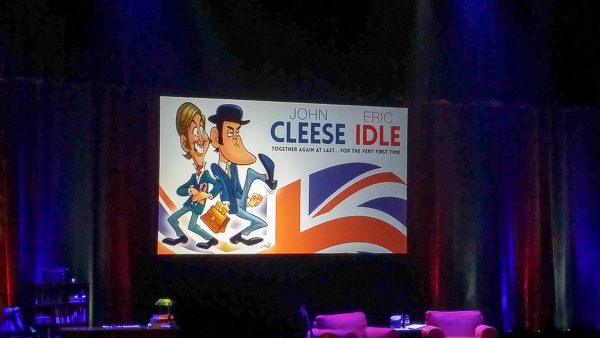 In other news, we had a calm Thanksgiving weekend with JC's family, and continued our tradition of watching bizarre, nontraditional movies with "Yellowbeard" which we had heard about from the Idle-Cleese show. It was a cheezy pirate movie done by many of the Python guys back in the 80s.
Work-wise, I'm celebrating my one-year anniversary at Moravia! It's been lots of fun, very little stress, and I've basically reorganized the entire Sales and Solutions content library. I am also officially published! I wrote my first blog post, which you can read here. It was a lot of fun, but a lot of work!
My month was also extremely busy continuing to purge stuff in our house. The larger, furniture items are all gone. I managed to sell a few other random things, like dishware and a record player, through Facebook or local groups. I've also officially run out of things to sell on eBay! I sold a surprisingly large amount of Cure memorabilia and other music-related things. Most stuff didn't gross a lot of money; I am just delighted to send it all off to other people's houses! I sold all of my tour books, posters, some limited edition CDs and records, my old Cure calendars from the 90s, and even my collection of Curenews. I still can't believe I got rid of those, but they, they were just sitting in a trunk in the basement. Time to move on.
The only things I kept were my CDs (obviously still listening to those), and some rare collectible cassettes and records. But because I also purged the majority of my old, antique book collection, I can now display the Cure records on my shelves. It's amazing how freeing it is when you start looking at everything and thinking "Do I love this?" and if the answer is not a resounding Yes, away it goes! And once we got on a roll, we began looking at things that previously we thought we needed, but now we're like "Get rid of it!".
Our goal is to get everything purged by the end of the year. I still have a few collections of stuff to go through, so I don't know if that will be achieved, but I'd say we are 85% done at this point! Note that the scrapbook room is technically on the list, but since I can't easily find a place to sell my stuff, it's being put on hold. :)
I love Christmas lights everywhere!

2011
SPAIN PHOTOS
December
November
October
September
August
July
June
May - none
April
March
February
January
2010
ALASKA PHOTOS
December
November
October
September
August
July
June
May
April
March
February
January
2009
December
November
October
September
August
July
June
May
April
March
February
January
2008
WEDDING PHOTOS
December
November
October
September
August
July
June
May
April
March
February
January
JILL'S CREATIONS:
Album - 2017
Album - 2016
Album - 2015
Album - 2014
Album - 2013
Album - 2012
Album - 2011
Album - Penn State
Album - Cedar Point
Album - Wedding
Cards
LOAD513
LOAD214
Mini Albums - Coffee and Daily Junque