July 2017
Happy mid-year! UGH. Time really does speed up as you get older! I swear it was just February!
June's big event came right at the beginning of the month. JC and I took a quick jaunt to Virginia to attend my cousin Kelly's wedding. We were picked up by my parents, who drove down to spend a week there with friends and family, and the first stop we made was to--where else?--a scrapbooking store. Tee hee.
Then we drove the hour out of horrible metro DC west to Winchester, VA, a smaller, quieter town. We attended a casual dinner with the fam that night and it was great to catch up with cousins and aunts that I haven't seen in quite a while.
The next day, the wedding wasn't until 5pm, so what to do when DC is more than an hour away? Well, the next best thing is to go to West Virginia! I technically needed WV as part of my "Fifty States Goal" because I had only previously driven through it, not stopped in a town or anything. Martinsburg, WV, is only 25 minutes away from Winchester, and had lots to do, so my parents and us made an afternoon of it.
First comes the obligatory state sign photo: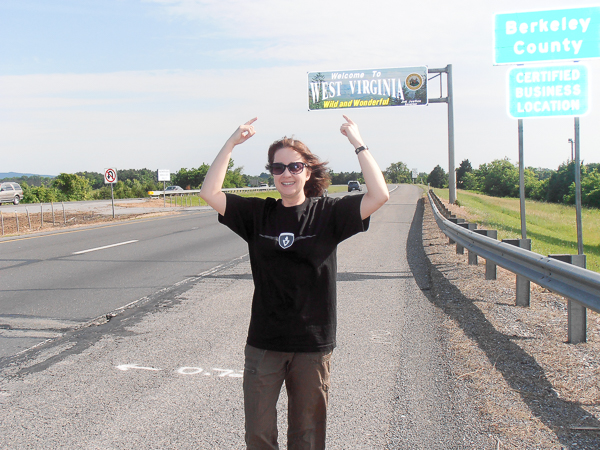 Then, our first stop in town was to an old cemetery, since we arrived in the morning before the town woke up. We found some creepy cool gravestones in there. I just like seeing the designs of the old headstones, and sometimes you get a rare weird monument like this.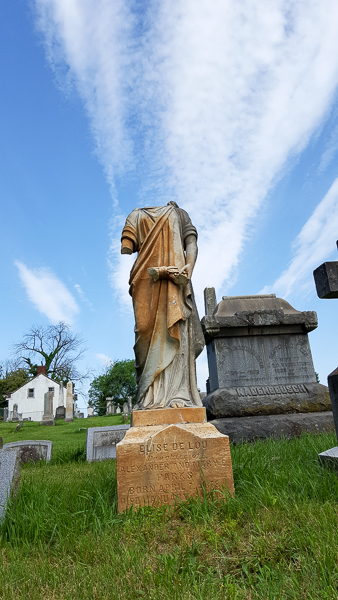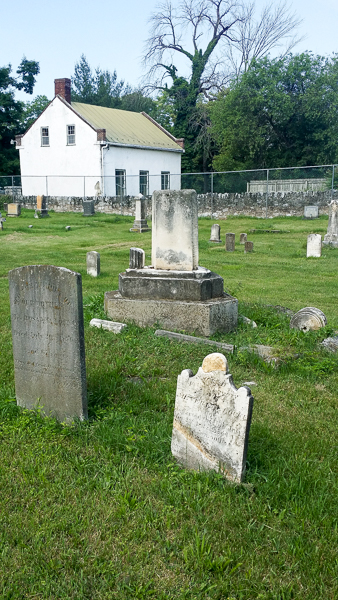 Next, we were off to the historic roundhouse. Having no idea what this was prior to this trip, a roundhouse is an old train building that has a rotating platform inside, allowing trains to literally turn around and go back on the tracks they came in on. This one is historic for being the last of its kind in the world in the particular style and architecture it has.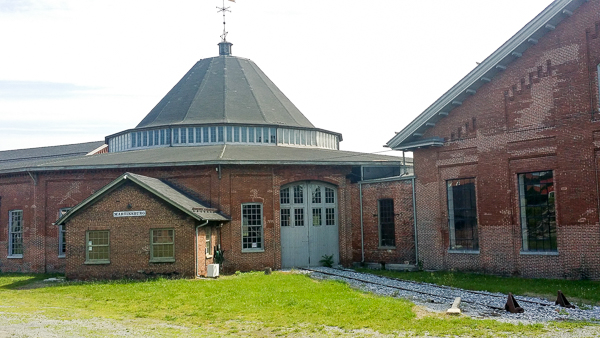 The roundhouse caretaker, a really nice retired guy from New York City, spent over an hour giving us a guided tour of all of the buildings and telling us about the history of the place. It's pretty cool. To the right of the roundhouse and arched building in the above photo, stood the very little remains of the second roundhouse, which was burnt down by some a-hole.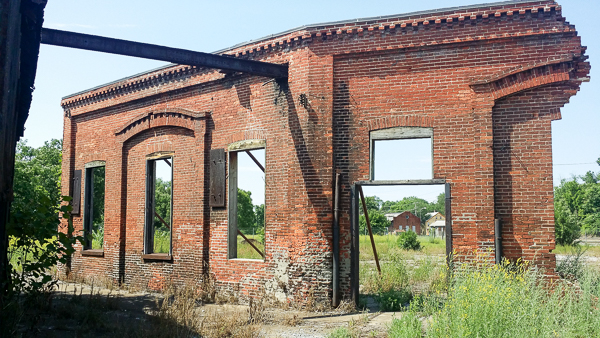 This is the inside. Really cool! The wood of the roof was recently replaces, but the iron design of the framework is the last of its kind. You can see the tracks in the pavement, and the tracks of the rotating wooden platform not quite lined up to them.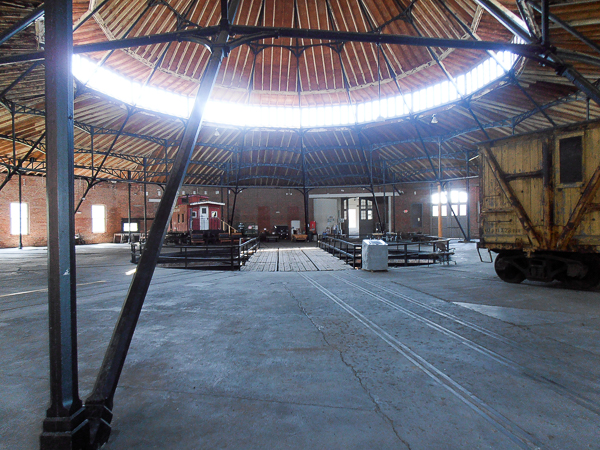 And this is the rotating mechanism beneath the platform.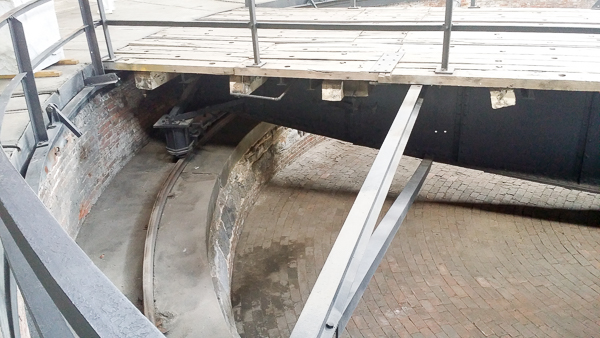 And...of course...this had to happen...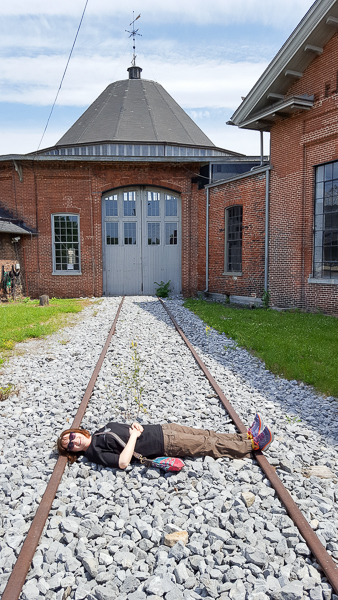 We then took a short stroll down the main street of Martinsburg, as well as visit the Belle Boyd House, a historic property. She was a spy during the Civil War, shot and killed an officer because he insulted her mother, was extradited from the US multiple times, and eventually became an actress! Go to the link above to read about her, she's a very colorful character!
Anyway, here are some quaint buildings in town.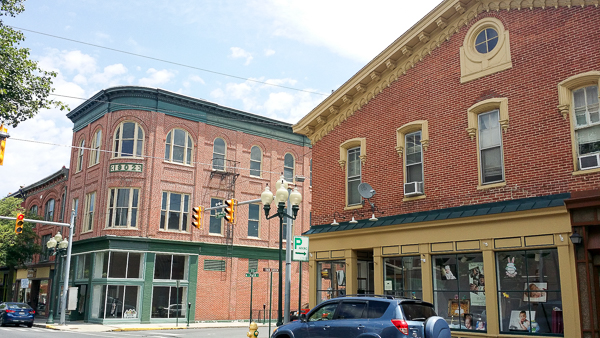 And we end from whence we came.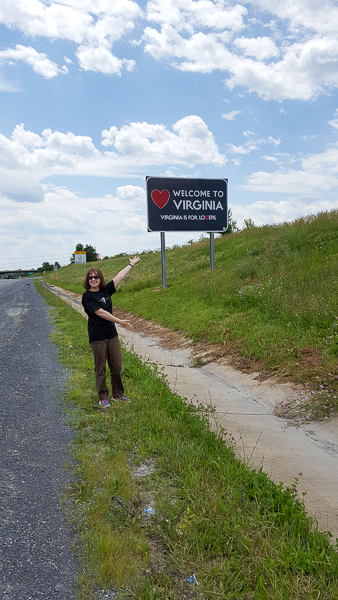 NOW--onto Kelly's wedding! It was held at a nearby winery, on the lawn right behind the old red brick building, overlooking the vineyard. Superb location!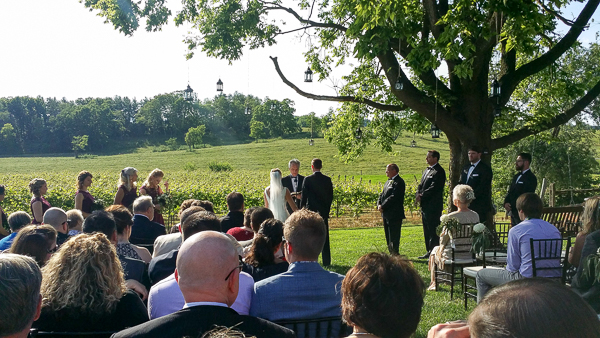 The ceremony was short and sweet, and boom! Kelly and John are married!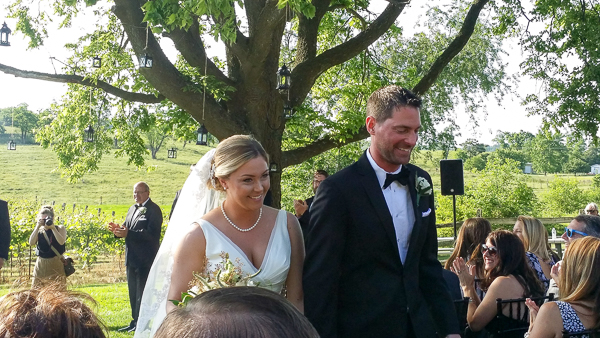 This is my whole family: Andy, Aunt Patty, Kelly, John, Uncle Rich, and Julie. Uncle Rich is my dad's brother. I hung out with them a lot during my time in Virginia, and they carted me all around during those first couple of years, to get groceries and what not, because I didn't yet have a car! Andy now lives in Portland, OR (we visited him last September) and Julie now lives in Norfolk, VA.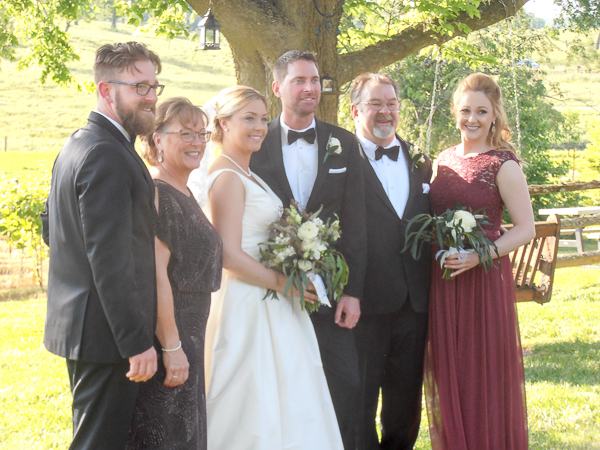 The sunset was amazing! And we watched the cows come home.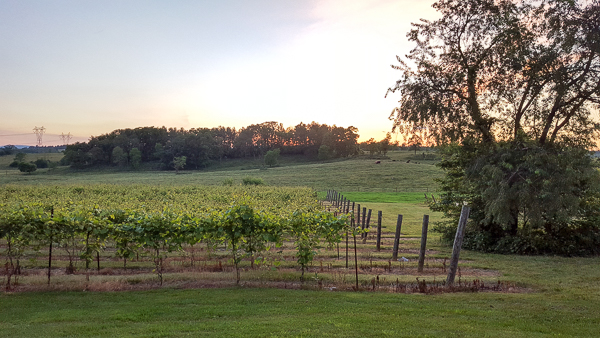 There was this old fireplace literally standing in the middle of the lawn (to the left of the above photo), so when it got darker I couldn't resist taking a goth photo. :P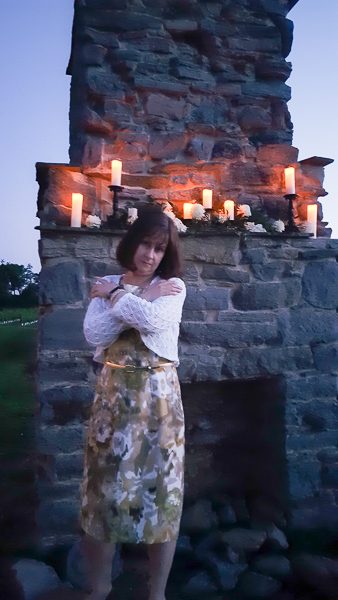 In the rest of June, we were able to have dinner with a friend to catch up, I had dinner with some work colleagues in Denver, I finished scrapbooking 2016, and we went to see Cirque du Soleil's "Luzia" which was our first Cirque show in a circus tent. They have a very elaborate tent setup, including lots of trailers of flushable bathrooms outside, and an outer ring of the tent with food and souvenirs to buy. The actual seating area was quite small, but really nice--and air-conditioned!
The show was AMAZING!! I always see something new when going to these, and I've probably been to at least a dozen different Cirque shows at this point. Every single aspect of these shows is incredible: from the sets, to the music, to the costumes, to the acrobatics, to the comedy, to the unique performances, to the overarching theme and story unique to each show. This was even the first Cirque show I've seen that included "animals"--beautiful large horses and jaguars that multiple people moved from beneath (like those Chinese dragons you see at Chinese New Year). They truly looked and walked like real animals--minus the abuse and torture!
If you get a chance to see one, DO IT! You will not be disappointed. Well, unless it's "Zumanity" in Vegas...
OK when does hockey start again?