2018
December
November
October
September
August
July
June
May
April
March
February
January
2017
December
November
October
September
August
July
June
May
April
March
February
January
2016
December
November
October
September
August
July
June
May
April
March
February
January
2015

December
November
October
September
August
July
June
May
April
March
February
January
2014

EUROPE PHOTOS
December
November
October
September
August
July
June
May
April
March
February
January
2013

December
November
October
September
August
July
June
May
April
March
February
January
2012
PORTUGAL PHOTOS
December
November
October
September
August
July
June
May
April
March
February
January
November 2014
One week ago, JC and I were still in Europe. We were at our last stop of our European river cruise, having a fantastic time. It was gorgeous weather, around 50 degrees, with no rain at all. As I sit here typing this, it's 16 degrees and snowing. We came home on the last warm day of the year!!
October was quite a busy month. I did a lot of scrapping, and began going to water aerobics which I thoroughly enjoy. My foot is healing slowly but slowly, and I even had to buy a new pair of special sneakers to provide more support. We attended the miserable Colorado Avalanche hockey team home opener, as well as two concerts. Then, it got really busy when we went to Europe!
It's been 2 years since my last trip to Europe so it was time. We chose to spend a bit more money this time and take a river cruise down part of the Danube, which stretches through Eastern and Western Europe, ending in Germany. We went with Viking River Cruises and it was a 7-day itinerary starting in Hungary, going through Slovakia and Austria, and ending in Germany. In addition, you could add on a couple of days at the beginning in Budapest, which we did, and a few days at the end in Prague, which for obvious reasons, we did not.
We had been on larger cruises before, but not a river one, and to be honest, I would prefer the river cruises. Not only are the ships smaller and more intimate, but there are no at sea days where there is little to do (other than sit in the spa of course, which I will never turn down), so every day is a new port, a new excursion and new adventures. The boat doesn't rock like the large ones do when they're at sea, and the service was much more personal, warm and outstanding. Besides, our itinerary took us to three country capital cities and three stops at quaint, off-the-beaten-path towns that would probably be difficult to get to by other transportation.
To avoid boring you to death or taking up too much of your time, I'll explain the first half of our cruise this time around, and the second half next month. But, you can see all of the photos already by going to my Europe 2014 Photo Gallery.
DAY 1: ARRIVE IN BUDAPEST, HUNGARY
We left Denver at 6:30pm on October 30th, direct to Frankfurt arriving at around 11am there. Then we had 5 hours to kill in the Frankfurt airport before our next flight. I did some research online ahead of time to see if we could leave the airport and go exploring the city, and everyone said that despite the short metro ride to the city centre, don't leave the airport because security and customs take too long. Besides, there is a "huge" shopping center with tons of stores and restaurants to explore. OK, no problem.
Of course, it did not work out that way. We got through customs pretty quickly and then proceeded to get lost in the airport trying to find this "huge mall". The place is, well, disorganized. Luckily they had maps, but upon actually locating said "huge mall" it was a big disappointment. Oh well, we really didn't have that much time anyway to try to get into the city centre. Maybe next time.
Both flights were very lovely, and when we landed in Budapest at 6:30pm, we were greeted by a (cute) young man from Viking. He then took us to another (cute) young man who was our driver, and off the 4 of us went in a BMW zipping through Budapest at night, talking about hockey and iPhones. We had a luxurious room at Le Meridien right in the heart of the city and we crashed.
DAY 2: BUDAPEST, HUNGARY
On our first full day to ourselves, we had an amazing breakfast at the hotel and then began wandering around. We found the river, where our ship was already docked waiting for us, as well as the eerie Shoes on the Danube Memorial. During WWII the Jews were rounded up, placed here and told to take their shoes off. They were then shot into the river. These replica shoes from the time period are made of bronze and honestly look like the real thing. Very, very creepy and sad.

Then we checked out Parliament which is the crowning jewel of Budapest architecture. It's what you see in all of the brochures and commercials and looks absolutely stunning lit up at night.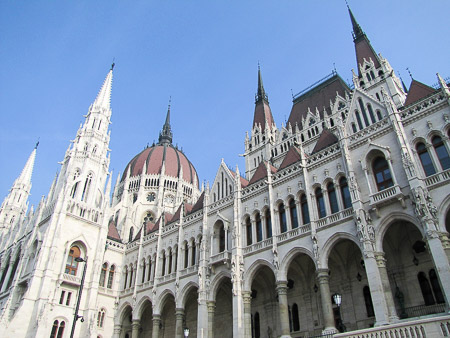 Our actual destination was St. Margaret Island, a good-sized island in the middle of the Danube that is accessible by walking halfway across one of the bridges that connects Buda and Pest. Once we got here, we found all sorts of cool ruins.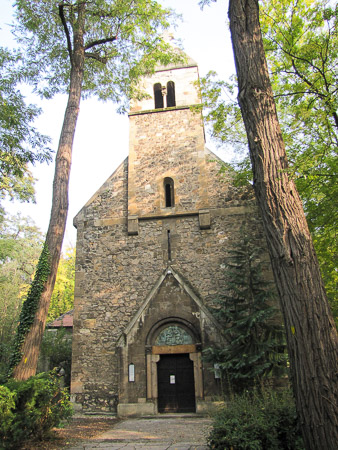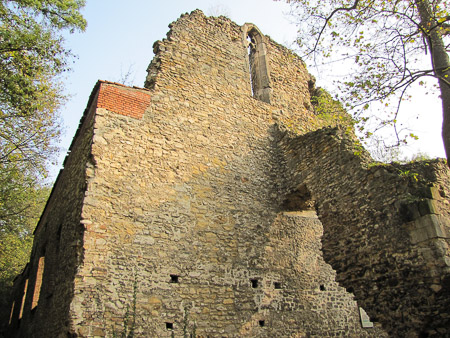 On our walk back, sipping warm mulled wine, we got word that our friends Ken and Mary had arrived. They booked a longer, different Viking river cruise starting around the same time ours did, out of Budapest! So they arrived, got to their ship, and then we met up with them to spend some time at night together. We actually grabbed our swim suits and went to Rudas thermal bath house, one of the oldest bath houses in Budapest. Hungary has a huge amount of hot thermal springs beneath it so going to these places is a favorite pastime for both locals and tourists. I heavily researched these places ahead of time and chose Rudas because it was close by, newly renovated, and the actual thermal pools date back to 1530. Here I am at the entrance to the thermal pool, which is a beautiful stone gothic dome with an octagonal pool. In the four corners are smaller triangle-shaped pools of varying different temperatures, some hotter and some colder than the main pool. I have to say, the water was very warm, and did feel different than your average pool or hot tub water. It had a very light smell, not very sulfuric, and felt great.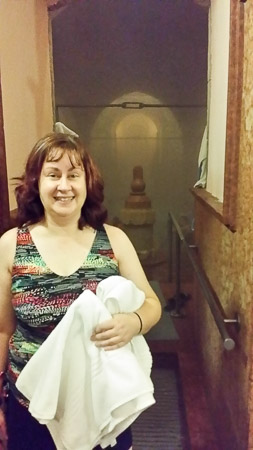 Then we took a leisurely walk along the Buda side of town to take some beautiful photos of the National Museums, and crossed the Chain Bridge back to Pest where we parted so that Ken and Mary could get onto their ship that left that evening.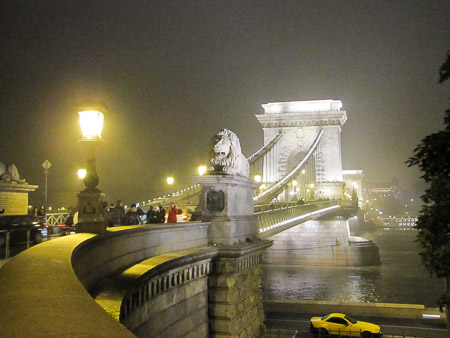 JC and I had dinner on our own and we found this amazing Hungarian restaurant not far from our hotel. We had a bottle of really good Hungarian white wine, and local favorites such as goulash and fish soup.
DAY 3: BUDAPEST, HUNGARY
Today we first roamed close to the hotel and found St. Stephen's Basilica, but because it was a Sunday and mass was in session, we did not go in. We ended up going back the next day to see the inside, only to show up two minutes before they were closing it, so we had to walk through it quickly. Next, we took a bit of an adventure and figured out the metro system to get to this old abandoned tram station building that we saw a picture of a few months ago. We navigated the metro just fine, but then at the huge station where the buses are, we couldn't find the right staircase to get to the bus we needed. Turns out it's a new route or some sort of special bus because it was there and running, but there were no signs for it in the lovely massive underground metro station.
So we got onto the bus with the locals and rode it to our stop. It was a very nice bus ride, actually, as we got to see some of the city's more modern architecture and typical houses and apartment buildings. The tram building, on the other hand, was incredibly dilapidated and absolutely amazing. We walked around the whole perimeter of it but didn't dare go inside because the place was really trashed, looked like it had squatters in it, and was on the verge of collapsing. But how cool is this!?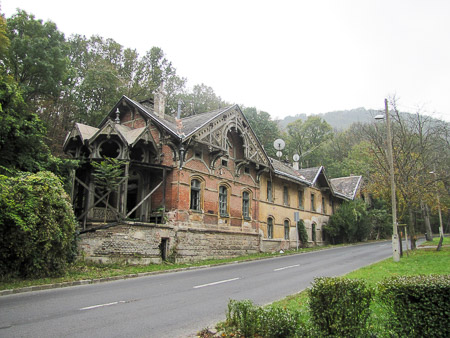 Back in the city centre, we rode the metro to a conglomeration of all sorts of good stuff. It's a huge park that also contains Heroes Square, another thermal bath, a zoo, an ice skating rink in the winter, and Vajdahunyad castle. The castle is not authentic, it's from the late 1800's, but was built as a series of museums and showcases of architecture through the centuries. So right inside of this gothic/medieval castle is a medieval chapel to the left, and a baroque/renaissance palace on the right.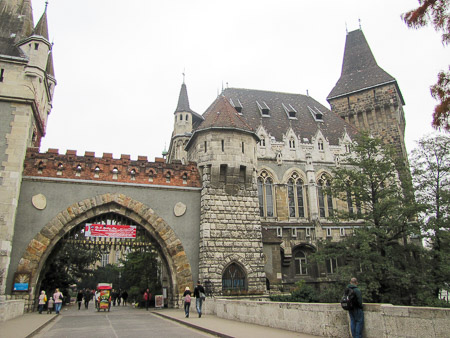 We had fun roaming around this complex for a while and listening to a musician who was playing a steel bell. It was huge, sitting on his lap and sounded like a soft carillon. We actually bought both of his CDs and they are very soothing to listen to. Then we met up once more with Ken and Mary who had their official excursion in the morning, and we checked into our cabin on our ship. We stayed one more day in Budapest while they set sail that evening. This was our first night sleeping on the boat and having dinner on the ship. Everyone was so very nice and the staff was exceptional.
DAY 4: BUDAPEST, HUNGARY
Today we had our first guided excursion as part of the cruise, and I have to say that all of the excursions were wonderful. They were a good amount of time such that you got to see all of the most important sights, but they did not consume the whole day so you could go back to the ship for lunch or eat on your own, and have the whole afternoon to yourselves to do other things. Our tour guides were so great, they were funny and patient and really informative. Our excursion in Budapest was primarily to St. Matthew's Church and the Fisherman's Bastion, two gorgeous architectural marvels.
Matthias Church is part of the Buda Castle area and dates back to the 1500's, with restoration work done in the late 1800's. The inside was gorgeous and reminded me of St. Ludmila's Church in Prague where we got married because of its ornate paintings.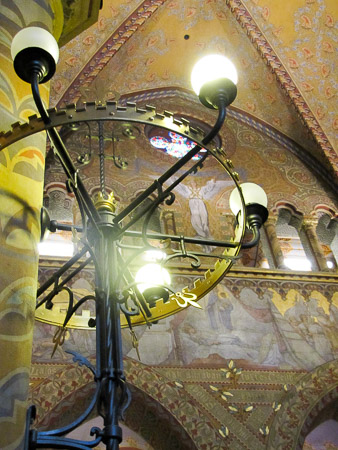 Fisherman's Bastion, on the other hand, is in a class unto itself. Perched on top of original Buda castle walls, it was created in the late 1800's as more of a decoration and never served as an actual fortress. It has such a unique combination of walls, turrets and almost arabesque motifs, and it's a bit of a maze to go through. It is accessible from atop next to Matthias Church or from below where you can then go up some stairs.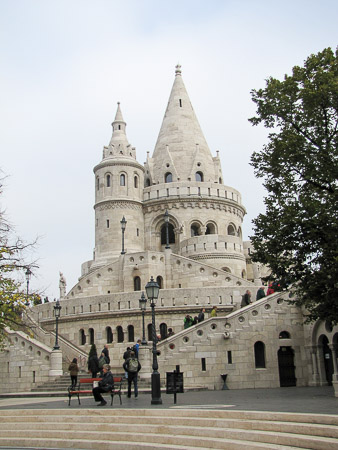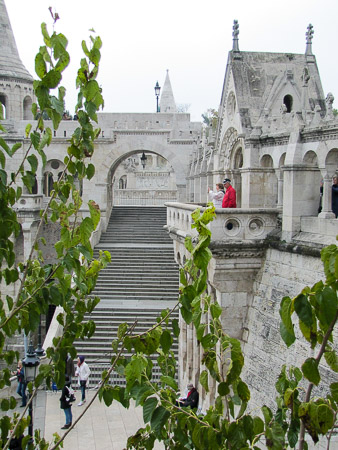 After seeing all of this we had a bit of free time so I bought some souvenirs, and then we headed back to the Pest side of town to Heroes Square where JC and I were the day before, and rode down Andrássy út which is a large boulevard with a lot of high-end shops and fun buildings. After lunch back on the ship, we walked the Váci Utca, a pedestrian area of shops, and had fun checking everything out before calling it the end of our Budapest journey. Our ship set sail that evening and we got to see the stunning Parliament building all lit up.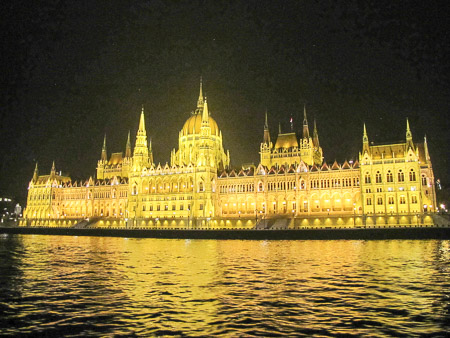 DAY 5: BRATISLAVA, SLOVAKIA
Yeay Slovakia! On our way there, we passed through the only lock out of a dozen that we could go through in daylight, so we all went up to the sundeck to check it out. It was pretty cool to see the water level rise so quickly!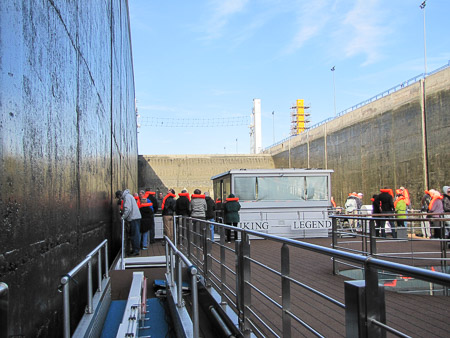 Today our excursion took us first to Bratislava Castle, a rather boring baroque square building rebuilt into this style in the 1600s. The inside is either government offices or a museum so we didn't go in.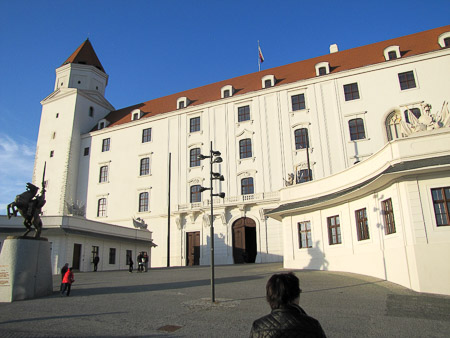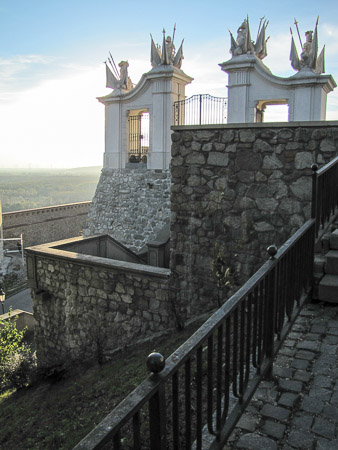 Next, we had a delightful walking tour of the oldest area of town, which was small and quaint and reminded us of Prague. This is the only remaining original "gate" entrance into the old city.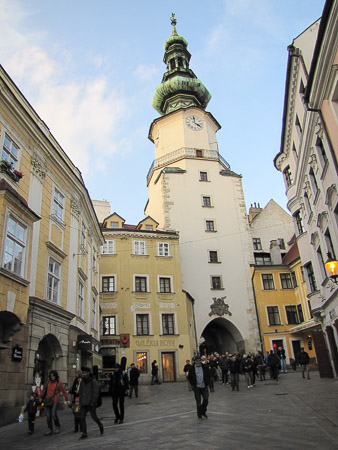 After a stop into a church for a short organ concert, we walked through the main square and saw a few of the quirky bronze statues that are scattered throughout the capital city. There wasn't much else to do after that, so we bought some souvenirs, walked around a few streets, and settled down at a small cellar-like pub with a pint of Master's to savor. Man that's good beer!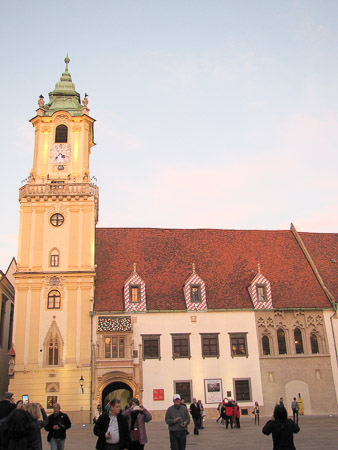 To be continued...

2011
SPAIN PHOTOS
December
November
October
September
August
July
June
May - none
April
March
February
January
2010
ALASKA PHOTOS
December
November
October
September
August
July
June
May
April
March
February
January
2009
December
November
October
September
August
July
June
May
April
March
February
January
2008
WEDDING PHOTOS
December
November
October
September
August
July
June
May
April
March
February
January
JILL'S CREATIONS:
Album - 2017
Album - 2016
Album - 2015
Album - 2014
Album - 2013
Album - 2012
Album - 2011
Album - Penn State
Album - Cedar Point
Album - Wedding
Cards
LOAD513
LOAD214
Mini Albums - Coffee and Daily Junque