September 2016
So the rest of August was quite peaceful and productive after my long visit to the family. JC had to go to San Francisco for work (boo, lame), purged a ton of stuff, and bought new computers to put together with the nephew. I worked at the Shack a lot (good to make up the money I spent at the scrap convention), finally cleaned my scrap room and put it all away, and continued on the big purge quest. I'm trying to keep the mojo going and be vigilant, but damn it takes so much longer to get rid of things as it does to collect them!!
Despite September just beginning, I do have another trip to tell you about! Over Labor Day weekend, we went to STATE #38: OREGON! We decided to take a weekend getaway to Portland to check it out. Our timing was great: we had cloudy, cool mornings that gave way to high 70's and blue skies. Who said it rains here??
So we arrived on Saturday morning and spent half of the day roaming around town, seeing the beautiful architecture intermingled with fun, new, funky businesses. Coincidentally, a TV show that we love called GRIMM is filmed in Portland, and I just so happened to know of a few filming locations we had to visit, such as this theatre...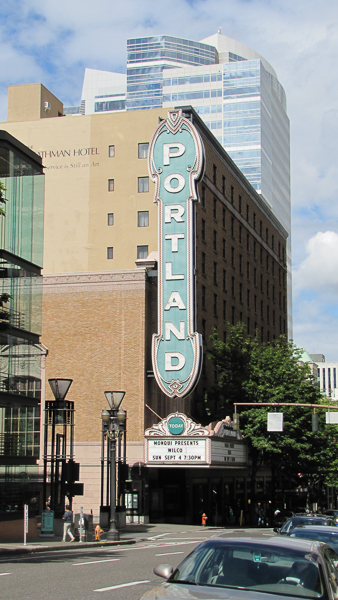 We spent the second half of the day supporting local businesses by hunting down gaming and scrapbooking stores. There are a LOT of each in Portland, woo hoo! This one, the Button and Ribbon Emporium, blew both of us away. I did some serious damage in here despite not needing either buttons or ribbons, but what are you going to do when faced with a WALL OF BUTTON BOXES!?!?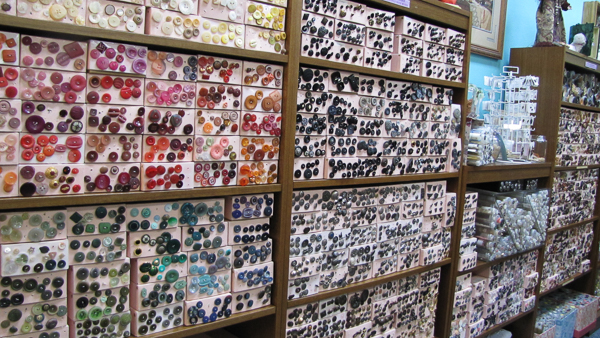 Anyway, here we are back around town, in Pioneer Courthouse Square.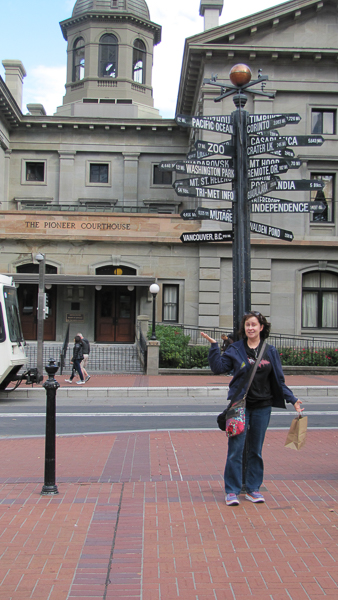 AND, our timing was even more perfect because just a few months ago, my cousin ANDY moved from Virginia to Portland, and we got to hang out with him! We had a wonderful dinner at Biwa, a Japanese place that he had not yet been to either, so it was awesome! And, I'm very excited that he got out of horrible Virginia!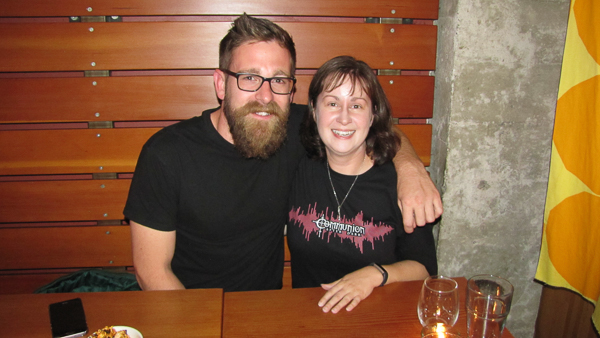 To start off Day 2, we ventured the line at Voodoo Doughnuts, world famous for amazing and intriguing doughnuts. This line was short in comparison to what it looked like on Saturday morning. We waited only 20 minutes for yummy awesomeness...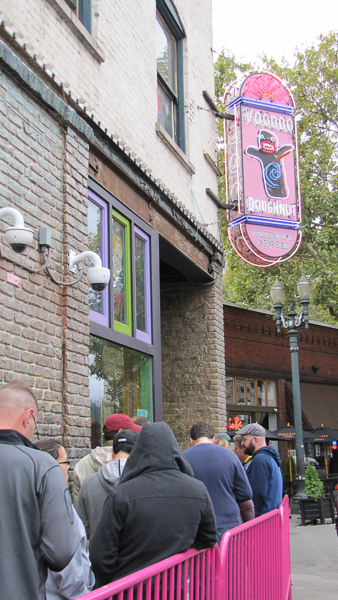 ...illustrated hmeah. We have a McMinnville in the top left with eyes and a mustache, next to that is a Mango Tango, bottom right is a Diablos Rex chocolate doughnut with a pentagram (except they changed the colors for the 4th of July, sheesh), an Arnold Palmer in the middle, a Neapolitan in the bottom left (chocolate doughnut, vanilla frosting and strawberry powder on top), and finally a Voodoo Doll on top with raspberry filling and a pretzel stabbed into his heart. So good!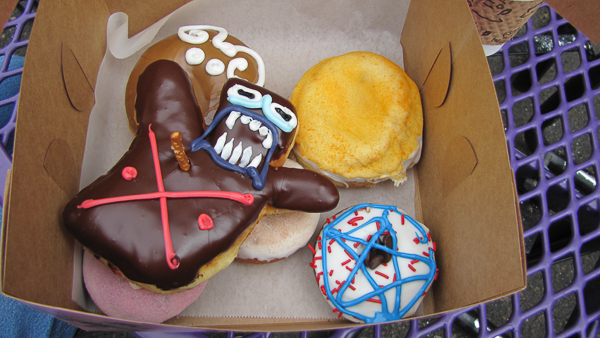 After the sugar high, we visited the Japanese Garden which was very large and serene, filled with a lot of beautiful plants and trees, some of which were changing colors, as well as little stone statues, bridges and pagodas.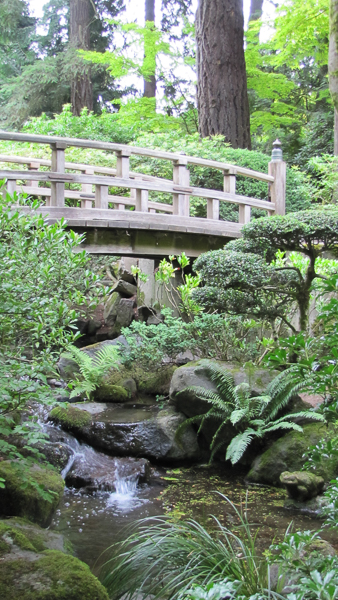 Not to mention HUGE koi!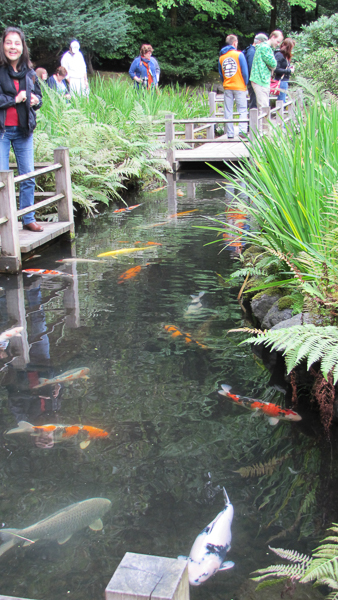 And a stone garden, not sure that's what it's called.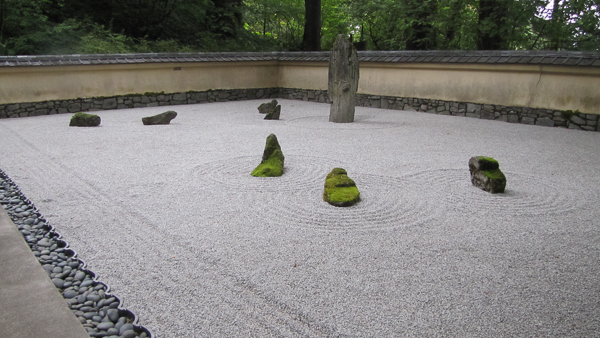 Right next door is the Rose Garden, which was enormous with a lot of different varieties of roses. It was over-stimulating. But I set my camera to Macro and let 'er rip!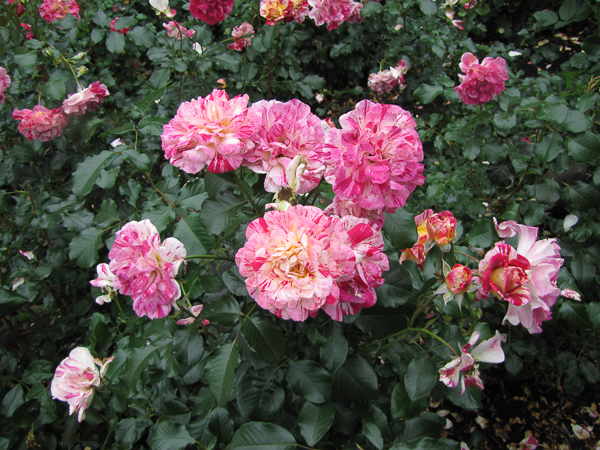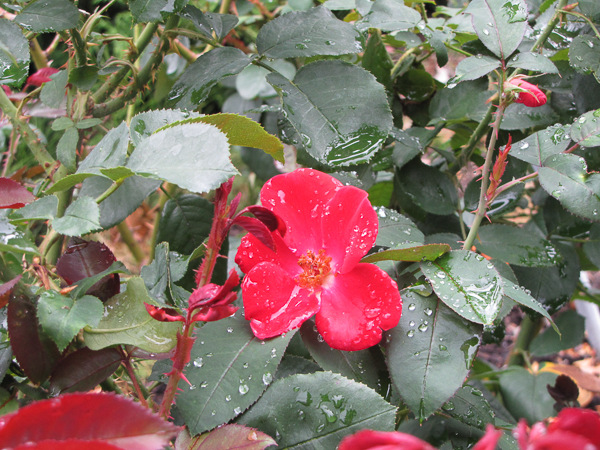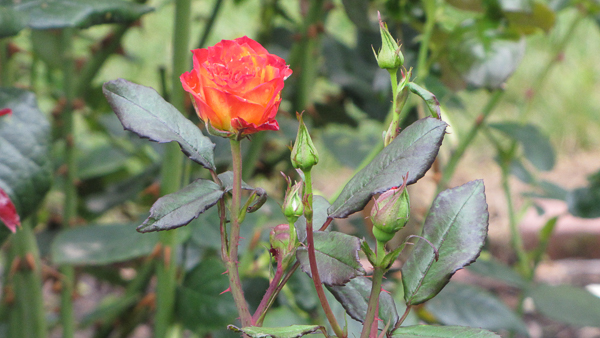 After we were rosed-out, we headed to the Nob Hill district where we had an amazing brunch and did a bit of shopping. We also finally got to the Portland Saturday Market, open Saturdays and Sundays, which is near our hotel and the river. There are a ton of food and homemade goods vendors, and we got some new artwork for the house from a local artist.
At night, we took a Portland walking tour, which showed us some beautiful old buildings, more GRIMM sites, and the underground basement and tunnel system rumored to be used for kidnapping people and conning them into working on the boats that pulled into the harbor. Everyone things the tunnels were primarily built for this activity, but in fact they were used mostly to flow sewage and transport goods around town.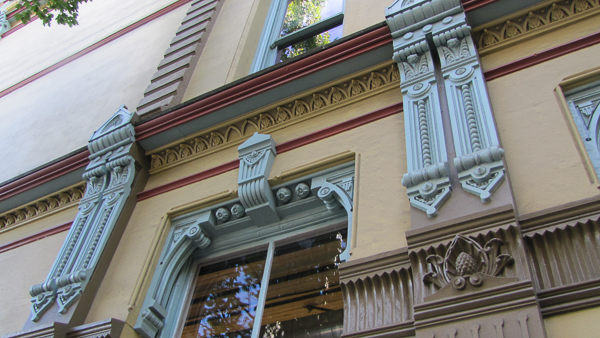 On Day 3, our first trip was to the Doc Martens store, where we did some damage. I had gotten rid of all of my old pairs a few months ago--boots that were very, very worn down, some of which I've had for 20 years. I thought that phase of my life was over, never to wear Docs again...and there we were, getting NEW boots! JC got a nice pair of greyish/black ones and I got shiny red ones that are made of synthetic vegan leather! I'm so stoked!!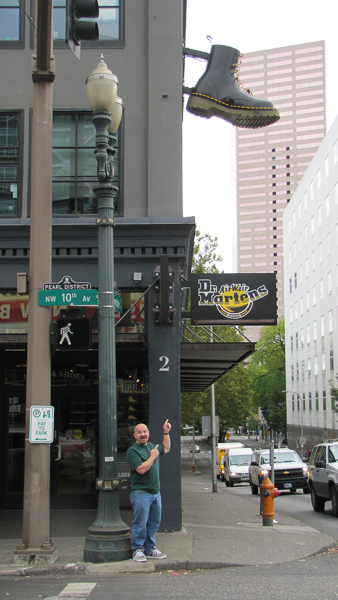 Then we roamed around town a lot more, visiting different neighborhoods, finding a freaky taxidermy store and another gaming store, and of course, locating more GRIMM sites. Here I am in front of the most well-known house of the main character. Sweet!!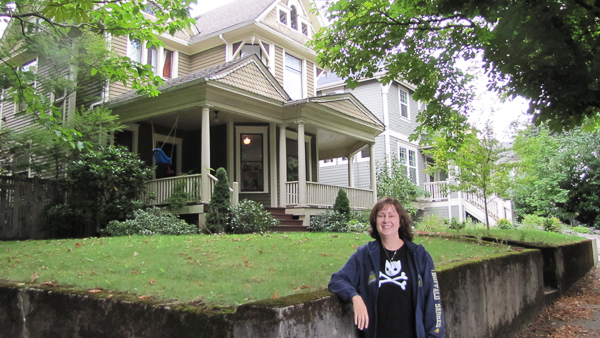 Overall, we liked Portland and its fun, funky vibe. It feels young and progressive; a less serious yet much larger version of Boulder. Next time we go to Oregon, I want to go whale watching and trek through Mt. Hood National Forest! I'm not done with this state yet!
Another adventure around the corner!