2018
December
November
October
September
August
July
June
May
April
March
February
January
2017
December
November
October
September
August
July
June
May
April
March
February
January
2016
December
November
October
September
August
July
June
May
April
March
February
January
2015

December
November
October
September
August
July
June
May
April
March
February
January
2014

EUROPE PHOTOS
December
November
October
September
August
July
June
May
April
March
February
January
2013

December
November
October
September
August
July
June
May
April
March
February
January
2012
PORTUGAL PHOTOS
December
November
October
September
August
July
June
May
April
March
February
January
December 2011
So November was not nearly as eventful as October was, and that's a good thing, because getting Christmas ready one month earlier than usual was quite stressful! I spent all of my Sundays wrapping presents, making Christmas cards, and getting packages together to send out to our families.
We did get to a couple of concerts--Judas Priest, for the second time!, and VNV Nation for the, oh I don't know, like third or fourth time. Judas was actually better than they were the last time we saw them a couple of years ago. Rob's voice was much better and they had a new (young) guitarist who seemed to just revive the band and provide some youthful energy. They said this was their farewell tour, but I'm pretty sure they said that on the last tour as well...and as for VNV, well, they always just flipping ROCK.
In addition, our family celebrates both my birthday and my father-in-law's birthday in November. (Yes, JC married his dad!) This year we had a really nice celebration at Mt. Fuji which is a hibachi-style place. The food was SO good--they made THE BEST fried rice ever! Our nephew Mike and I also split some sushi as we are the only ones that like it, and it was just amazing. Here we are stuffing our faces: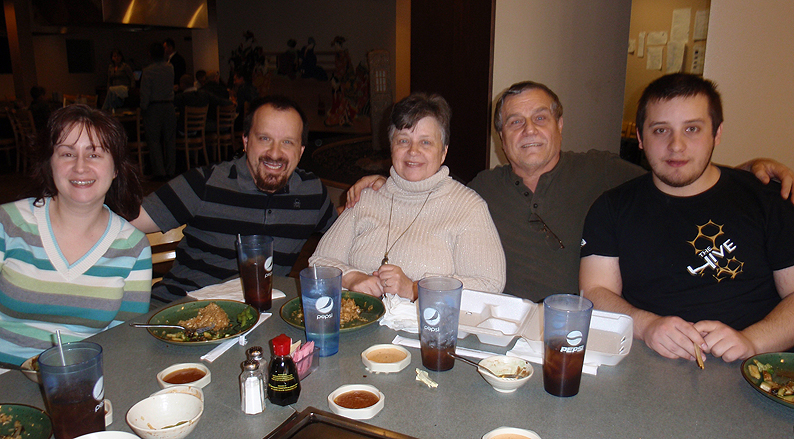 Then at the end of the dinner we got a happy birthday serenade and green tea ice cream, yum!!!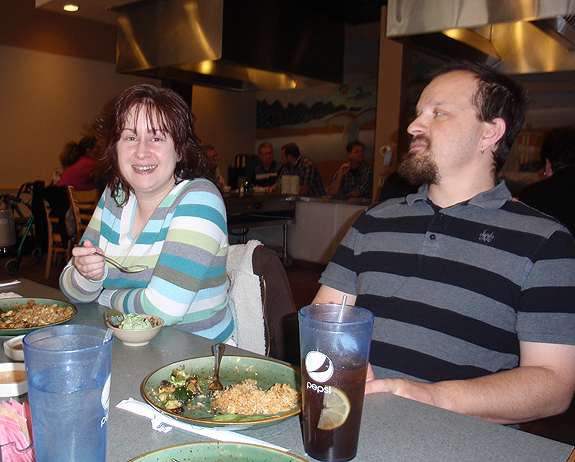 Lastly, for Thanksgiving we had a nice, relaxing day with the in-laws and nephew. JC and I went to his parents' house and we decided to break tradition and have ham instead of turkey. Here is the Ham playing with his ham: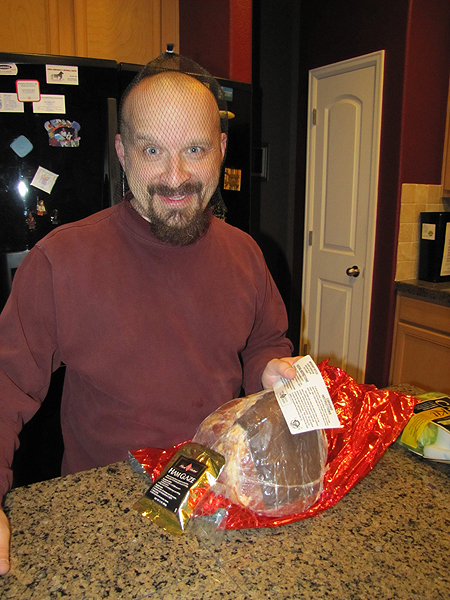 So...yeah.
In general though, I just want to say during this Thanksgiving that I am extremely blessed and grateful for all of you who touch our lives. We wish you an upcoming year of health, happiness and success in all of your adventures, and a wonderful holiday season!
Have a wonderful, Merry Christmas and a Happy New Year!

2011
SPAIN PHOTOS
December
November
October
September
August
July
June
May - none
April
March
February
January
2010
ALASKA PHOTOS
December
November
October
September
August
July
June
May
April
March
February
January
2009
December
November
October
September
August
July
June
May
April
March
February
January
2008
WEDDING PHOTOS
December
November
October
September
August
July
June
May
April
March
February
January
JILL'S CREATIONS:
Album - 2017
Album - 2016
Album - 2015
Album - 2014
Album - 2013
Album - 2012
Album - 2011
Album - Penn State
Album - Cedar Point
Album - Wedding
Cards
LOAD513
LOAD214
Mini Albums - Coffee and Daily Junque