May 2010
OK, so you know how January and February were boring, with nothing going on? Well those days are over, at least for April! Whew! OK let me recap.
The week after my trip to the DC area, JC and I took a whirlwind trip to Tucson, AZ, to attend another EMB show. We flew out on the first flight of the morning on Holy Saturday (the day before Easter), rented a car, and spent the day going to hobby stores. JC paints lead miniatures, and I do scrapbooking, so we lucked out in that we alternated between his and my stores because they were constantly near each other! Tucson isn't that big anyway, and was actually quite nice-looking! It was also the first time this year that I got to wear a T-SHIRT!
That evening was the show, a one-man band called Assemblage 23. He played at The Surly Wench Pub, this awesome pub that was painted black with bones hanging from the ceiling grates and really macabre drawings on the walls. They specialize in burlesque, so I have no idea. It was very tiny, maybe 100 people, but the show was AWESOME! It was really cool to see a band that's not that widely known, it brings you back to struggling artists trying to make it big. His friends were his road crew! He played for a good couple of hours, all of my favourite songs, and we didn't get back to the hotel until 2am!
The following morning, Easter Sunday, we took the first flight back to Denver, then lounged around doing nothing! We were exhausted!
Here is a pic of some awesome Tucson foliage, taken on the very lovely campus of University of Arizona.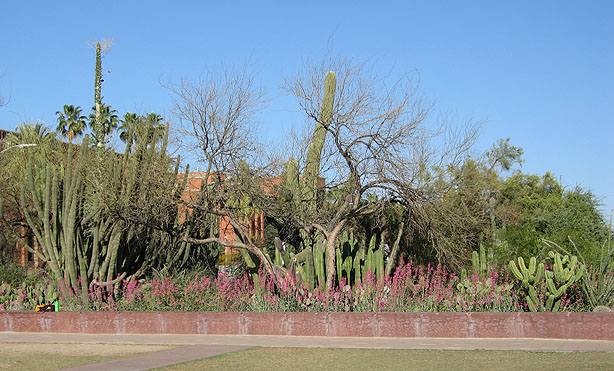 And here is another picture from University of Arizona of a freaky decorative gate to their science building.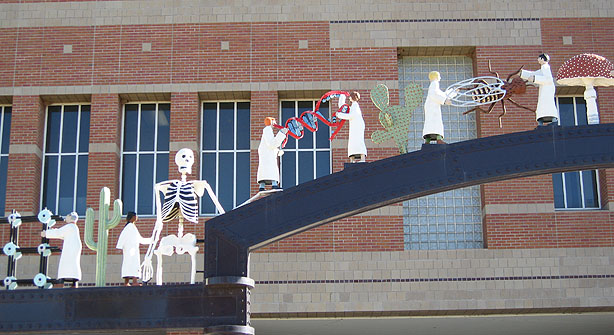 Unfortunately, I don't have any photos from the concert itself because I wasn't sure how big the venue was going to be and usually they don't allow you to bring that stuff in. Hah!
Our next adventure was back home to see yet another EBM band. (OK if you're counting, that's THREE EBM bands in a month, woo hoo!) This time, it was our second time seeing the lovely VNV Nation, which consits of an Irish guy who's short and fat and a British guy who's tall and lanky. The venue that they chose was unfortunately piss-poor--way too small and WAY too hot to tolerate. But the show itself ROCKED and was really good fun. I could go see them 7 nights in a row!
Next, I went to Albuquerque, NM (a new state for me!), for a quick day trip with some other graduates of the Flight Without Fear class that I took this past Fall. Every now and then, someone suggests a day trip somewhere nearby--Omaha, Phoenix, places like that--to have lunch, see the sights, and fly back on the same day. It's mainly to get flying experience, and because it's same-day and short flights, it's pretty inexpensive.
So I decided to do my first day trip with the group and it was a lot of fun! The planes were smaller than the usual Airbus so it was a great experience to feel a bit more of the wind and turbulence but still manage to control the anxiety. We then ate lunch at a local café, walked around downtown a little, and headed back!
Here is a cool photo I took of The Library Bar &Grill in downtown Albuquerque (which you know is all of three blocks long) which is just hysterical.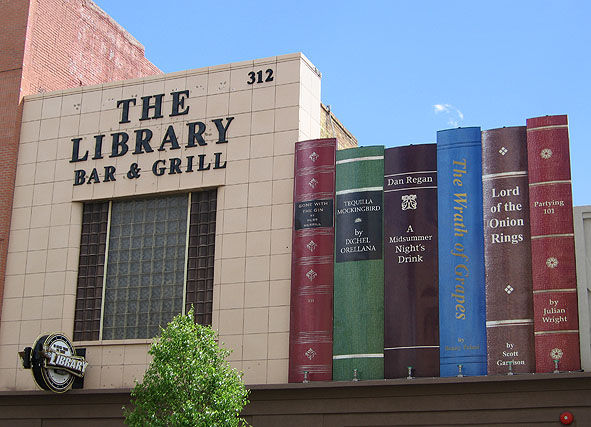 For full photo albums from these trips (and more to come!), check me out on Facebook!
Lastly, my Spring hockey league ended on April 29th with my team losing in the championship game. We played really hard against a team that had considerably more advanced players, and we lost on a fluke goal in overtime, so I can't complain.
The highlight of that game, however, was another first for me--I got my FIRST PENALTY!
So let's set the scene. I've learned that to play defense better, I need to be more aggressive in going after the puck, instead of coasting to a player who has the puck, or waiting for them to come to me. What I've gotten accustomed to doing is charging into the boards to obtain a puck that is sitting against the boards, and to get there faster than the other player, I go skating hard towards the boards, and after I've swiped the puck away from her, I put my hands up to brace myself from getting smacked in the face by said boards.
However, on this fateful night, the opponent decided to join me in going into the boards, so when I put my hands up to brace myself against the boards, stick in hands, she was right there and it looked like I CROSS-CHECKED her into the boards!
Here is the diorama of the event, graciously captured on film by my loving husband.

| | | | |
| --- | --- | --- | --- |
| Here is me | Here is the gal I "checked" into the boards, still trying to get up | | Here is the ref waiting for my teammate to touch the puck so she can call the penalty on me. |
And here is me in the BOX! I was seriously stoked, my first penalty!

ALASKA HERE WE COME!