January 2011
HAPPY NEW YEAR EVERYONE! I think 2011 is going to be FUN, FUN, FUN! Even though we don't have much planned yet!
Anyway, obviously this update is going to have some Christmas photos. This year, Jill's parents came out to visit and spend their first Christmas in Colorado! It was not without some unique events, though! This time, it was not the weather, or the airlines, or any of the typical Christmas issues that you'd expect...it was internal organs!
On the very first day that Jill's parents were in town, we had to take her mom to the ER for appenticitis! We at first thought it was food poisioning (no Jill was not cooking smartasses), but when it didn't let up after many, many hours, we went to the hospital and found out that it was something else!
Her mom had surgery on Wednesday morning, and was able to leave the hospital on Thursday morning. The rest of the week was fine after that!
We had Christmas Eve dinner at JC's parents, and then had Christmas morning brunch at our house, where we then opened presents.
Here is Jill at our ultra-sophisticated architecture drafting table/scrapbooking table, in the middle of our former-dining-room-turned-scrapbooking-room: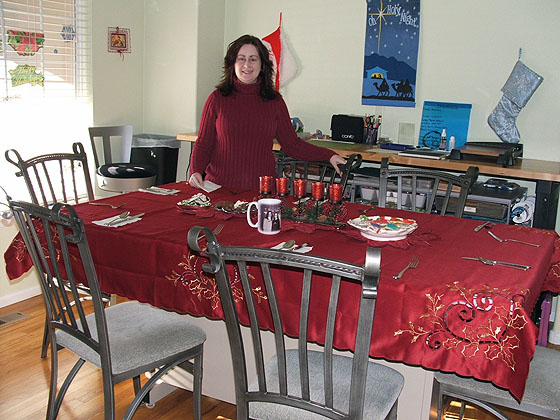 Next we have Phaedra enjoying her new toys--a set of three catnip-filled sardines! JC's mom always finds the coolest, most unique cat toys!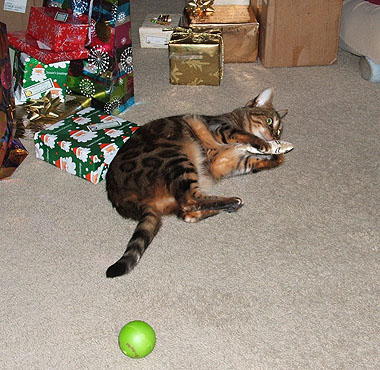 Next comes our stylish and very festive zombie shirts, care of Jill's sister Erica and brother-in-law Gino!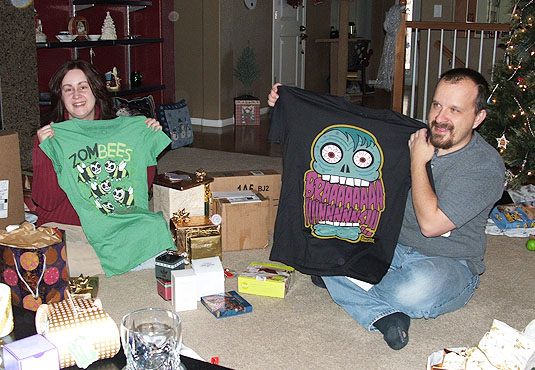 And lastly, when we got to the end of our presents, there was one gift for me that I was told to wait to open until JC got his present. JC's gift was in his parents' car, so when he brought it into the house, and we opened our presents together, JC got a rifle that he had his eye on. What was my present? Well, so that I didn't feel left out, I got a set of three plastic guns that shoot foam darts! So here we are ready for the zombie apocalypse...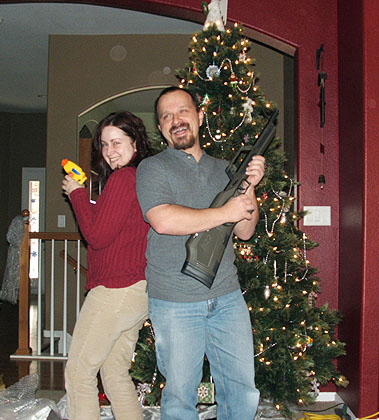 And so, we wish everyone a very happy, healthy and prosperous new year, and we hope to see all of you in 2011 too!
Jill's new year's resolution is to stay more in contact with friends and family. That means more emails, more hand-written letters, more homemade cards, and heck, maybe even a few phone calls!
In this really hectic era of social media and instant messaging, let's remember to stay in touch with each other and really talk to each other and let everyone know what we are up to, and more importantly, let people know that we are thinking of them and care about them.