November 2010
Well, October JUST PLAIN ROCKED. The weather stood firm at mid-50's to mid-80's and was absolutely gorgeous. The colors of the trees were absolutely breathtaking. We are very blessed to have had a very mild and slow-to-turn autumn this year.
In addition, I received THE BEST NEWS! My company has decided to cust costs on real estate and overhead expenses by turning our office into a VIRTUAL OFFICE. That means that by March 1st, the Boulder office of Lionbridge will no longer exist as a brick-and-morter office, and all employees will be WORKING FROM HOME!!! I've been waiting for this announcement for THREE YEARS and finally it's going to become a reality! On top of that, they are going to give us our office chairs, a new printer, a new webcam, a stipend for some of our Internet price, and an account with which to order office supplies. My only problem now is that I CAN'T WAIT UNTIL MARCH TO GET OUT OF THERE!!!
In addition to the most awesome news ever, we had a fun month. Over Columbus Day weekend, we traveled to Nashville, Tennesse to meet up with our dear friends Leah and Shannon. How we ended up in Nashville is an interesting story...it all started out in a hottub on the cruise ship in Alaska, where Shannon met Annabel, who is the Office Manager for the Anaheim Ducks hockey team. Knowing how we are big hockey fans, and up for travel anywhere, anytime, Leah and Shannon devised this plan with Annabel to attend a Ducks game in Nashville because Annabel always wanted to go there...so we joined on in for an AWESOME weekend in yet another new state for me!
On our first day, we went to Centennial Park to see the Parthenon (there is a life-sized replica of the Greek Parthenon), as well as a section of town called Hillsboro which was full of awesome restaurants and cool boutique shops. That evening was the Nashville Predators home opener hockey game! There we were dressed in Ducks apparel rooting for the away team...and Nashville won...but it was SO fun!
Here's the photo of the Predators cat dropping down to the ice, which is where the players enter the ice: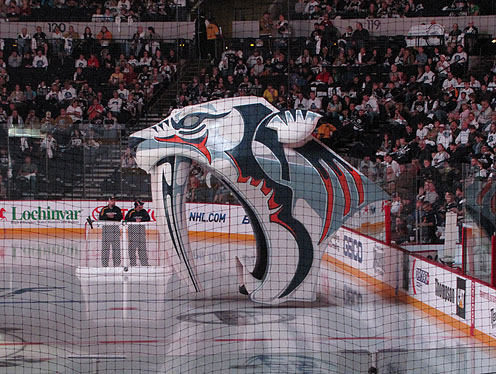 The following day, we visited the Grand Ole Opry! It had just reopened the week prior after getting badly damanged by floods in May. Here JC found his new wardrobe direction: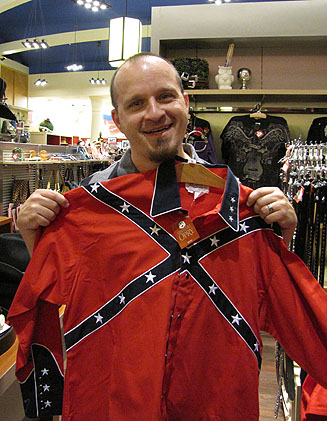 And we took an awesome tour of the facility, including getting to peek into many dressing rooms, the waiting room, and the main stage! What none of expected to be able to do was to walk out onto the stage! The whole tour group even got to sing "You are my sunshine"!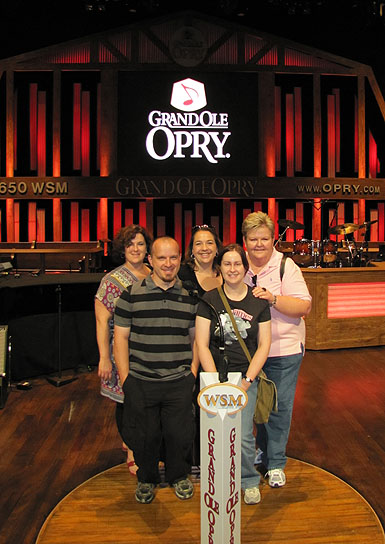 Left to right is Shannon, JC, Leah, me and Annabel. It was a really cool tour to do, I'm so glad we did it! I might not be into country music but that doesn't mean I don't appreciate its really rich history!
On our last day we visited the Ryman Auditorium, which was the venue for the Grand Ole Opry before the new facility was built. It was also gorgeous and is still in use today for concerts. We also roamed downtown Nashville and the "Honky Tonk" area where Leah and JC bought cowboy boots!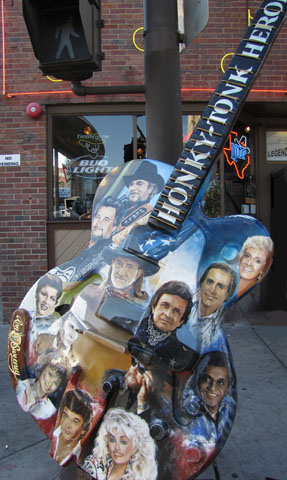 Our second big event in October was Denver's 5th Annual Zombie Crawl. This year I got JC to come with me and he was thoroughly impressed with the awesome array of zombies! Here are just a couple of pics: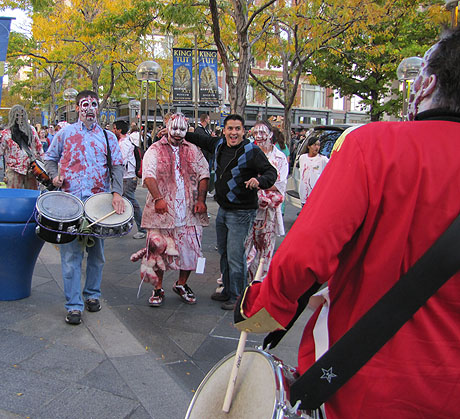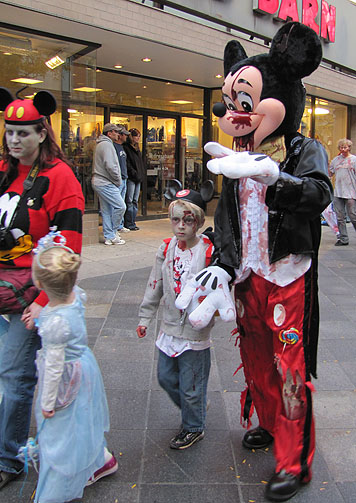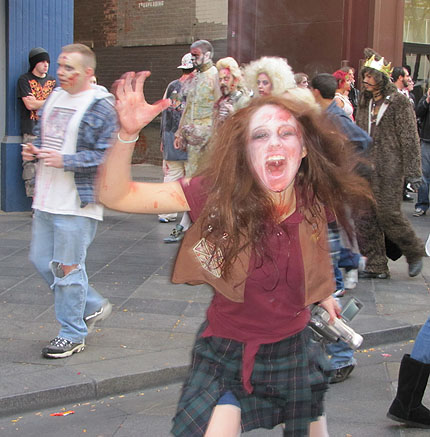 In this last photo, not only do we have an awesome Zombie Girl Scout attacking me, but look behind her at the 3 Victorian Zombies...they were there last year and I just cannot get enough of their awesome costumes.
Next year we need to participate, and JC already has a plan concocted...
And our third big event was our 2nd wedding anniversary! We celebrated by going to The Melting Pot with our friends Heather and Derek who were celebrating their 1st anniversary! Photo to come as it's still on the camera!