2018
December
November
October
September
August
July
June
May
April
March
February
January
2017
December
November
October
September
August
July
June
May
April
March
February
January
2016
December
November
October
September
August
July
June
May
April
March
February
January
2015

December
November
October
September
August
July
June
May
April
March
February
January
2014

EUROPE PHOTOS
December
November
October
September
August
July
June
May
April
March
February
January
2013

December
November
October
September
August
July
June
May
April
March
February
January
2012
PORTUGAL PHOTOS
December
November
October
September
August
July
June
May
April
March
February
January
February 2010
January wasn't too exciting, it went by very quickly. The highlight of the month is that we went on a mini vacaction to Vegas the last weekend of the month. We stayed in a fountain-view room at the Bellagio and it was very nice. They even have a TV channel that plays the music that accompanies the fountain show so we had an awesome view of the fountain performances. We also saw "Le Rêve" at the Wynn and it was breathtaking. We ate at some favorites, as well as some new places, and we went to the new Aria casino and hotel which is just gorgeous. We didn't take any pictures because we've been to Vegas several times now and just didn't want to lug a camera around. We also did pretty well gambling and didn't spend all of the money we went out there with!
Other than that, not much went on which is good because we had such a busy past few months that we are a bit fried and just want to lay low for a bit and spend some evenings and weekends relaxing at home. We signed up for a set of adult hockey clinics at the YMCA near our house for Saturday nights, while JC is no longer playing in leagues.
Work for me is in its busiest time of the year (Dec-Mar is just chaos), and I think I am pretty much out of the woods in terms of worrying about job security because my business unit had a record high revenue year in 2009. Huge changes are coming in how we handle projects, so on top of our usual mass chaos, things are going to get ugly. I come home just utterly drained these days and spend my evenings starting at hockey games on TV and going to bed early. Fun fun!
So sorry this update is so lame, but it's been nice to slow down the pace of life a bit! Just so this isn't too terribly boring, here's a cute cat pic.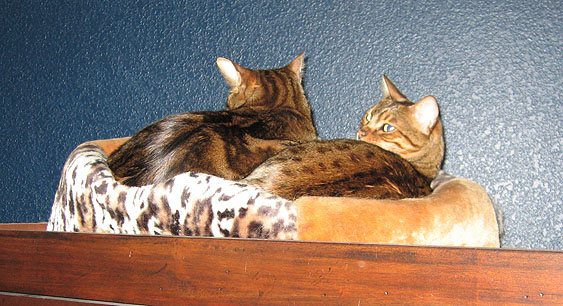 2011
SPAIN PHOTOS
December
November
October
September
August
July
June
May - none
April
March
February
January
2010
ALASKA PHOTOS
December
November
October
September
August
July
June
May
April
March
February
January
2009
December
November
October
September
August
July
June
May
April
March
February
January
2008
WEDDING PHOTOS
December
November
October
September
August
July
June
May
April
March
February
January
JILL'S CREATIONS:
Album - 2017
Album - 2016
Album - 2015
Album - 2014
Album - 2013
Album - 2012
Album - 2011
Album - Penn State
Album - Cedar Point
Album - Wedding
Cards
LOAD513
LOAD214
Mini Albums - Coffee and Daily Junque