January 2018
Well, I want to start by wishing everyone a safe, happy, healthy, and prosperous new year. I am sick. I'm on antibiotics for some sort of sinus/cough thing. Too much fun.
Anyway, December was pretty chaotic, what with getting ready for the holidays. I have to be proud of myself, though, as I had decorations up, cards made and mailed, and presents bought, wrapped, and shipped pretty early in the month. Which was good because work was quite busy with end-of-the-year customer RFPs.
In terms of having fun, of course there was lots of that! I scrapped a few times with friends, spent a whole day making bath and shower bombs for gifts, and met up with a few friends. I also went to my first meeting of the Colorado Correspondence Coalition, a Meetup organized by a gal in Boulder for people who enjoy hand-writing letters and postcards and love snail mail. It was such fun! I used that time to finish putting my Christmas cards together, while most of the other gals were writing short postcards or letters to friends. Almost everyone there was in their twenties, which made me excited that there are still some "youth" out there who know what a pen and paper are!!
As for activities the two of us did together, we attended The Price Is Right Live (more on that next month), went to two Avalanche hockey games, saw Gary Numan in concert (A-MA-ZING!), had dinner with friends in a former mortuary, and went to Vegas (and while there went to a Vegas Golden Knights hockey game too!).
Alright! Let's finish recounting the last leg of our European journey. There are only two days left to recount, but they were a jam-packed voyage through Transylvania!
Tuesday, October 24 - Curtea de Argeș - Sibiu - Sighișoara, Romania
So, after our one day in Bucharest, we took a private tour throughout several towns in Transylvania. Our guide was Mihai, an awesome guy with a great sense of humor who we got along with really well. He drove us ALL over the place on a very aggressive itinerary. Our first stop was the Orthodox Church in the cute town of Curtea de Argeș. It looked almost like the Basilica in Russia on the outside, and the inside was just gorgeous.
That's Mihai in the red cap in this picture.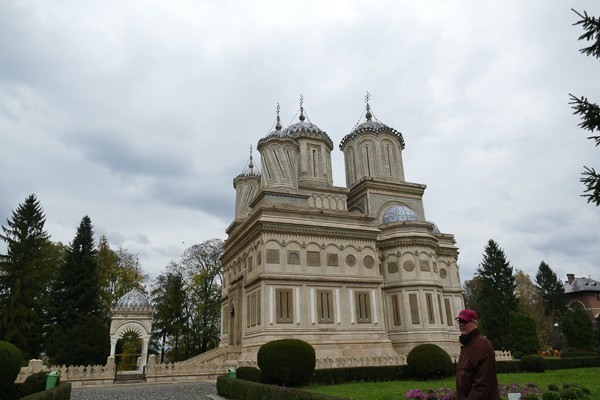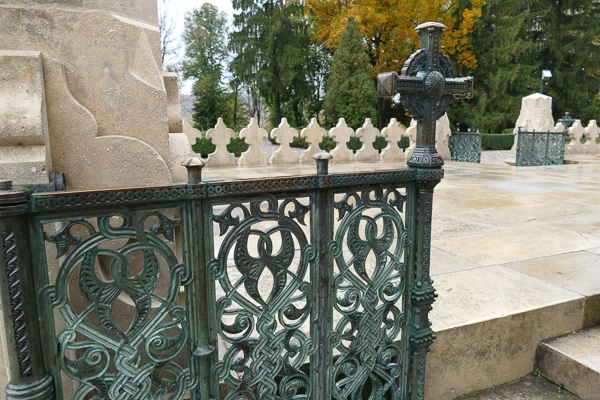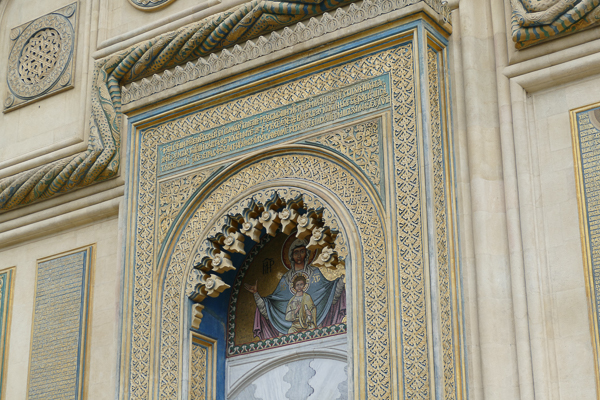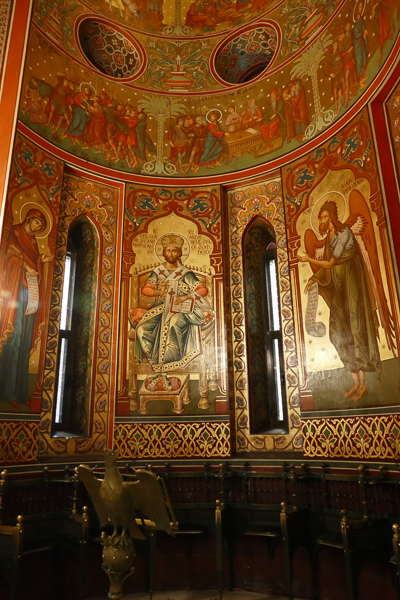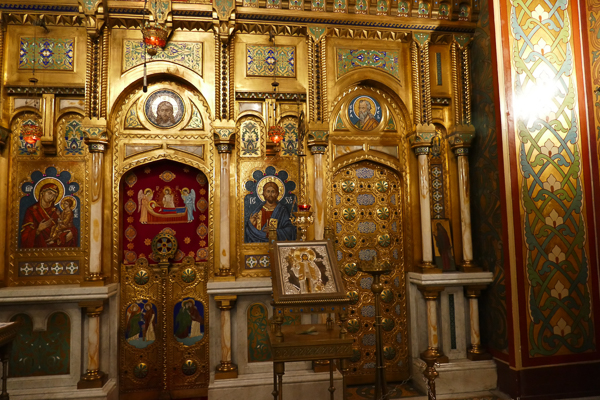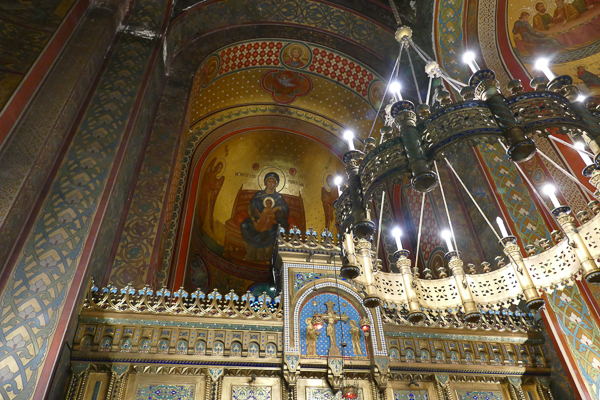 Our second stop was another church in a town whose name I forget. I say that because the church was alone by itself on a road a bit away from the town. It was actually part of a monastery but we only went into the church. It was much smaller than the first one, and less ornate, but felt more medieval.
Next, we walked around the town of Sibiu, stopping first at--what else--the cathedral.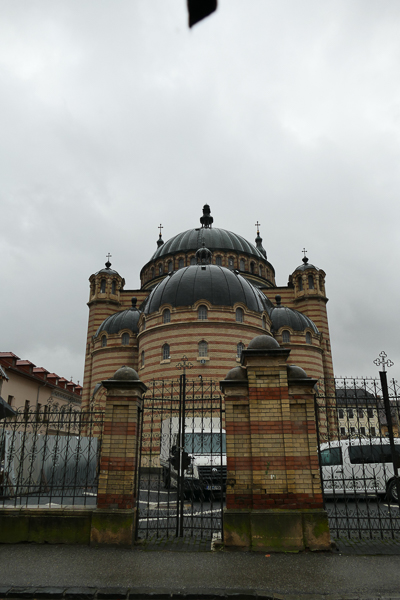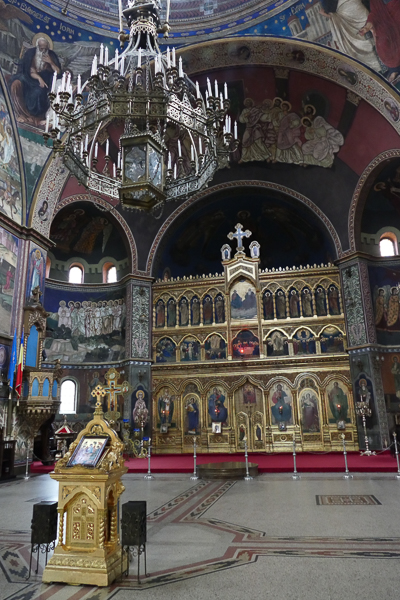 We also visited the Roman Catholic church dating back to medieval times.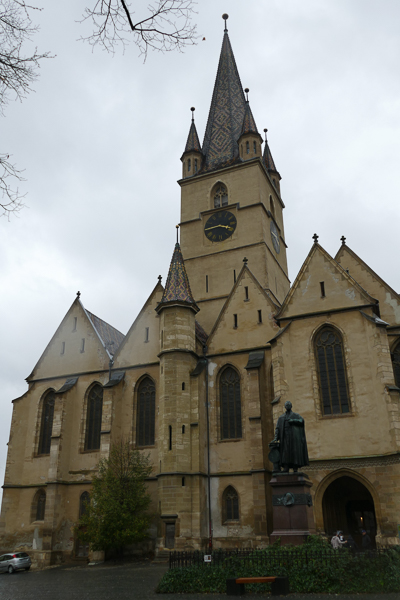 Look closely to see the two vertical lines cut into the tone between pillars. Those are medieval markings from soldiers sharpening their swords against the rock.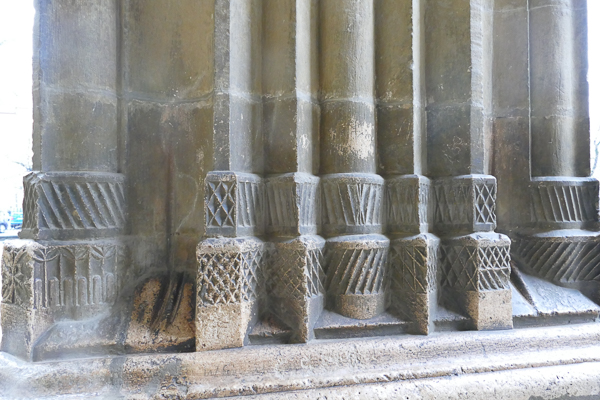 The interior of the church. Beautiful organ!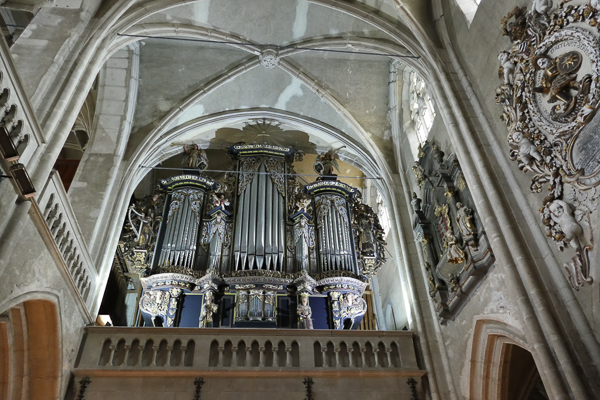 There was a side area in the church full of old gravestones. They were vertical against the walls so who knows where the bodies are...I just love the intricate carvings of these full-length sculptures, and the writing about the person along the perimeter.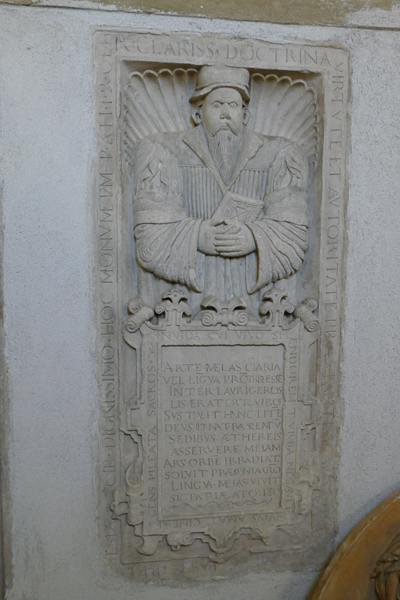 We then strolled around the town for a little while. This was the one and only day on the whole trip that was cold, rainy, and overcast. It was the perfect, eerie weather for Transylvania! These ancient roofs look like they're made of wet paper, ready to collapse.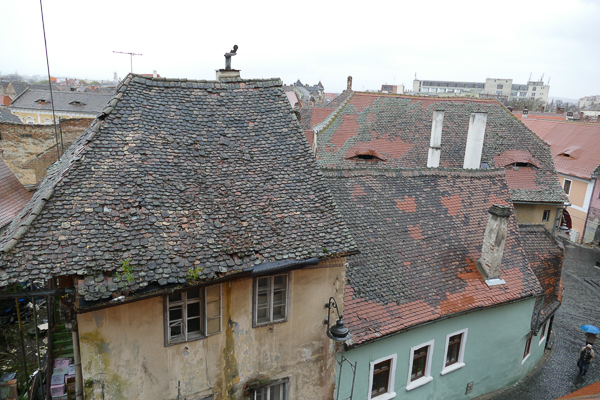 This house is for artists like iron smiths, carpenters, and welders to come and use the space to create, and this post outside contains a variety of cool tools and small pieces of art. There's a festival every year where the artisans dress up in what their medieval ancestors wore.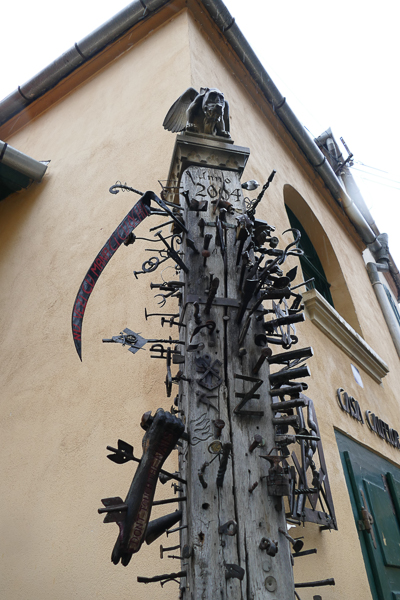 This is part of the main square.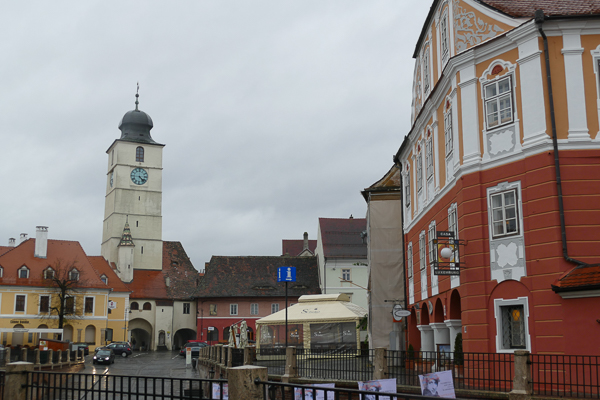 Do you see the eyes in the roofs? Creepy!!!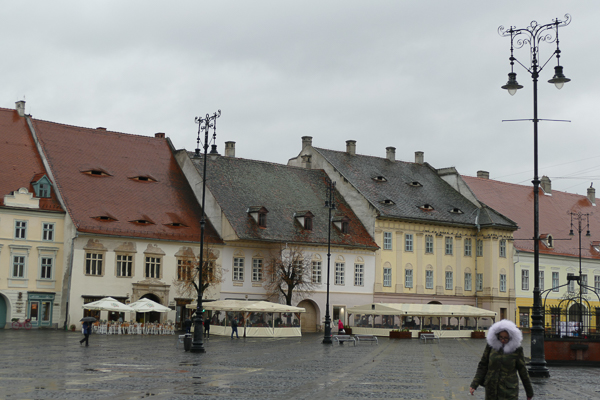 Our last stop for the day was the gorgeous town of Sighișoara, which is where Vlad Tepeș was born. He was the Romanian king also called Vlad the Impaler, upon whom the legend of Dracula is built. His father, Vlad Dracul, was named so because he was part of the Order of the Dragon, a type of protectorate group defending the crown. So Dracula means 'son of the dragon'. Vlad Tepeș is actually regarded as a hero in Romania because he fended off the invading Turks. To prove how badass he was, to ward off invaders, he did impale the bodies of his slain enemies on poles around the perimeter of the fortress or castle.
So there ya go. We stayed in an adorable, old hotel in town, with low ceilings and creaky floors.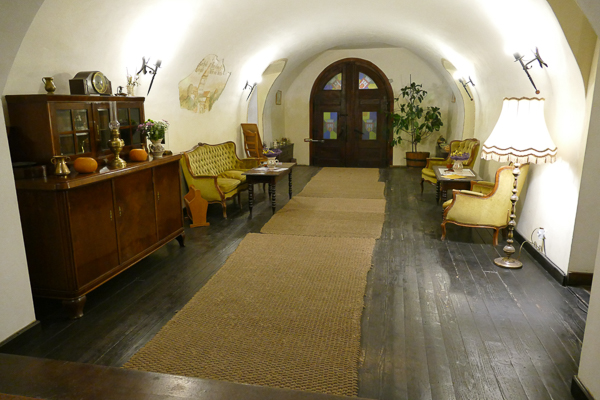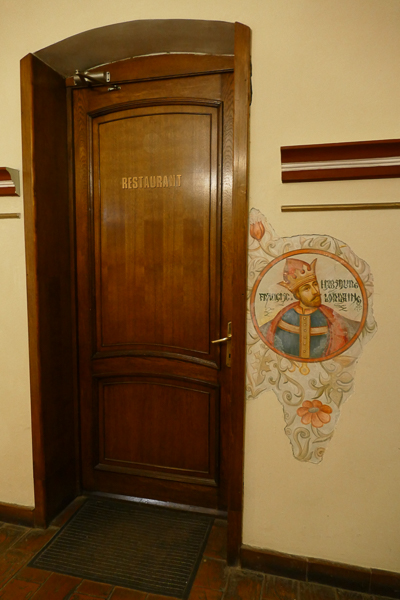 The medieval clock tower was super cool. The yellow building is the house where Vlad was born, hence the dragon sign.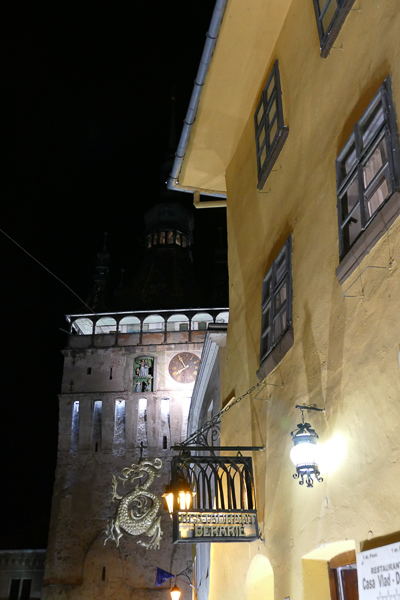 Here's an up close shot of the clock and the animatronic people next to it that move at the top of each hour. Still! After hundreds of years outside!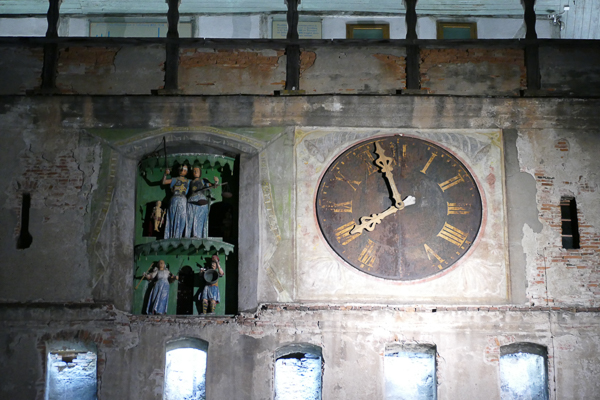 The bottom floor of Vlad's birth house is a museum, but the second floor is a RESTAURANT, where we had the BEST meal ever! Here I am with a Romanian beer, Ursus, with V-dawg behind me.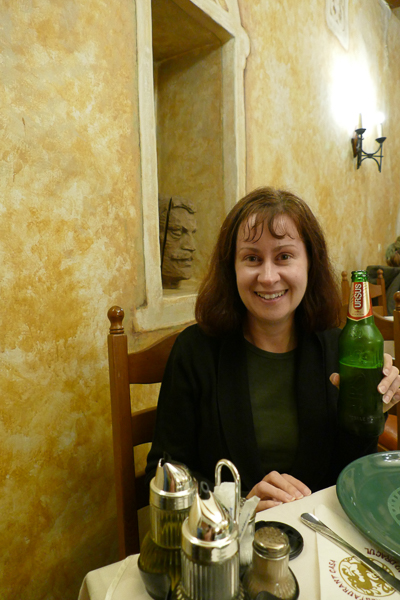 And while I rarely take pictures of my food, I had to do it that night. I had stuffed cabbage rolls with polenta, and JC had stew. OMG amazing.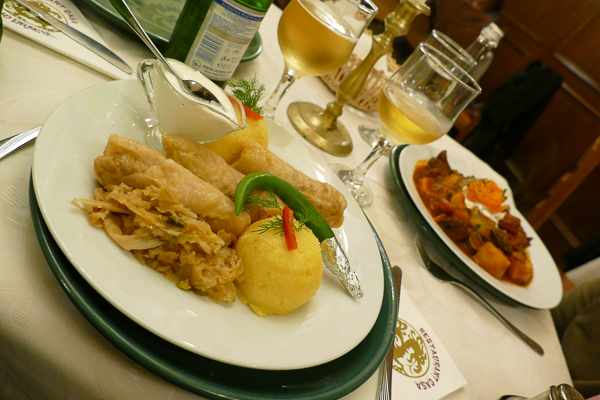 Another room in the restaurant.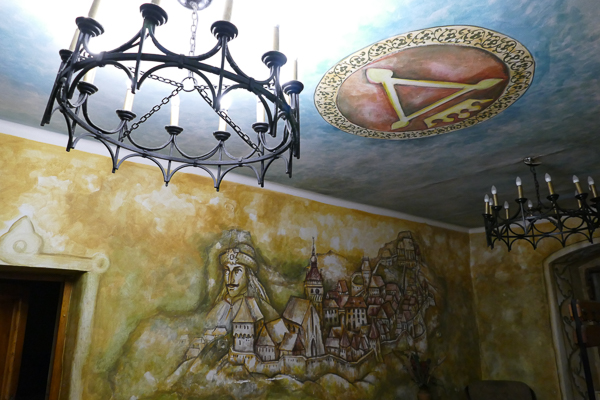 An intact tower as part of the city's fortifications.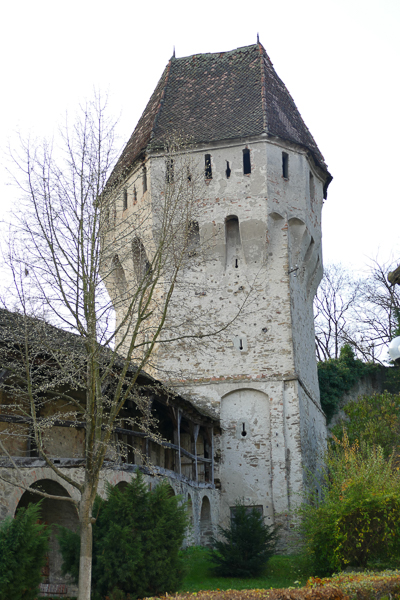 The clock tower during the day.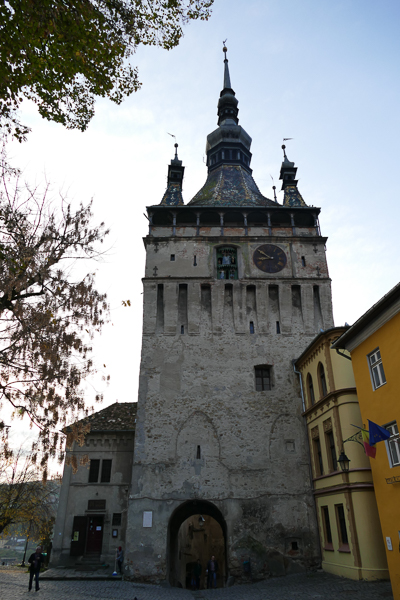 The nearby church. I love how it has pieces of the plaster peeling off and cracks in the walls!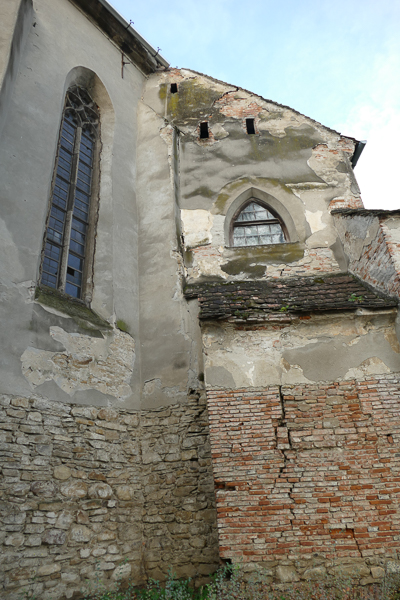 Wednesday, October 25 - Brașov - Bran - Sinaia, Romania
We took quick walks in Sighișoara both Tuesday night and Wednesday morning, then got back in the car and headed to Brașov. This town seemed much larger, and we spent more time walking around it. At the top of the hill stood this amazingly shaped castle.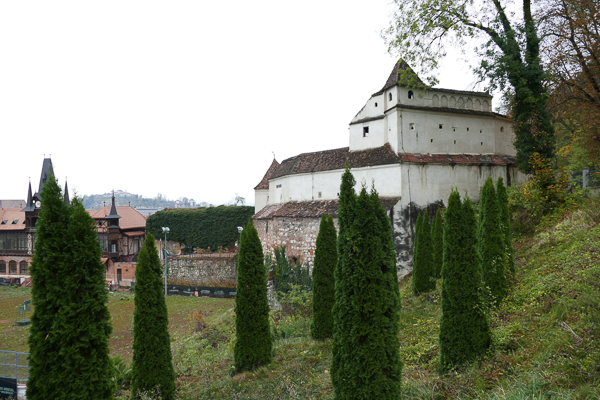 A view of the city wall and the old medieval town, with the "black church" or Roman Catholic cathedral rising much higher than everything else.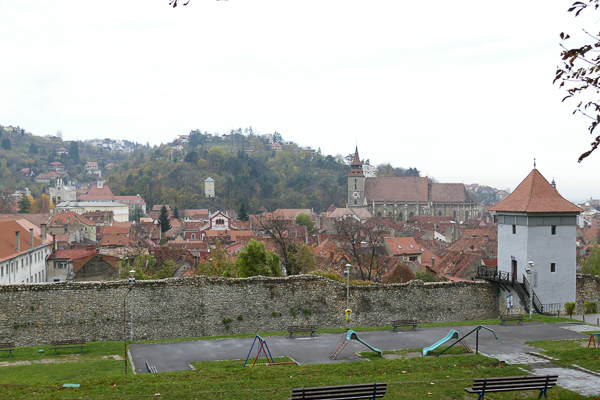 Some of the beautiful facades of the buildings in the city center.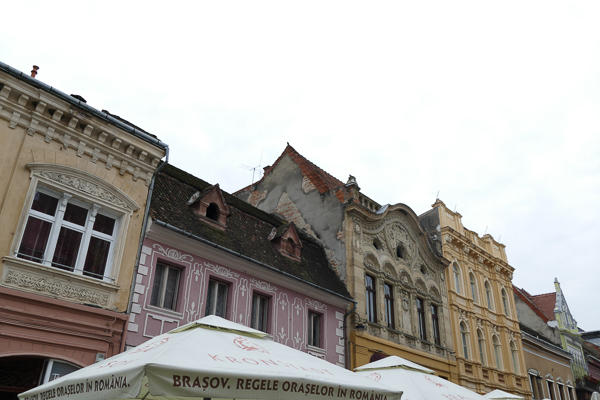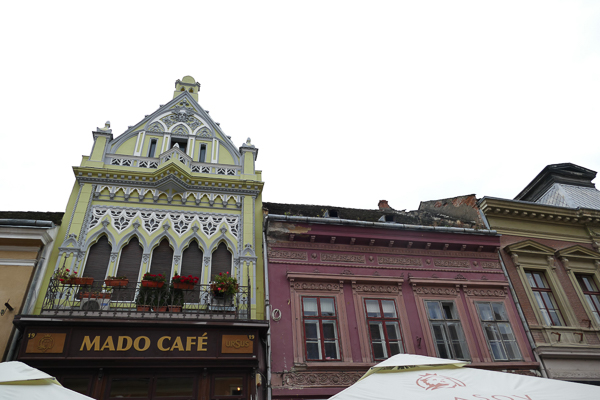 If you look far into the distance, to the top right portion of the hill, you will see the town name in Hollywood-esque letters. I have no explanation for that, and neither did Mihai.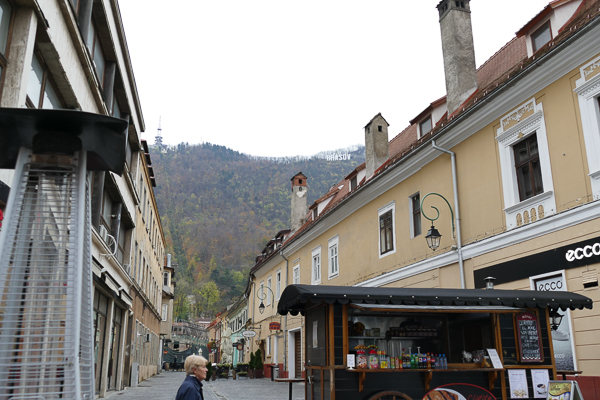 The "black church", named so because it caught fire at some point. A great example of classic gothic architecture.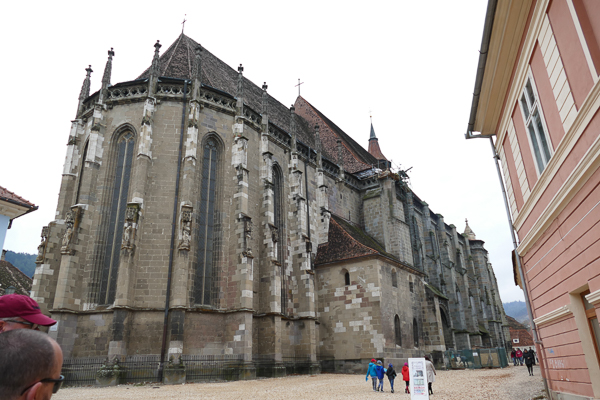 The front of the church with the main spire.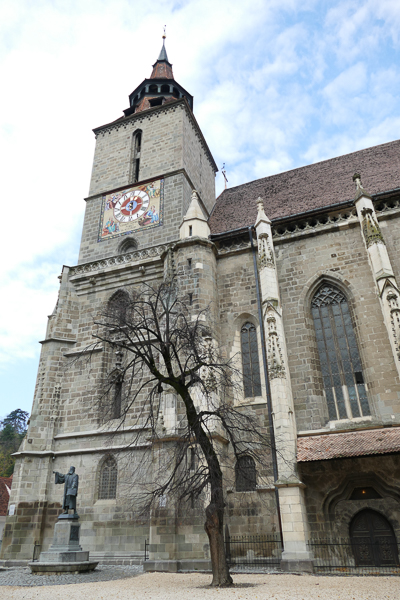 Another gate from the original fortifications. I love that stuff like this is just scattered all over the town.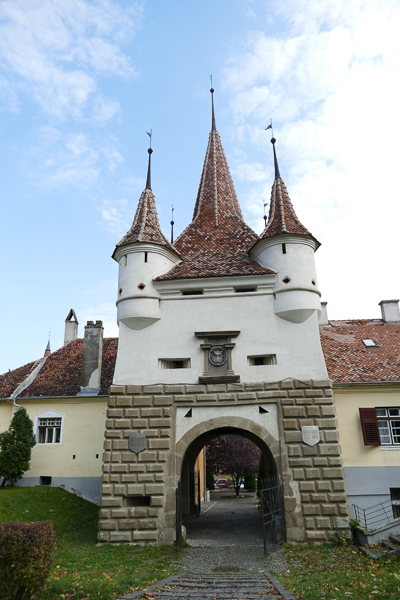 Our journey took us last but not least to two of the most amazing castles I've ever seen. First, we went to the town of Bran to visit Dracula's Castle. Now, here's the deal: this castle has ZERO connection to Vlad whatsoever. It is not a castle that he built, lived in, or defended. It is also not the castle that Bram Stoker used as the design for the castle in "Dracula." It is fully intact, and pretty creepy looking from afar, and all cattywampus with lots of random, uneven levels and towers, and in Transylvania. But that's where the similarities lie. Somehow it got the moniker "Dracula's Castle" and now it's a big tourist attraction.
I was just super stoked to be going into a fully preserved castle from the 1400s!! Here's a shot of it while we ascended the walkway up to it.
We got to walk through the whole thing, and the furnishings and artifacts inside date from the 1400s up to the 1800s when a Romanian queen stayed here because she really liked it.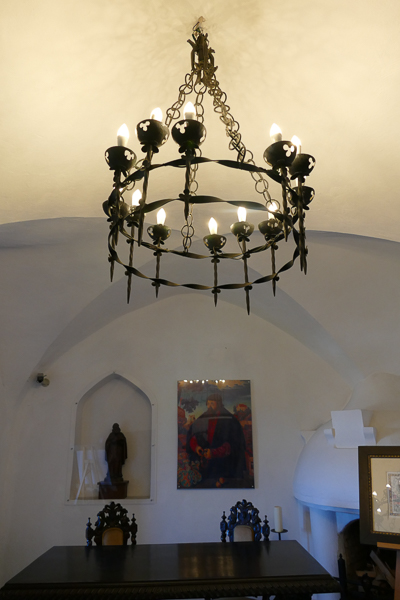 I love intricate locks!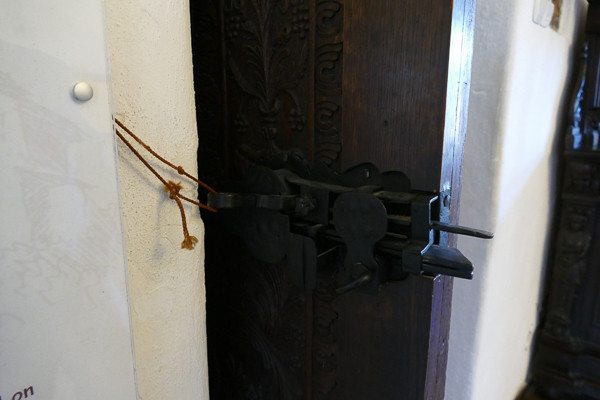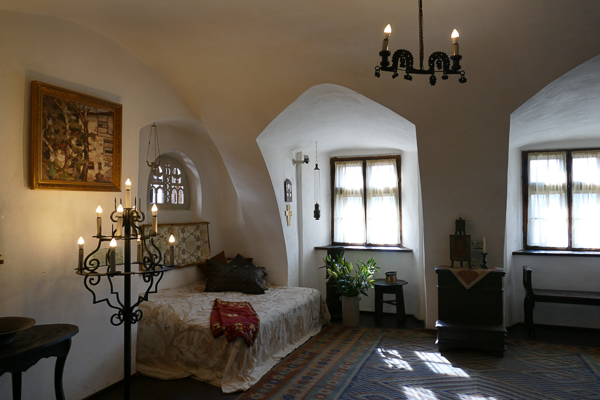 And awesome old doors!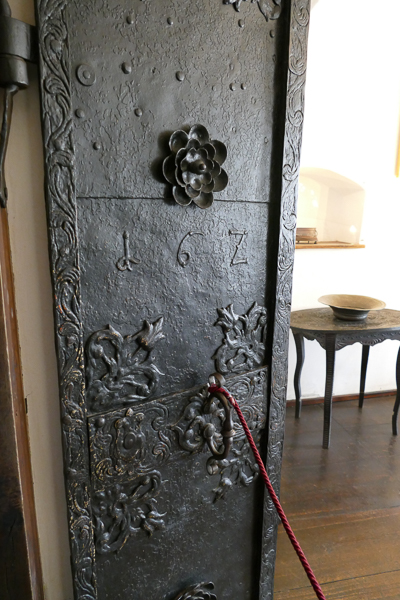 That little circular wooden staircase leads to a secret passage...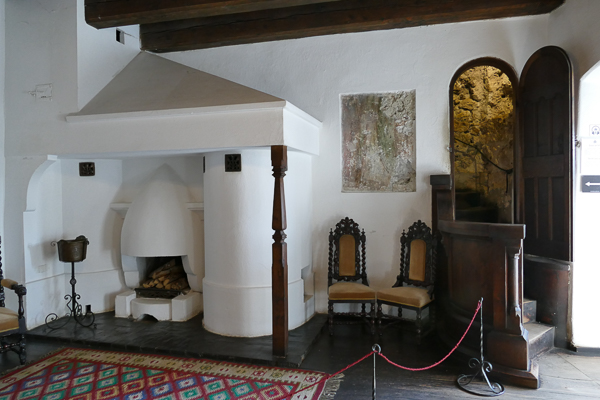 ...which was super narrow and tons of fun!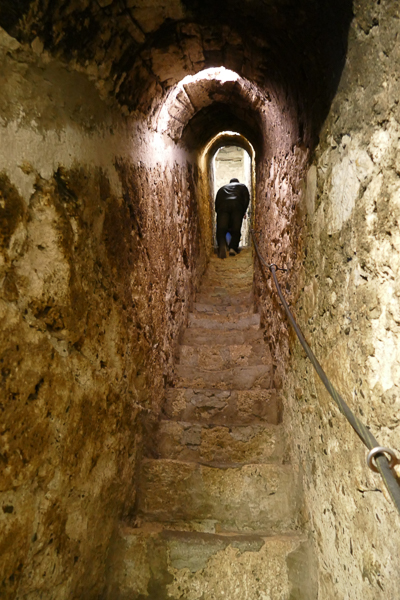 Check out the gorgeous dark wood!
And a view of the courtyard. See what I mean about it being all uneven levels?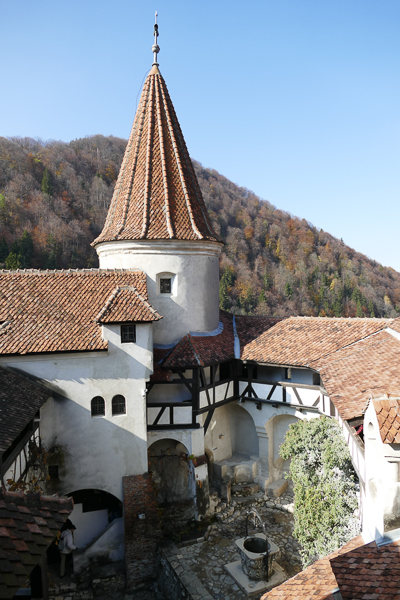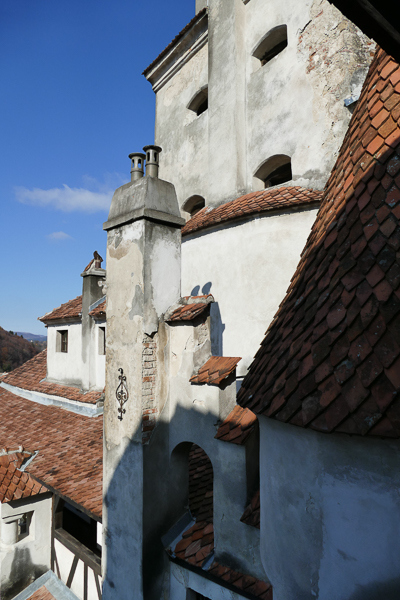 Gorgeous ceiling.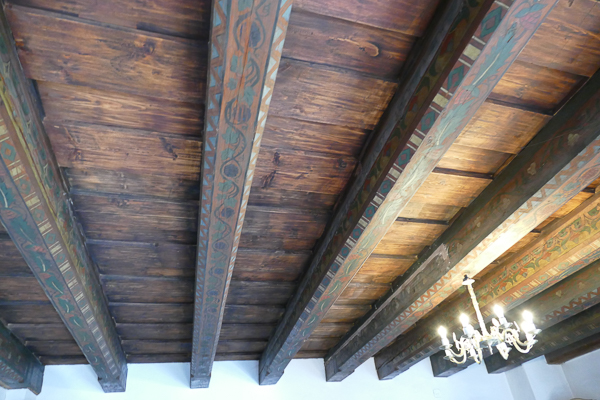 The courtyard from yet another random level.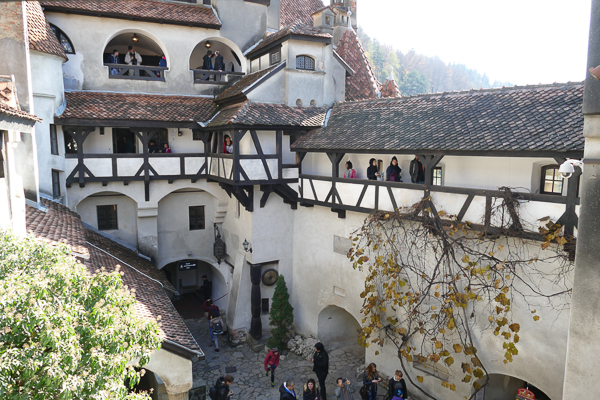 Finally I found the actual courtyard!
Another outside view. You can faintly see some writing on the tower on the left.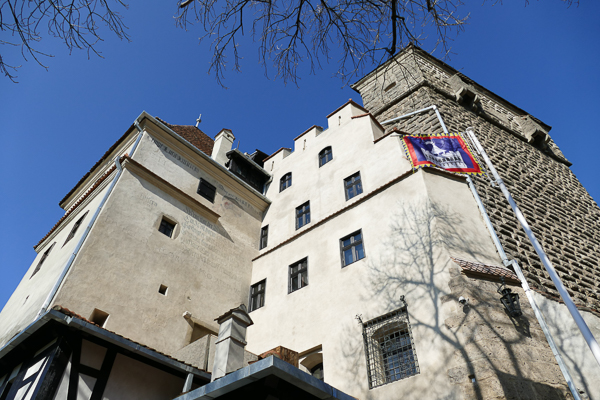 And THIS is the view of the castle from head-on. Now do you see how it could be called Dracula's Castle??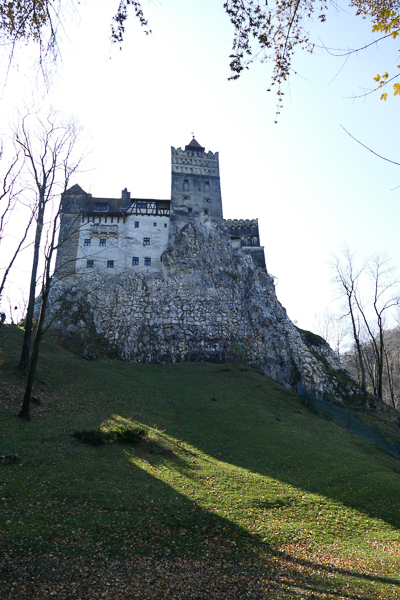 OK, our last stop was to the awesome castle called Peleș. But first, some fun.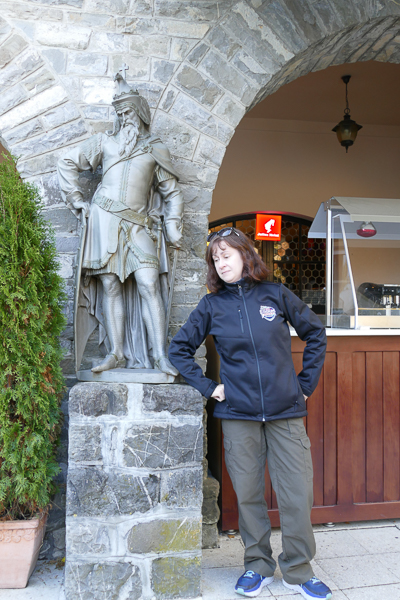 The photos do NOT do this castle justice. It is one of the most intricate, colorful, and ornate buildings I've ever seen. It's big and sprawling, with a delicate balance of wood and stone. It is not medieval, it's from the 1880s.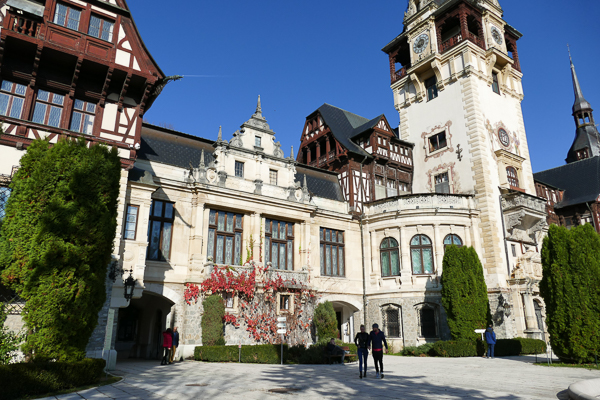 I felt like this castle rivals Versailles in France in terms of both the landscaping, with the statues and white stone walls, and in how absolutely stuffed it is inside with decor and furnishings.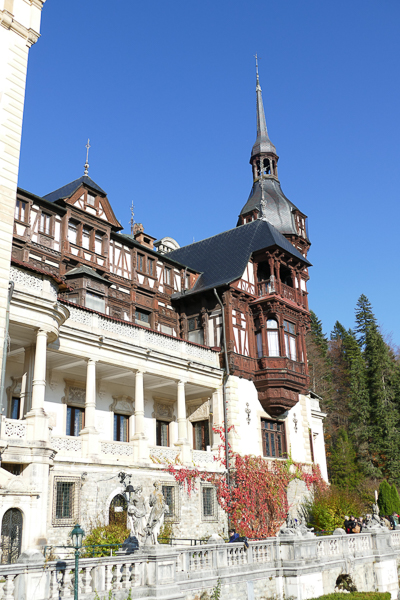 Case in point: this is the main area after you come in and go up a staircase. Every square inch has stuff to look at!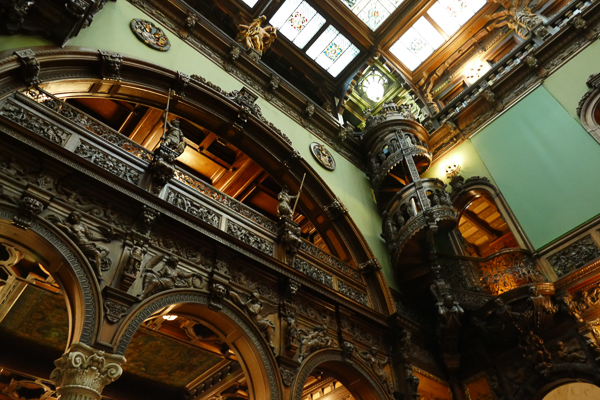 The weapon room was incredible. I've never seen that many swords and other weapons in one place before. To the right of this picture was even a full suit of armor for a horse!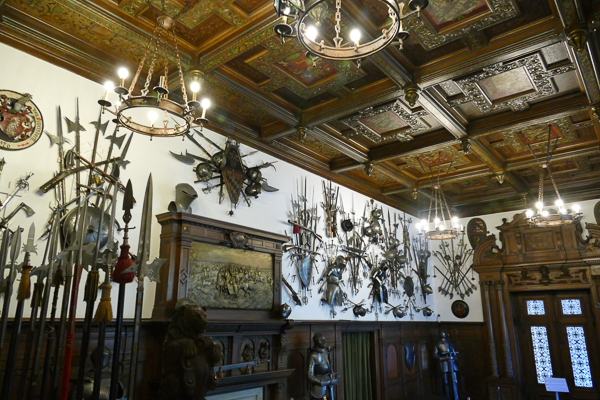 The dining room. Yup.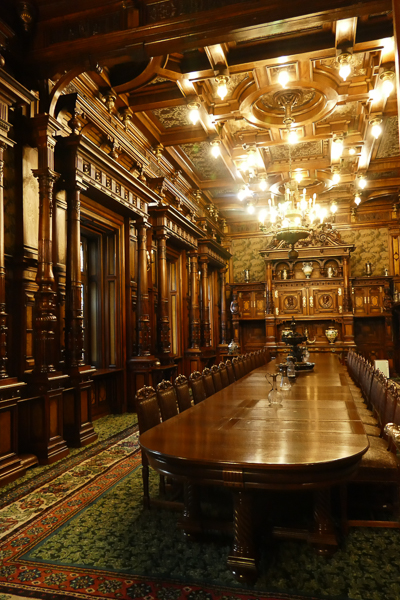 I think this room was called the Turkish room. Those are authentic Turkish rugs covering the walls and floors. And maybe the ceiling!!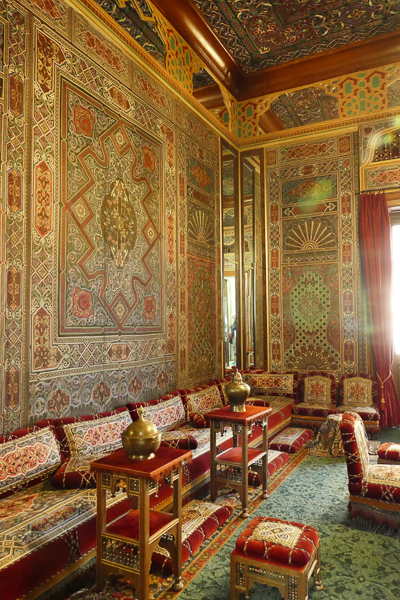 The theatre. Like you do.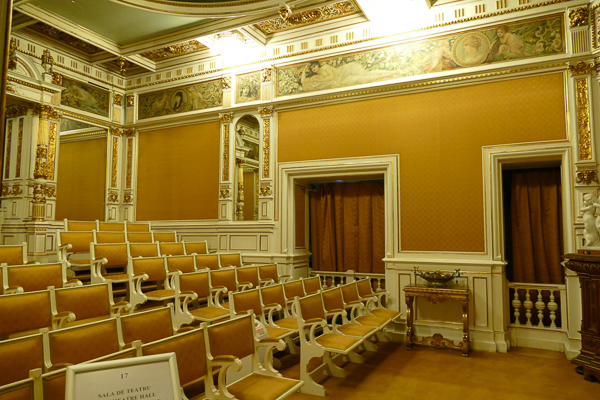 I had to get a close up shot of the glass work on some of the mirrors. The level of detail is just insane. My jaw dropped when we entered every single room of this place. Every room had a unique design and feel, but they all were decorated very boldly, with lots of gold, carved wood, and glass. I actually think it's more gaudy than Versailles.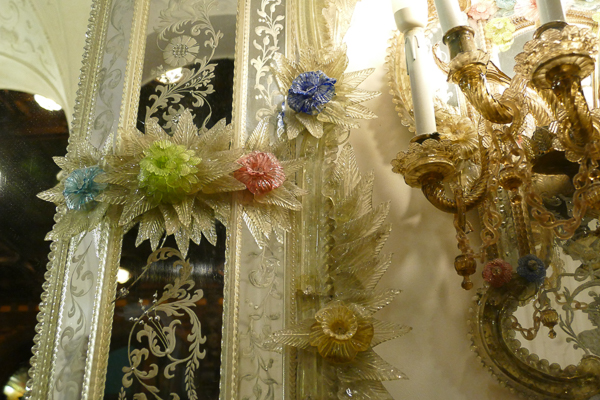 The interior courtyard.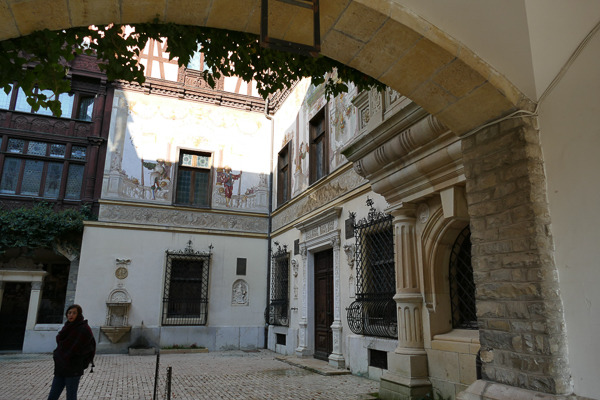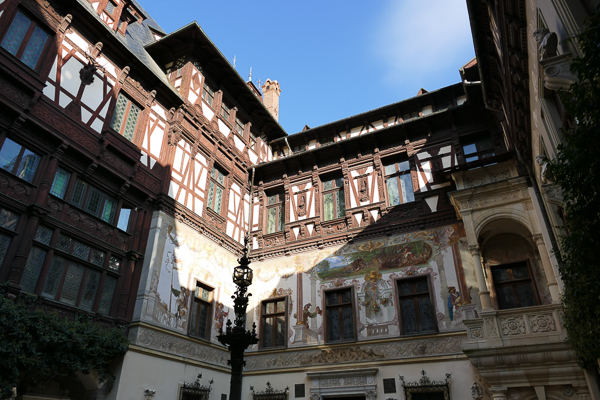 And one more parting shot of the outside.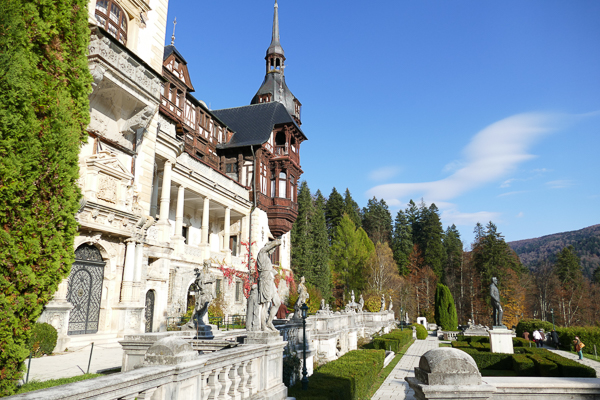 So, those two days were incredible. We got to see a TON, learn a lot, and have lots of fun with Mihai. I just wish in hindsight that we had so much more time to check out those medieval towns, to walk around, look in the shops, and sit with coffee. Oh well--next time I suppose!
After those two whirlwind days, we returned to Bucharest at night and flew back home the following day. All in all it was a tremendous trip and I still can't believe I was in that part of the world.
AND--a couple of weeks after that, we got $2,000 in cruise credit from AmaWaterways because of the changes to our itinerary. WHAAAAA??? You know what that means...ANOTHER CRUISE, BABY!
NOW I'm done! Happy New Year!