September 2015
I honestly can't believe that summer is over already! I think it goes by so fast because we are all so busy!
OK so I am still not yet employed. Things are being considered but that's all I feel like saying right now.
I did get a ton of scrapbooking done, including my whole cruise to Honduras, Belize and Mexico in February. Click on the Album - 2015 link on the right to see what I've gotten done of this year so far.
August began with a beautiful, moving concert by Florence and the Machine at Red Rocks, which truly is the best concert venue in the world. They did half of the show acoustic because it was the last day of their tour and, well, because it's flipping Red Rocks. I can't tell you how magical it felt with her voice echoing across the rocks and the starry sky. My camera doesn't take the best dark photos but this one came out rather well. Yes that's a harp on the back left.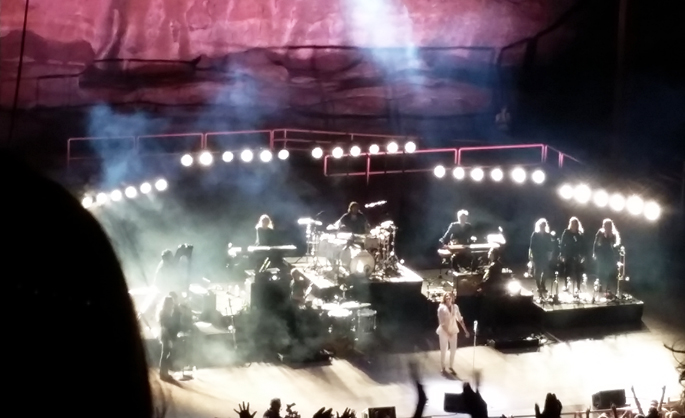 Midway through the month, mom came to visit for our annual trip to Tulsa, OK, for the Creating Keepsakes Convention. Now, as you may have known by now, there is a pattern to her visits to Colorado or to us. I think it was a curse that began at the wedding with the BROKEN NOSE famous incident. The first time she visited, we had a blinding snowstorm. The second time she visited, she had appendicitis two days before Christmas. Two years ago, she came in a boot because she just had foot surgery. Last year, she broke her pinky finger on the jet way boarding her flight to me. This year, she lost her cell phone in security before she even got onto the first plane.
Yep. I could not make this up if I tried. I'm just not that creative.
Anyway, she flew in on the 19th and we played in my scrapbook room the whole day, or at least until JC showed up from his half-week trip to San Francisco. She and I flew to Tulsa the next morning and drove to the last remaining scrapbook stores in the Tulsa area, one of which (the larger, more awesome one) is closing. Boo! This might be the end of the Tulsa trips for several reasons...anyway the convention was on Friday and Saturday and we took a few great classes and shopped a lot. The amount of vendors is decreasing each year (one of said reasons) so for the first time ever, we ended shopping EARLY, before closing time! Unheard of!
We flew back at 8am Sunday and sat in the airport for 2 hours until my dad landed, and then they spent a whirlwind week with us! I think I might have overbooked us, but we were not bored, that's for sure!
First, we attended a Rockies baseball game on Sunday afternoon in 95-degree heat. They lost. But we had lots of drinks and snacks so meh.
On Monday we drove up to Estes Park and walked up and down the main street, shopping, having great burgers, and drinking a pint.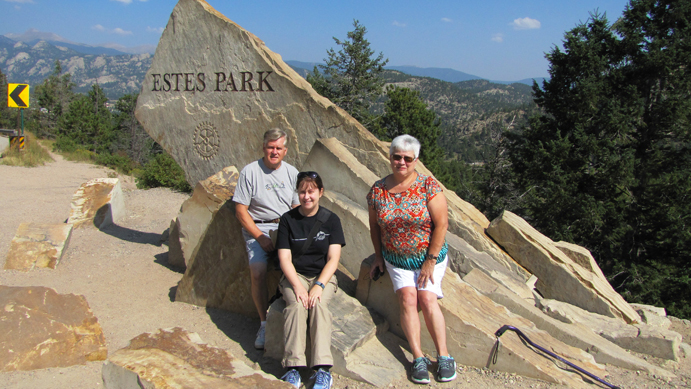 On Tuesday we drove down south to IKEA and to a store with learning toys for kids (yeay Christmas presents!), then we had dinner with Nick and Noel.
On Wednesday we went to the Wild Animal Sanctuary and had a wonderful afternoon/evening as the sun set and the thunderstorms went completely past us watching all of the animals--fat babies--relaxing in their large open habitats. Everybody was out, even the foxes and the porcupine!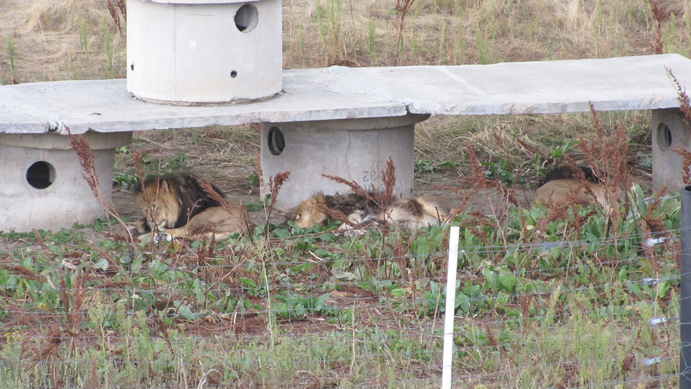 Lions sleeping in the shade.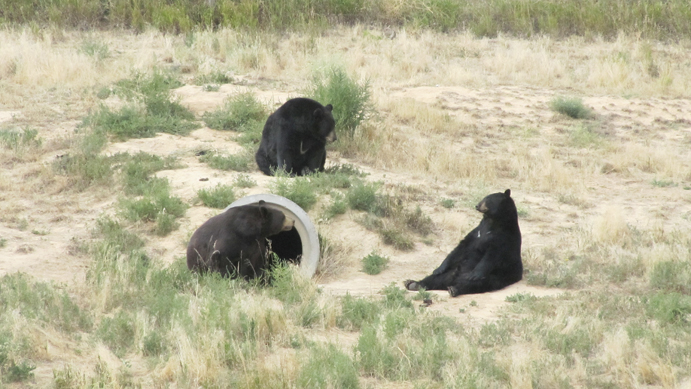 A bear hangout.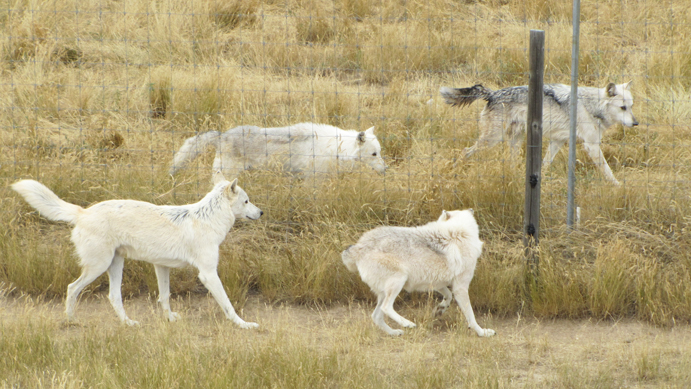 Wolves playing along the fence.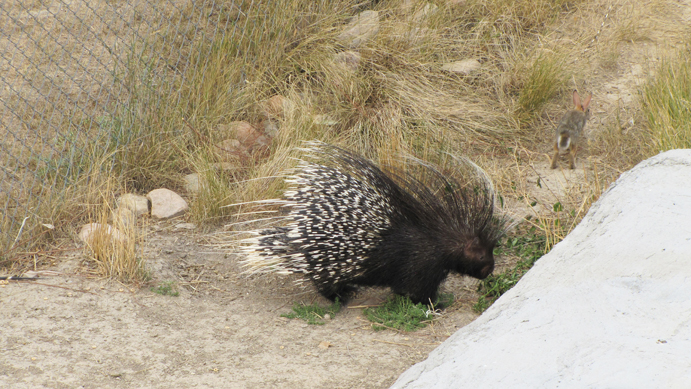 Porcupine looking for food.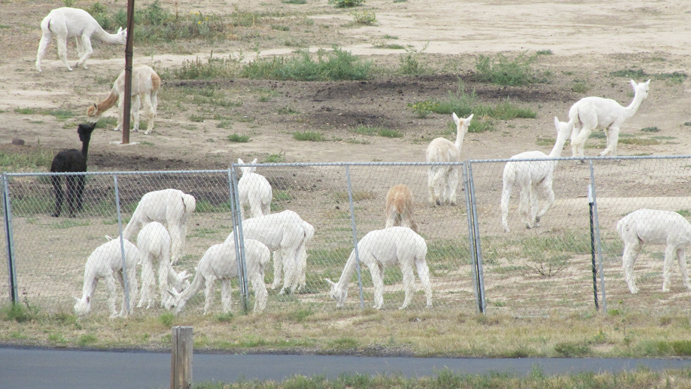 Freshly-sheared alpacas.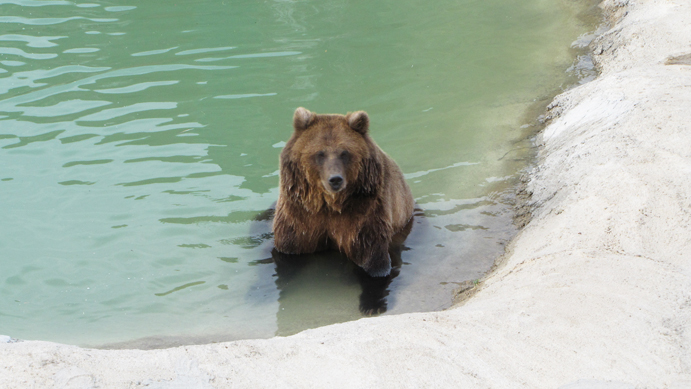 A grizzly cooling down.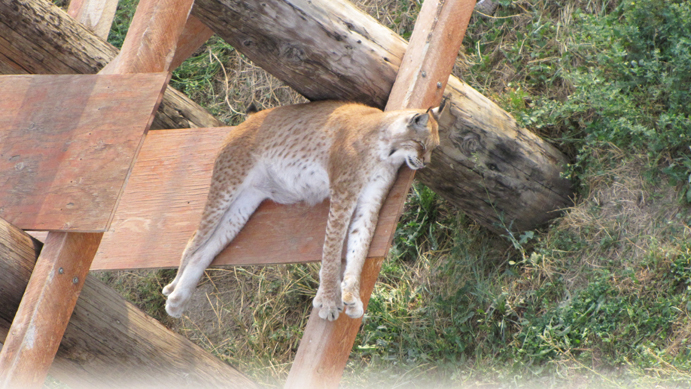 A bobcat stretching on his new habitat that goes 20 feet into the air.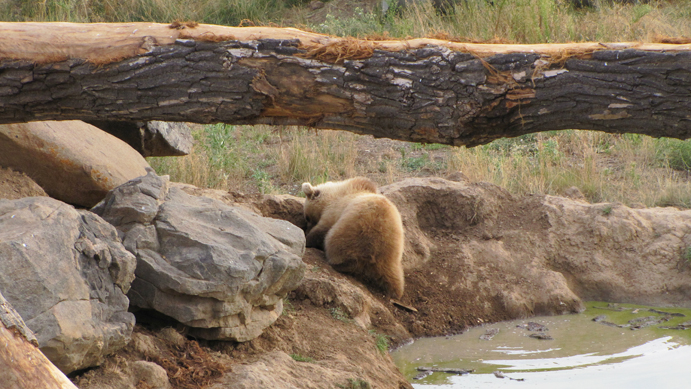 This bear cub was super mischievous when we were there! He was playing with a pine tree, trying to climb a chain-link fence around his sleeping quarters, digging a hole to get to a tree root, jumping around on the rocks and playing with his feet!
On Thursday dad went to play golf on the Colorado National Golf Club course that runs through my neighborhood (that I have never been on because it's trespassing), while mom and I went to the Scrapbook Shack and played some more at home with the new stuff we got at the convention. Dad got a last-minute discount tee time and got paired up with Roy, a 50-year-old stoner. Dad said he lit up his bong on the 3rd hole and smoked the whole rest of the way! Way to represent Colorado Roy!
On Friday I had a job interview in the morning, then we went to the Old Mine in Erie for THE MOST AMAZING HARD CIDER I have ever tasted! The food we had was amazing too. I tried four different ciders and one beer and they all are amazing. Go there!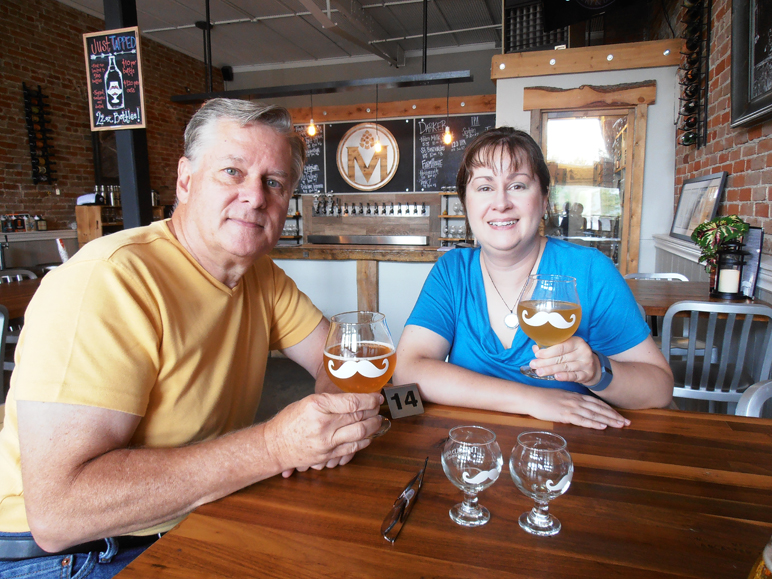 Then we went into downtown Denver to the Denver Center for the Performing Arts to see the one-man play Defending the Caveman which was hilarious!
WHEW! They flew out on Saturday, I worked that night at the Shack, and on Sunday while I wanted to pass out, JC and I instead went to Elitch Gardens for a roller coaster fix! Sadly Elitch can be done in its entirely in 3 hours, but happily it only took 3 hours in 100-degree heat. We went through lemonade and blue ice before needing smoothies on the way home.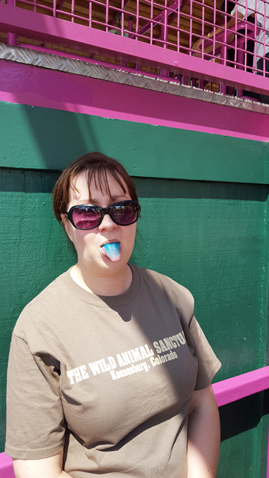 OMG FOOTBALL! THAT MEANS HOCKEY AIN'T FAR BEHIND!