2018
December
November
October
September
August
July
June
May
April
March
February
January
2017
December
November
October
September
August
July
June
May
April
March
February
January
2016
December
November
October
September
August
July
June
May
April
March
February
January
2015

December
November
October
September
August
July
June
May
April
March
February
January
2014

EUROPE PHOTOS
December
November
October
September
August
July
June
May
April
March
February
January
2013

December
November
October
September
August
July
June
May
April
March
February
January
2012
PORTUGAL PHOTOS
December
November
October
September
August
July
June
May
April
March
February
January
May 2009
Well, spring is still attempting to spring out here, it's taking an awfully long time, and we are keeping ourselves busy. Work has not slowed down that much, but on the bright side, there is no news about the 300+ layoffs that were supposed to take place, nor are there any additional rumours of them.
We finally got to take our Vegas vacation at the end of April and the weather in Vegas was perfect--sunny and low 80's the whole time. We had a blast sleeping in, eating luxuriously and roaming from casino to casino. We also saw "Zumanity" which was quite interesting. At the end of the weekend, we ended up only being down around $200 from playing penny slot machines. One day I was lucky, then the next day JC was lucky, and so we rotated winning and losing.
Earlier in the month we took in some theatre in the forms of Evita (musical), Tang Concubines (a dance/martial arts sortof thingy), and Albert Herring (an opera in English). I also had one whole weekend where I did something scrapbooking related every day. That Friday night, some friends came over to scrap. On Saturday, I attended a scrapping convention which ROCKED. I saw some amazing new techniques, bought some cool new products, and won a cute gift basket of spring embellishments! Then on Sunday I went to my favourite store, Archiver's, to attend a card-making class.
Lastly, the weekend before we went to Vegas, we had a family gathering at our house to make invitations for Myko's wedding. While the gals worked feverishly in the scrapping room (formerly the dining room) making the invitations, JC amused the rest of the clan with a Partridge Family rendition of Rock Band: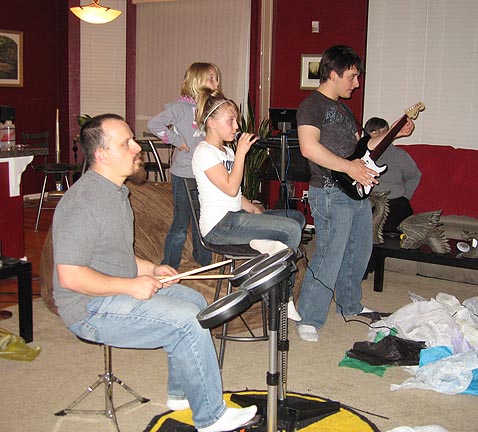 In this picture, JC's on the drums, Mattie is singing and Michael (our nephew) is on the guitar. Kenna and Noel are watching.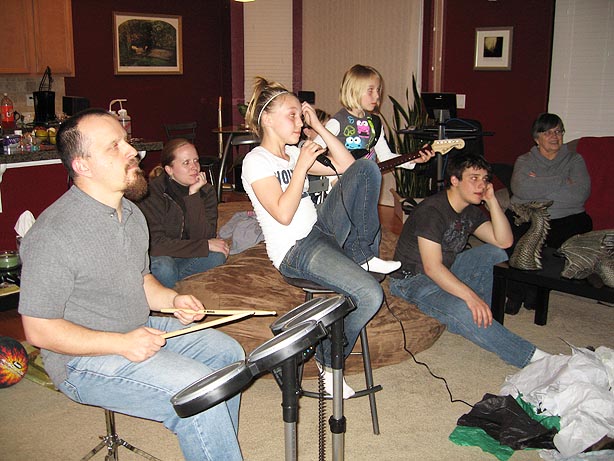 In this picture, JC's still on the drums, Mattie is singing, and Kenna is on guitar. Michael and Noel are on the right, and Myko's friend Danette is watching on the left.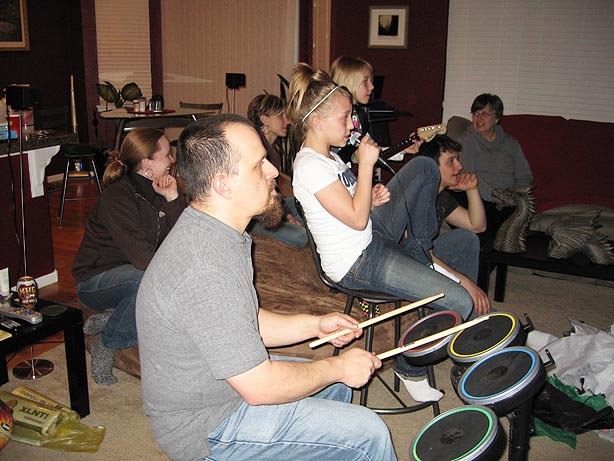 Here is another view where you can also see Myko hiding inbetween JC and Mattie.

2011
SPAIN PHOTOS
December
November
October
September
August
July
June
May - none
April
March
February
January
2010
ALASKA PHOTOS
December
November
October
September
August
July
June
May
April
March
February
January
2009
December
November
October
September
August
July
June
May
April
March
February
January
2008
WEDDING PHOTOS
December
November
October
September
August
July
June
May
April
March
February
January
JILL'S CREATIONS:
Album - 2017
Album - 2016
Album - 2015
Album - 2014
Album - 2013
Album - 2012
Album - 2011
Album - Penn State
Album - Cedar Point
Album - Wedding
Cards
LOAD513
LOAD214
Mini Albums - Coffee and Daily Junque