July 2018
Wow, half of the year is gone. I believe it. I certainly have been busy enough!
I took two trips in June, but will only go into one this time. That way I can include a lot more photos about each one, and keep you in suspense. :)
Mid-month, JC and I went to Seattle for our nephew Colton's high school graduation. We spent four cold days out there and used our time to both sightsee and hang out with family.
We arrived on a Saturday in the afternoon, which was really weird because I always fly in the mornings. We got the rental car and drove to Port Orchard, WA, where JC's sister Zera and her family reside. We had dinner with them and hung out that night. We haven't seen them in a few years, and this is only my second time to Seattle, so it was great to see everyone again.
On Sunday, JC and I split from the gang and we went into Seattle. Our first stop was a yummy breakfast in Tacoma with my friend Kathy and her husband. I know Kathy from a couple of online scrapbooking communities, and this is probably only the third time we've met up in person! It was a fun breakfast.
Next up was the Living Computer Museum. This place is a treasure trove of amazing computer history, most of which occurred during our lifetimes. A good portion of the stuff in there I had never seen before, like huge mainframe computers used by companies and universities in the infancy of computing technology. The other half of the stuff just brought back awesome memories of childhood and early adulthood.
I got to sit down at this machine on the right and punch a punch card with whatever I wanted to say. The mammoth machine on the left reads and sorts punch cards, that's all it does. Hilarious.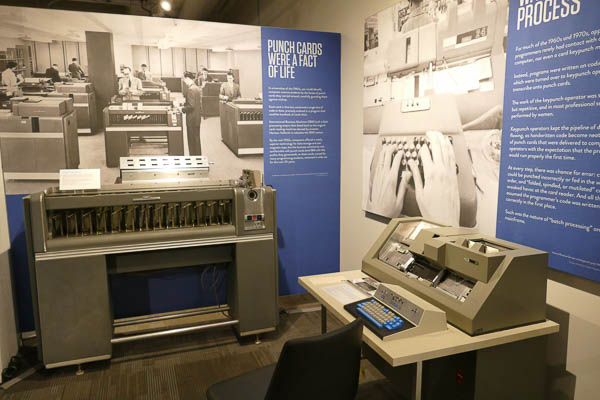 This is a massive CRAY mainframe that conveniently doubled as a circular bench. Groovy!
JC recognized and worked on darn near everything that was in this server room. He's wondering where his spot is in this museum!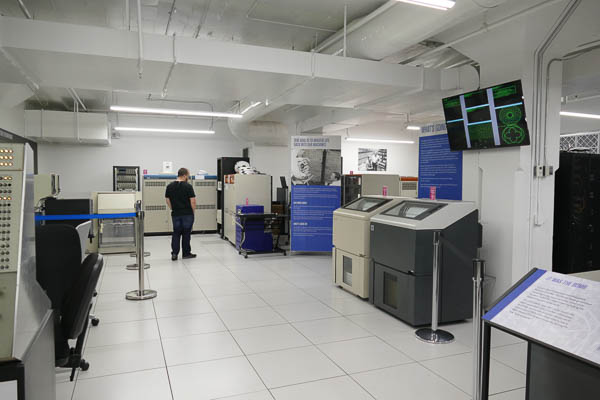 They also had AMAZING rooms decorated as the 70s and 80s. I damn near fell over in this room because it pretty much looks like both my grandparents' living room and my own family room growing up!!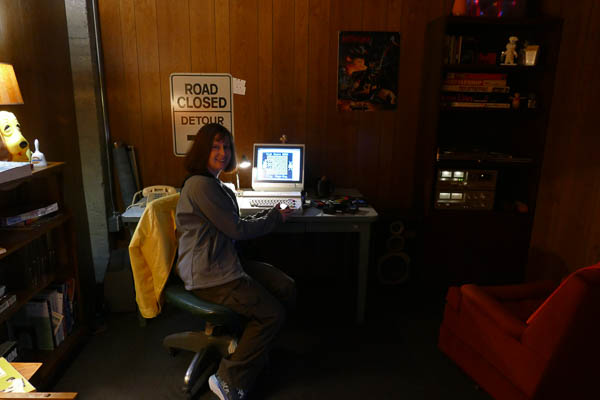 Speaking of, here's the wiz himself playing Atari in a different room.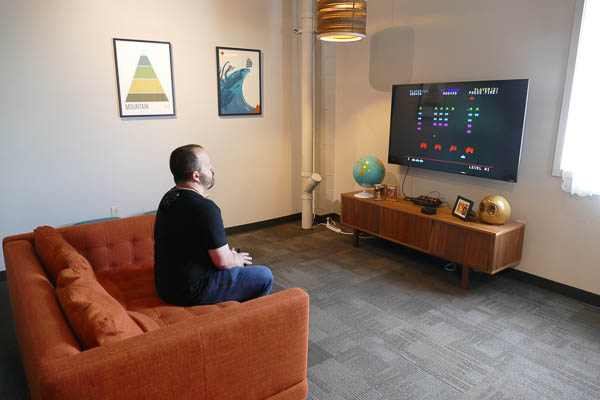 And I got to go back in time to my first computer--the Apple II--and my favorite game, Galaxian. I can't tell you how many hours of my childhood were spent playing that game!!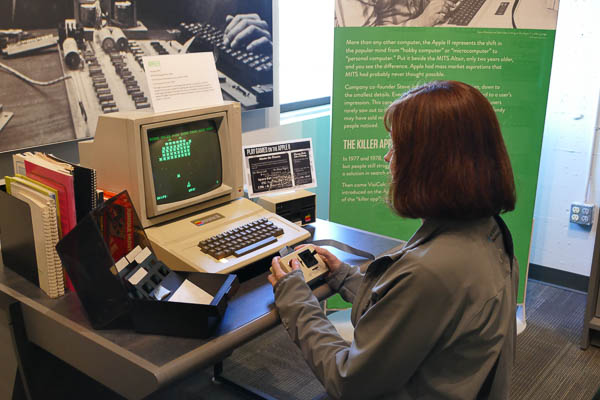 This is their spare parts room!! They get donations of equipment from all over the world and work to repair it. Almost all of the computers that were on display, from a wide variety of manufacturers, STILL WORK and the museum either had code there for you to type in, or a game loaded that you could play!
Our next stop was Pike Place Market, that crazy amalgamation of eclectic shops, fresh produce, and loud fish mongers. I had been there before but wanted to explore it a bit more, so we parked and spent a bit of time roaming around the weirdly architected building of little shops. The building is old, low-ceilinged, split-level, and smells like incense, so you get lost roaming around a very diverse array of stores. I bought an assortment of flavored honey sticks for tea and a pair of socks that have cats in boxes on them. :)
After that, we trekked through the rain to the Chihuly Garden and Glass Museum, a gorgeous display of blown glass art by the famous artist Chihuly. It was breath-taking, honestly. His work is so beautiful, so intricate, and so creative. I was in awe of what can be done with glass. Here's one example: this display takes up an entire large black room. It's probably 25 feet long and just brimming with bold, vibrant colors and unique shapes.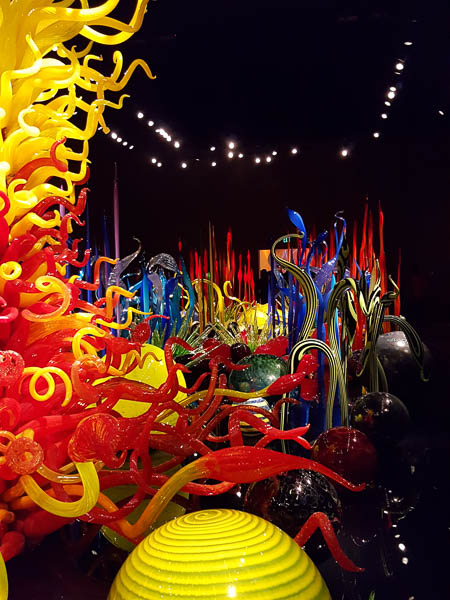 The black and lime green swirled pieces were one of my favorite sections. I have no idea how he did that!!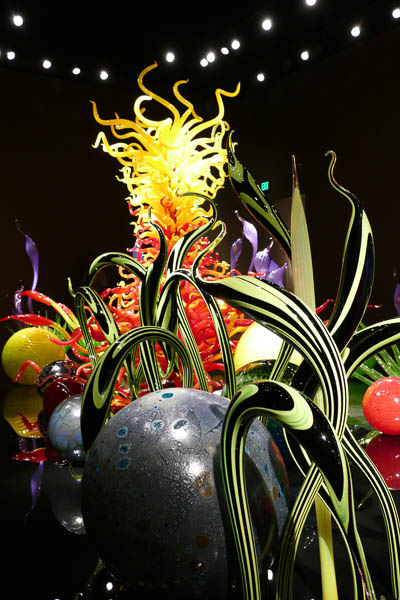 This room held some incredible, large bowls with stunning patterns. They look like upside-down jellyfish!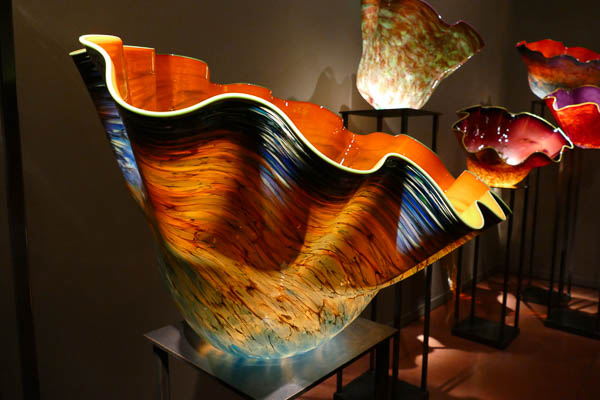 A gorgeous, massive installation of yellow and orange flowers was in this observatory room. If it looks familiar, Chihuly is the one who did the flowers that are in the ceiling of the Bellagio hotel and casino in Las Vegas that are so popular.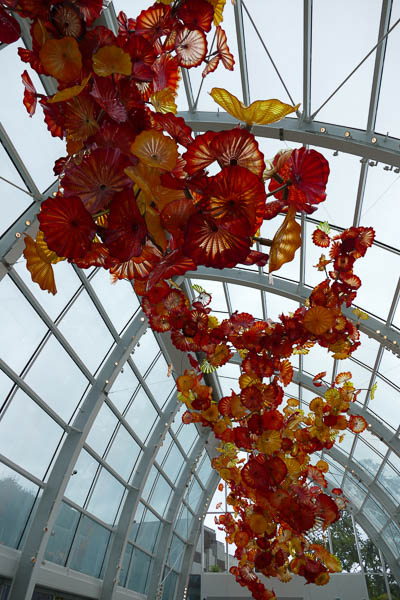 Then there were the Gardens, an impressive additional display of beautiful glass in a variety of shapes and colors. Some art pieces were extremely large and tall, with the Space Needle as the backdrop. This section of blue-violet pieces really stood out on this overcast day.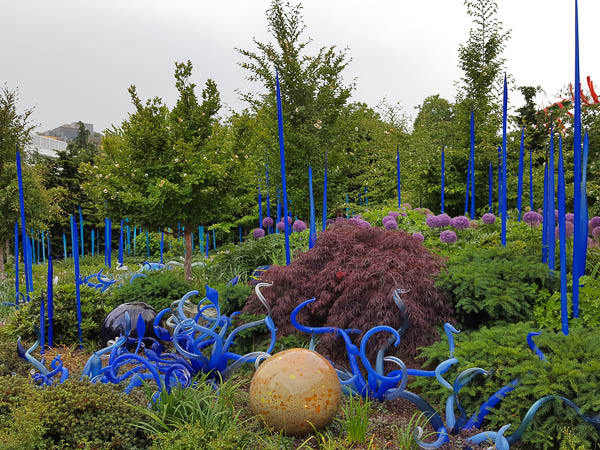 On Monday, we *might* have found an awesome scrapbooking store...then we met up with JC's dad and Colton at the Museum of Flight. COOL doesn't even describe it. We spent hours in there checking everything out. They have a ton of actual planes ranging from the very first ones to NASA and military planes. There was an exhibit on how planes fly and how Air Traffic Control works, there were several sections on space flight, and there was an additional outdoor warehouse filled with larger commercial and military planes.
Here's one section of the main room. Packed!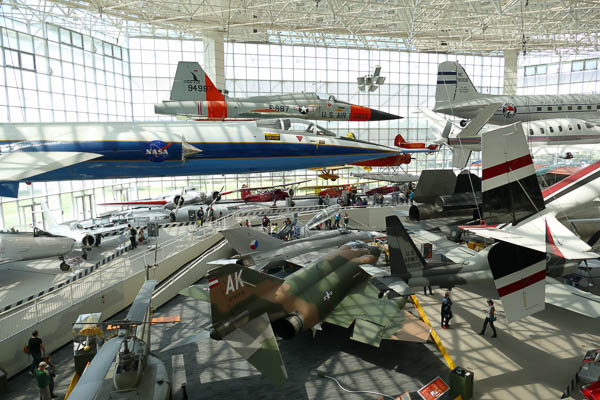 Displays in the space exploration wing of a couple of the craft used to go to the moon.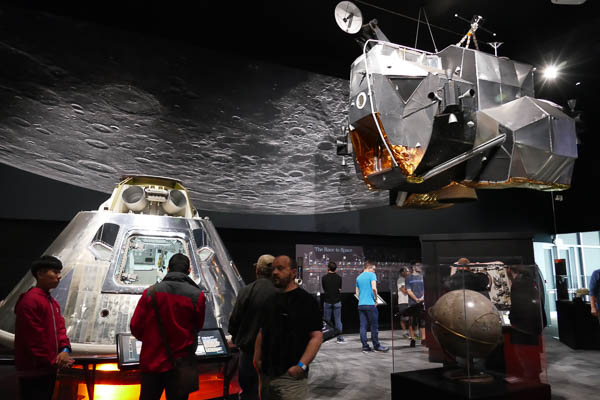 This is a toilet on a shuttle. Looks comfy.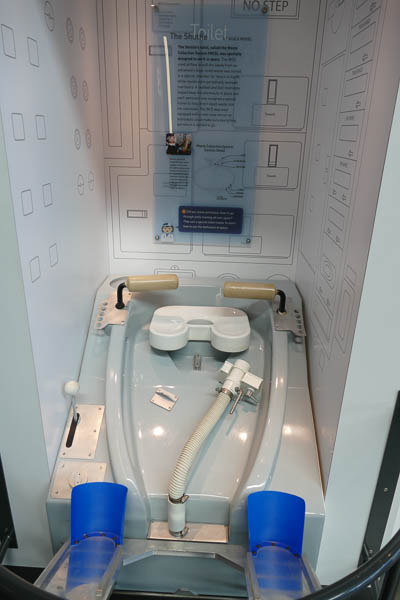 The outdoor warehouse. I couldn't get a picture of the CONCORDE that's there because it was too big! Another awesome thing about this section is that many of the planes are open for you to go into! So we got to go into the Concorde--super narrow walkway--as well as a 747 from the 60s, a 787 Dreamliner (can't wait to ride in one of those next year to Japan!), and...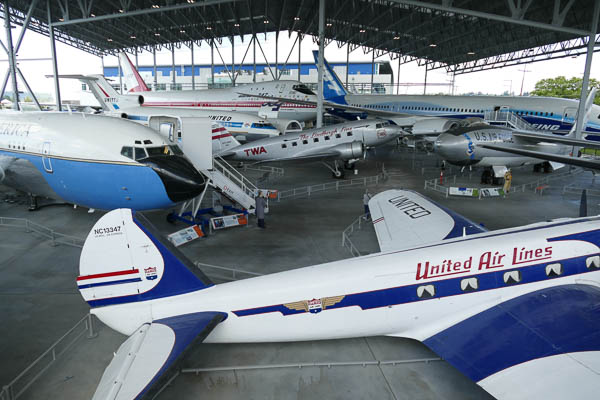 Air Force One from the 60s and 70s! This is the plane that Nixon and LBJ had. Check out the state-of-the-art communication equipment y'all.
On Tuesday, JC and I stayed on the other side of the sound and first went to the Japanese American Exclusion Memorial on Bainbridge Island. It's a really moving tribute to the Japanese Americans who were rounded up during WWII and sent to internment camps in no man's land in Utah, Idaho, and Montana. This is the actual pier that was used to shuffle families onto boats. It's a long, curved wall with carvings of the various livelihoods these people left behind.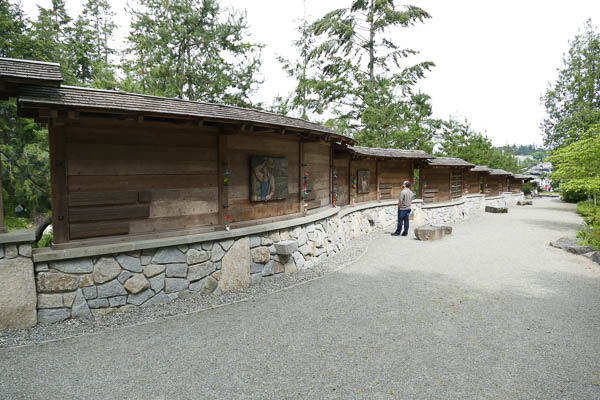 A beautiful and touching cascade of paper cranes. This memorial has much to teach us--especially in our current political climate of hating those who are different from us. I challenge people to rethink hating others for no reason and try not to repeat the past.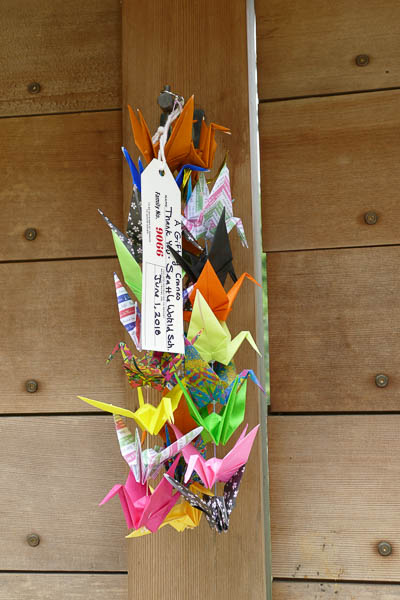 But apparently there are also wheelchair races that take place there.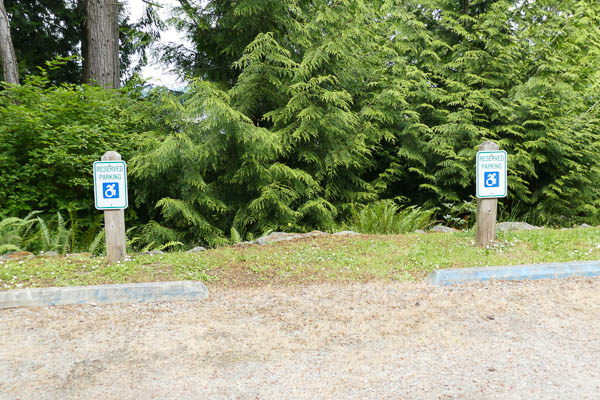 We then went to the main town on the island and walked around for ten minutes. It's a cute little town, but we had to head back to the family for lunch and then the drive over to Tacoma for Colton's graduation that evening. We had to leave pretty early for the ceremony because leaving any later would've resulted in being stuck in HORRIBLE TRAFFIC crossing the bridge. I cannot believe the ridiculous roadways and traffic that's there. Moving there is OUT of the question because I would seriously lose my MIND.
Anyway, here is happy Colton pre-ceremony.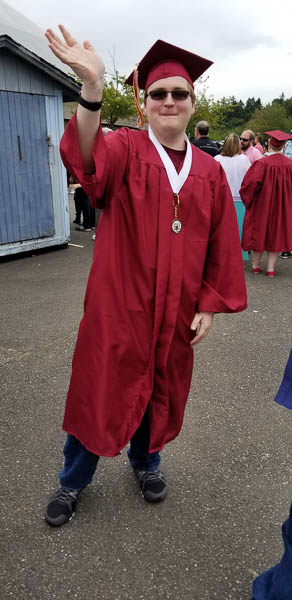 And here he is finally getting the empty diploma. They mail you the actual piece of paper afterwards just in case you misbehave during the ceremony or fail an exam and actually don't graduate, hah!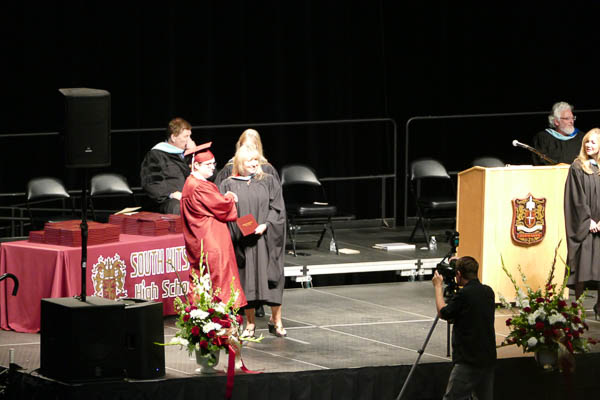 I might have gotten to Europe this year after all...