January 2013 -- Happy New Year!!
I hope everyone is having a great new year so far! I'm so organized that I'm actually doing my website update on January 1st! I think that IS a first, hah!
Anyway, even though we did not go anywhere for Christmas, and had a nice, relaxing holiday in Colorado, we did have one final adventure in 2012. The weekend after Thanksgiving we went on our annual trip to Vegas! This time, though, we were not alone--we met up with some friends who were running in the Rock n Roll Half Marathon that literally ran down the strip!
We stay in a new hotel every time we go, and this time we stayed at Mandalay Bay. Other than the lack of personnel at the front desk, it was GREAT! The room was luxurious and comfortable, and the hotel is really swanky. We even walked around the pool area which has like 7 pools and a beach!! Yes we have become hotel snobs. :)
We met up with our friends here and there throughout the weekend, and spent the rest of the time roaming on our own gambling, shopping and relaxing. We went to see the new Cirque du Soleil show "Zarkana", which to be honest was a bit disappointing for those of us who have seen many Cirque shows before. This one had nothing really new to it. Yes, we are also Cirque snobs apparently.
Before the show we had a lot of time to kill, so we investigated the ice rink on the roof of the new Cosmopolitan hotel and casino. It's really their outdoor pool which they covered over, iced over and boarded up to be a little rink! We found a bunch of chairs near a fire, ordered smores and yummy drinks, and lived the lavish life. Here we are chillin': the first pic is JC and I in back and Becky in front. The second pic is Becky, Melissa and Bryan. Leah, our tried and true travel companion, was the one taking the pics. In the first pic you can see the rink in the back and the Paris hotel in the far back.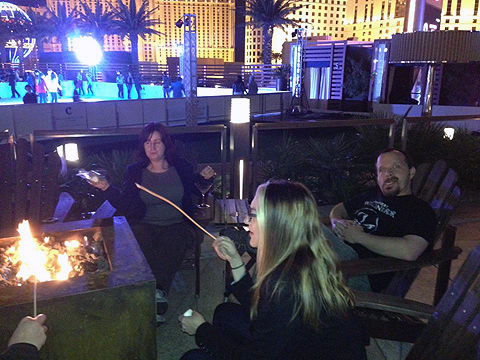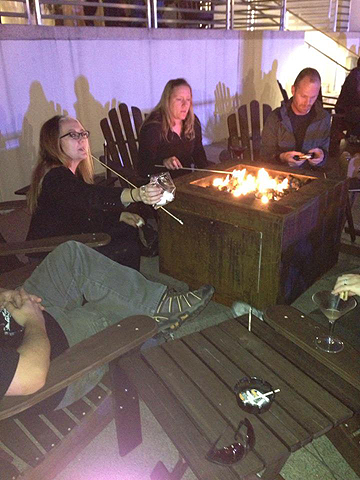 As far as the rest of the weekend went, we had a blast finding some extra unique Christmas presents at the shops, and wandering from casino to casino playing penny slot machines. For the first time ever, we broke even!! Woo hoo!! And we learned how to place sports bets. On Sunday it was really nice to just sit in a sports book for a while watching a football game. In the past we always went to Vegas in February or March, but I think we just might shift our schedule permanently to the fall so that we can try our hand at betting on a game or two, and sit and relax watching a game in those nice cushy books!
Another added bonus of traveling at this time of year is that you get to see all of the gorgeous Christmas decorations! So here are some of my faves.
The huge illuminated tree outside of the Venetian: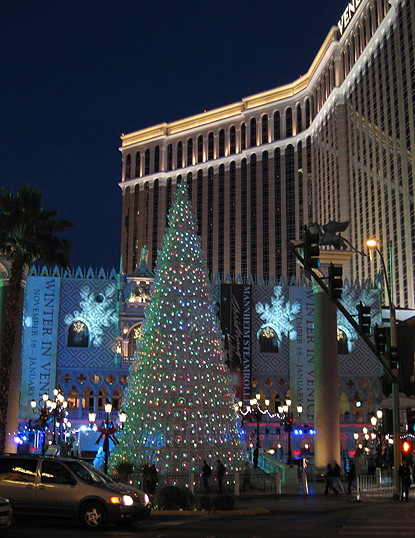 The gorgeous waterfall inside the Palazzo: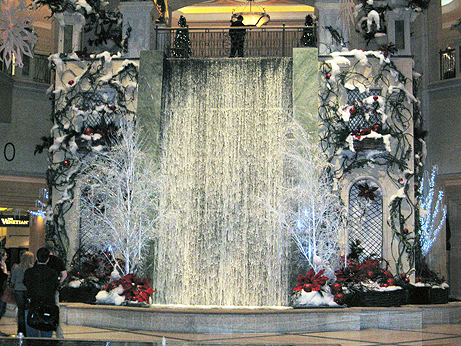 The floral sculptures and display in the Bellagio: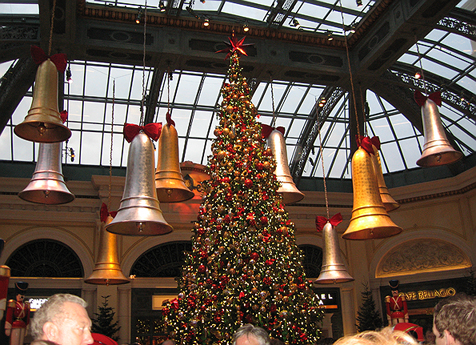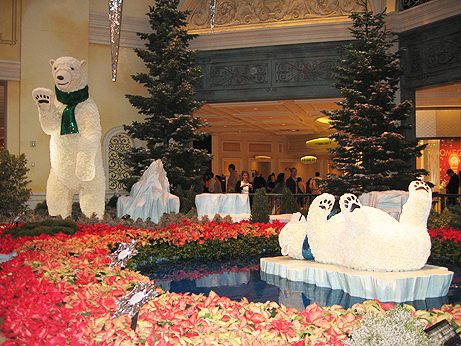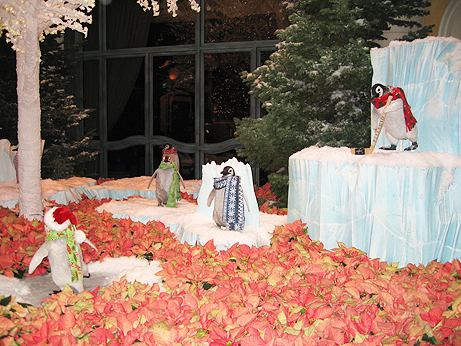 Oh and not a Christmas decoration, but have you seen this floor-to-ceiling chocolate fountain in the Bellagio's patisserie??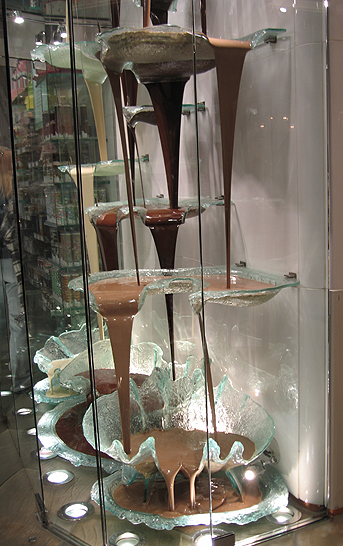 Next month I think I will do a year in review...I know, you can hardly wait. : \