December 2018
OK, so as I mentioned last month, it was our ten-year anniversary in October. To celebrate, we took a road trip to New Mexico for 6 days. Here it goes!
Great Sand Dunes
Our first stop was still in Colorado at the Great Sand Dunes National Park. I've been wanting to go here for years, ever since I found out that this crazy state of ours has a weird natural mini-desert in the southwest. A natural wind pattern ends up blowing the sand up into a circle over and over again to keep this random sandbox in tact. It's right at the end of the Sangre de Cristo mountains.
There's one main area where you can park and walk around, so that's where we went. We probably spent a couple of hours walking the dunes. We didn't go far in.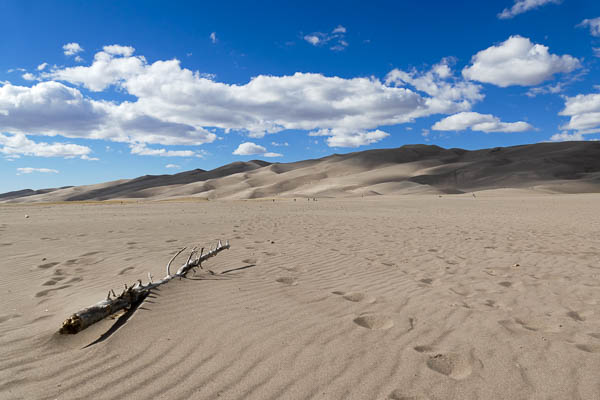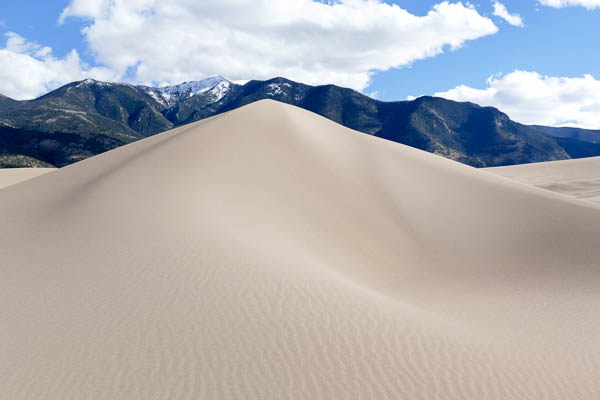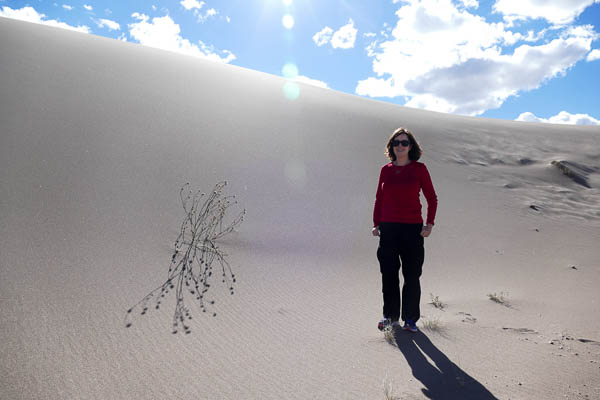 Yes, those are people way back there! You could've rented a sled at a company outside of the park to slide down the dunes. We did not have enough foresight to do that, but when I think about having sand in every crevice for the rest of the day, I'm good.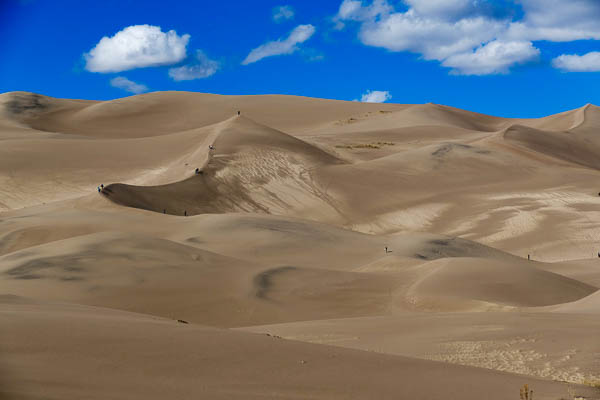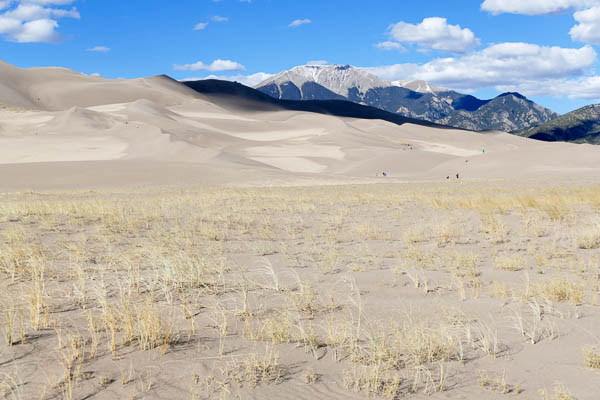 Me and my state sign. We were on a less traveled road that crosses states than the highway, so I could easily get my required sign photo.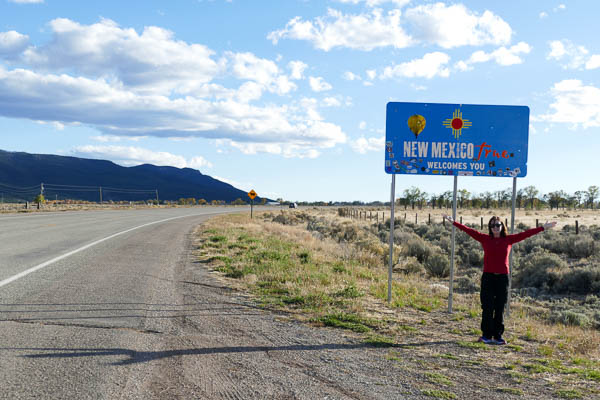 Taos
Taos is an adorable artist town filled with art. We stayed at this amazing resort not far from the city center. It was a gorgeous property, the pool area was amazing, we had two meals in the restaurant that were excellent, and we had a cozy fireplace in the room. I would so stay there again!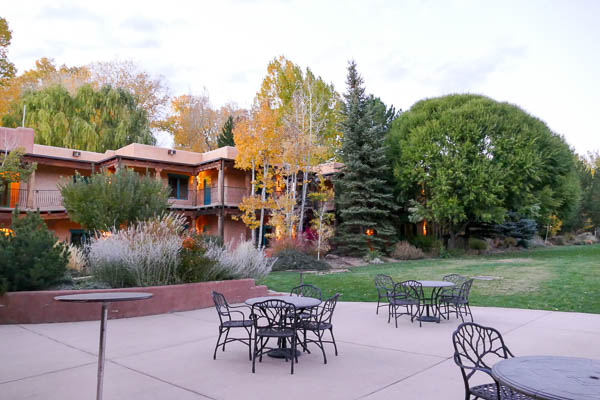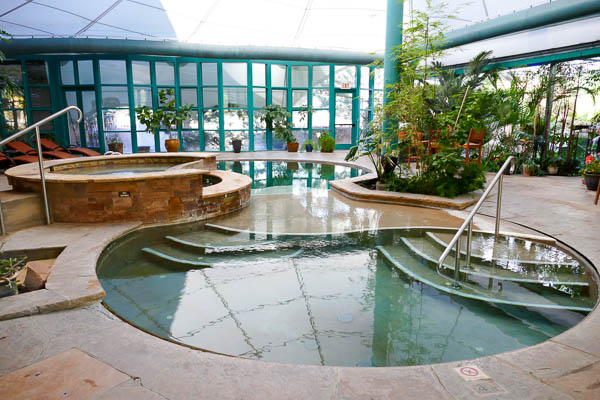 This was the jungle right next to the pool. JC wants one of these in our backyard. Totally doable.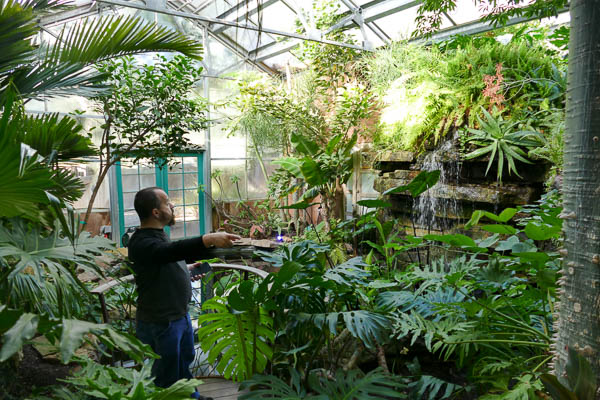 This is a little cabin or whatever that you can rent privately. I just love the colors.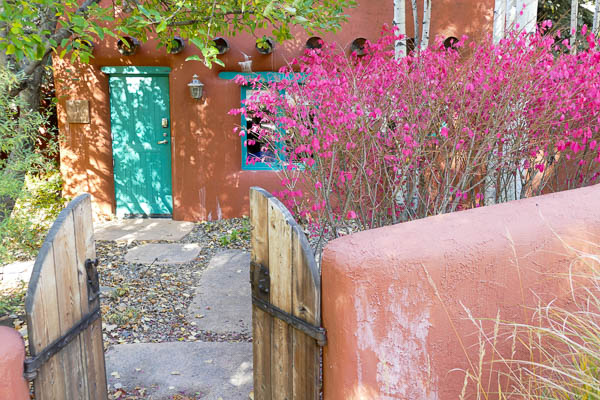 We only spent one day in Taos because shopping for art isn't really our thing. The first thing we did was visit Taos Pueblo, a Native American town that's over 100 years old. The guide we had was really informative about both their history and their present. Only about a dozen people still live in the actual pueblo; the majority of the tribe lives in modern homes in Taos (with electricity, plumbing and wifi) and comes to the pueblo to make and sell their goods. I bought a hand-painted buffalo with the outline of the main part of the pueblo (below) in it from a very nice woman.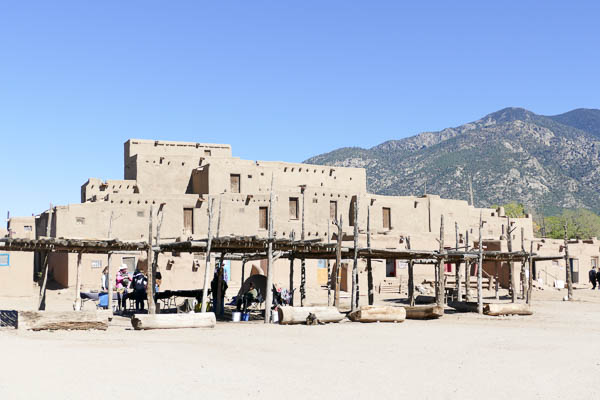 The mound in front is one of their ovens. The walls and ovens are made with this mixture of clay and straw and usually has to be reapplied each year.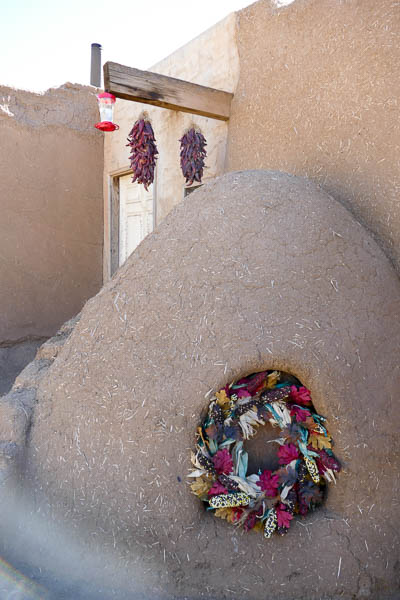 Then we walked around downtown Taos for a bit. The adobe look is growing on me!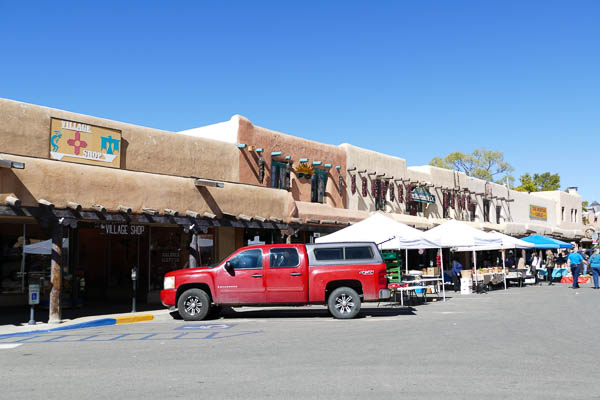 That afternoon, we drove through the gorgeous hills of New Mexico to Santa Fe. The colors of the trees were still changing so we had great scenery!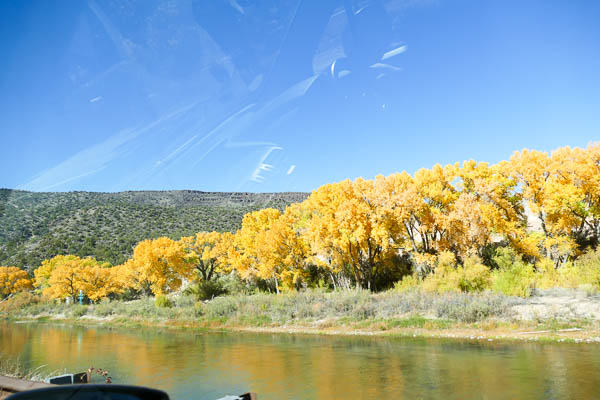 Plus we drove past the famous Camel Rock.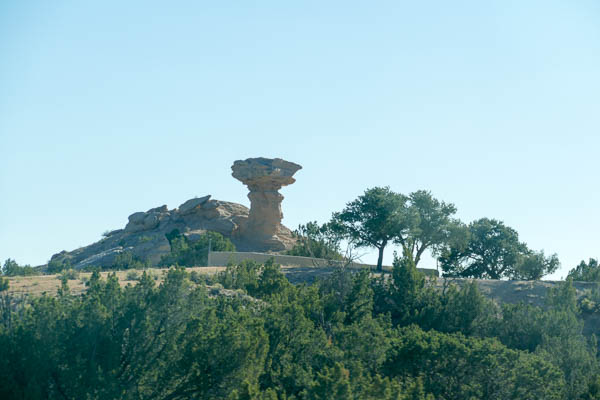 Santa Fe
We got to Santa Fe relatively early in the day, allowing us to roam around for a bit before it got dark and cold. Then we picked up the roaming where we left off the next day. We again stayed in a really nice hotel within walking distance of the beautiful old town center. We also got a nice anniversary surprise from our awesome travel agents who booked this whole trip for us. The inside of the card was a pair of hand-drawn owls and a note of congrats. Too cute!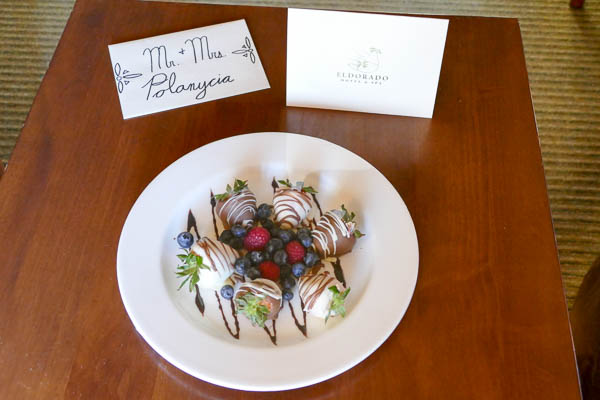 Anyway, on to town! These two guys were getting their Native American dancing on in the town square.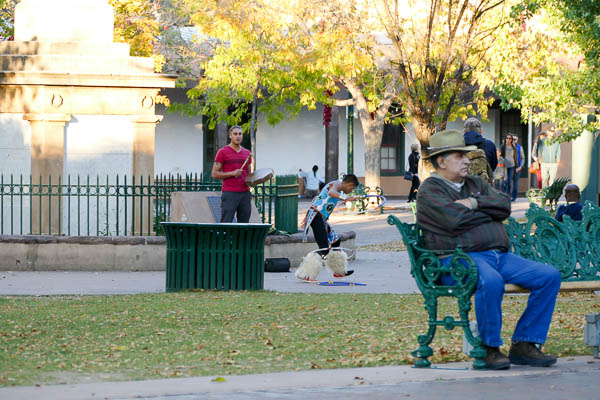 Gorgeous!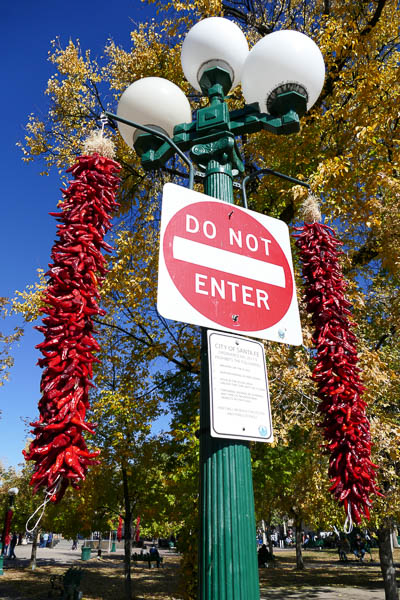 This is a labyrinth in the small courtyard in front of the St. Francis of Assisi cathedral. JC did eventually complete it successfully.
Ouch! Super cool.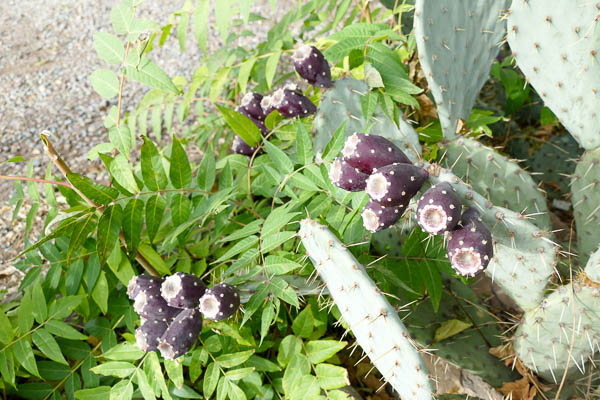 In the courtyard of another church, this is a rosary. They get extra credit for such a unique idea!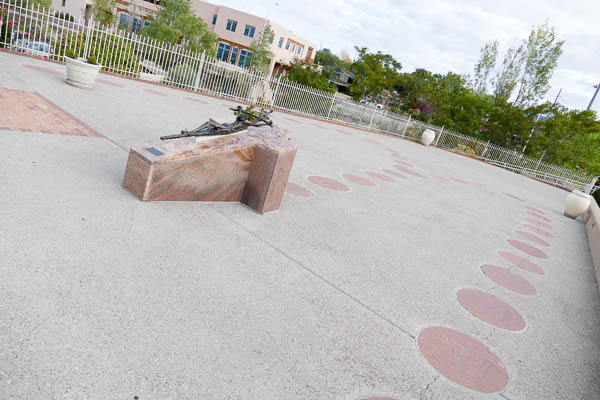 This is officially the oldest still-standing house in the United States (and you thought it was in Massachusetts!). It was super tiny inside. They don't actually know the date it was built; all they are going on are historical documents from the 1760s that show the house already there, and dating the tree rings from the beams at the top to be from around 1740.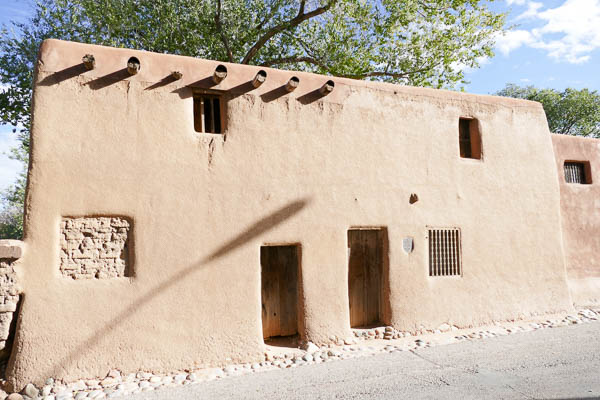 OK this is where it gets WEIRD. After an amazing lunch at a Mexican restaurant that specialized in seafood, we went to this art installment in the suburbs called MEOW WOLF. It's a big warehouse with a Victorian house inside of it that you get to walk through, and you can touch and interact with everything. There was some long back story about aliens but we just didn't have the attention span. The house is just one component, though: you go through the fridge to other dimensions, come back in through the fireplace after playing the xylophone made out of a mammoth's ribcage, and go behind the house to this whole other world with super freaky stuff. We were in there for like three hours.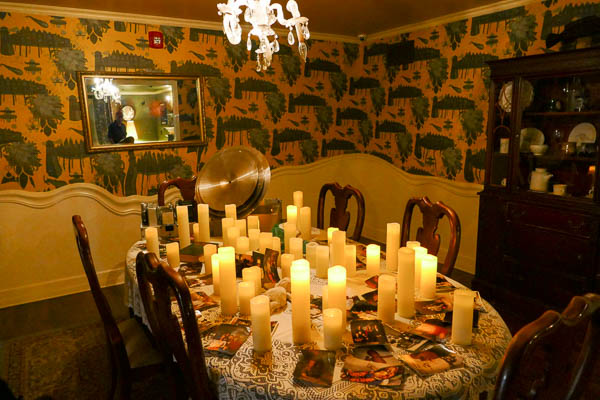 The dryer took me to a little room with underwear pinned to the walls and ceiling.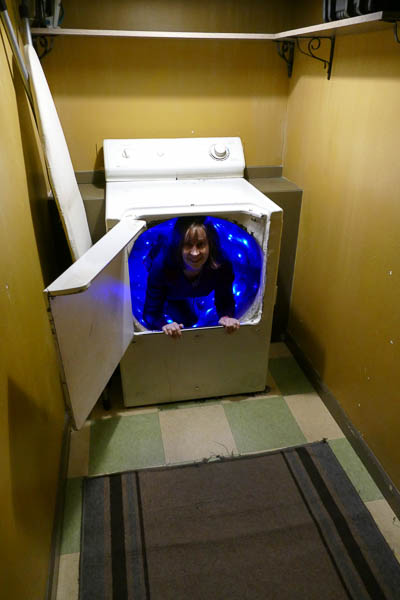 One of the kids' bedrooms.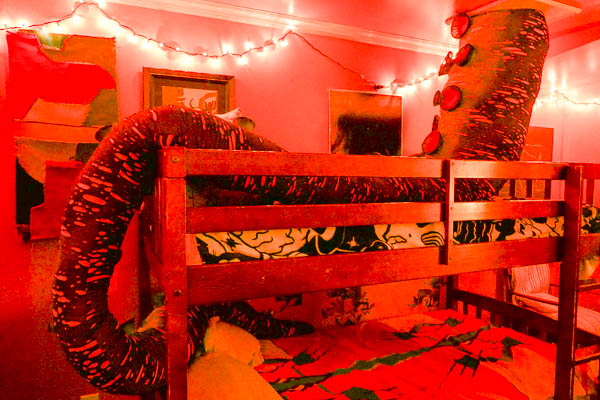 This was my favorite room because there was awesome techno/electronic music playing and the mounted heads are not creatures of this world. It was twice as bold and vivid in there as the photo.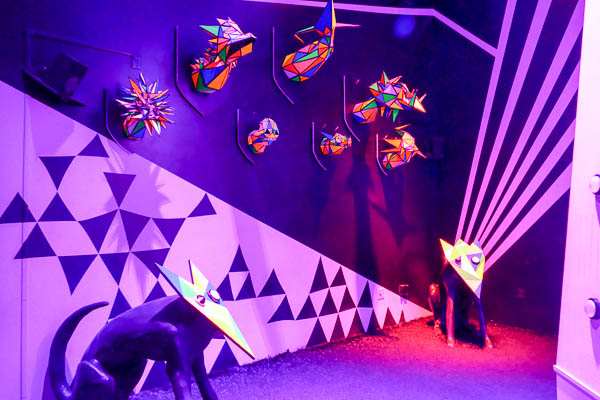 JC and I played with a laser harp. You stick your arm or fingers in front of the beams to break them and that emits different sounds. I've never seen anything like it before but to him it was old news.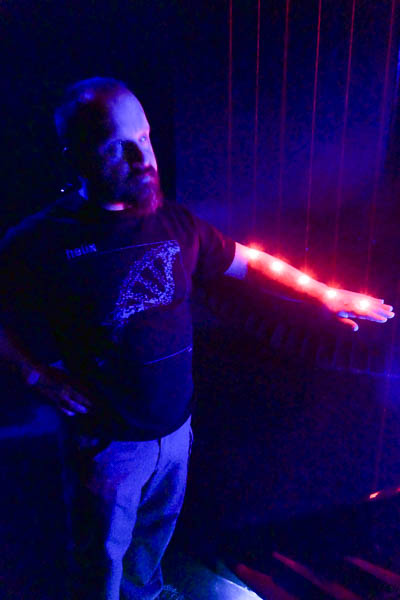 A view of the area behind the house that apparently hosts concerts. I shudder to think what those look and sound like.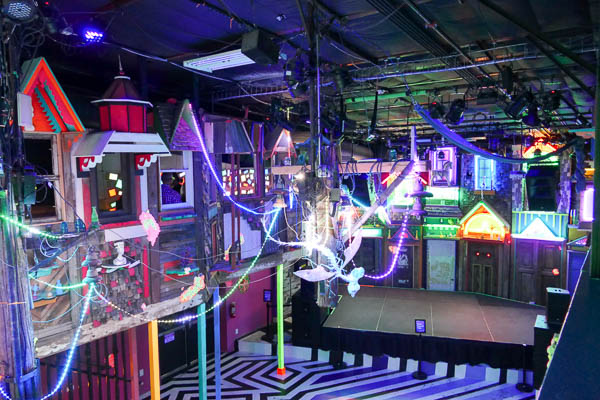 Something. With a sequin belly that you rub up to craft messages. Apparently. Had to have the 3D glasses on too.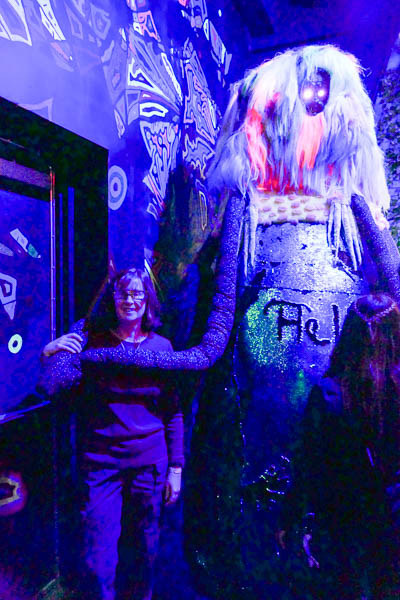 I kinda want this in my backyard. All of it.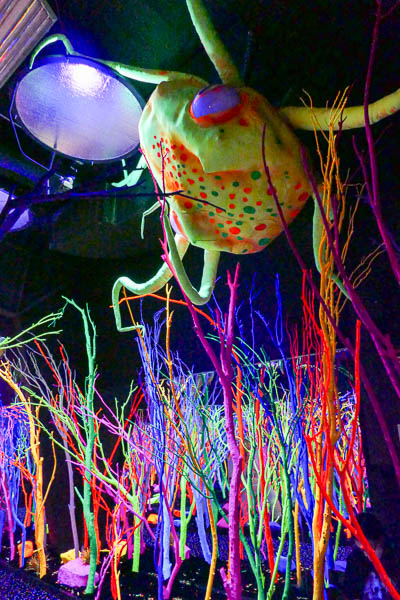 They're building another Meow Wolf exhibit in--wait for it--DENVER! Anyone want to go with me??
Albuquerque
Soooo...after that acid trip we made our way to Albuquerque and stayed at the gorgeous Sandia Resort and Casino. They upgraded us for free to a suite and it was quite luxurious. It had a great view, too, of the Sandia mountain. I learned that 'sandía' means 'watermelon' in Spanish and that's what the settlers named the mountain in the back because they thought it looked like a piece of watermelon at sunset. Looks like a mountain to me but whatev.

The first morning in ABQ was the BIG BUCKET LIST EVENT--the HOT AIR BALLOON RIDE! We totally lucked out. Not only was it a gorgeous, clear and warm day (it got into the 80s that afternoon), we rode for an hour and 10 minutes (the ride is supposed to only be 45 minutes), we had perfect views all around, and we rode with Troy who apparently is the most famous balloonist in history. He holds over 60 Guinness World Records for ballooning, including for piloting hot air balloons over both the Atlantic and the Pacific oceans. That's passion!
We got to help hold the balloon open while it inflated. I got to sneak a pic of Troy inside.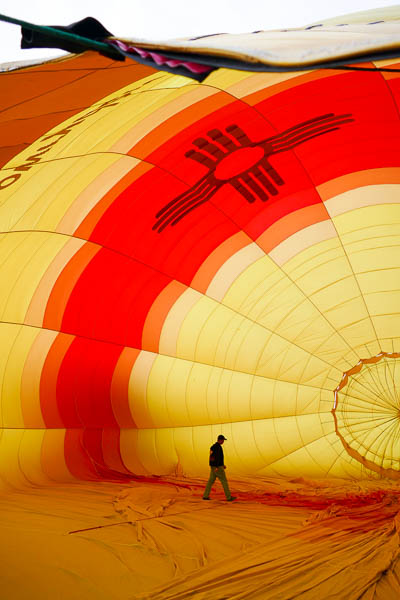 There we are with 10 of our closest strangers and Troy on the left.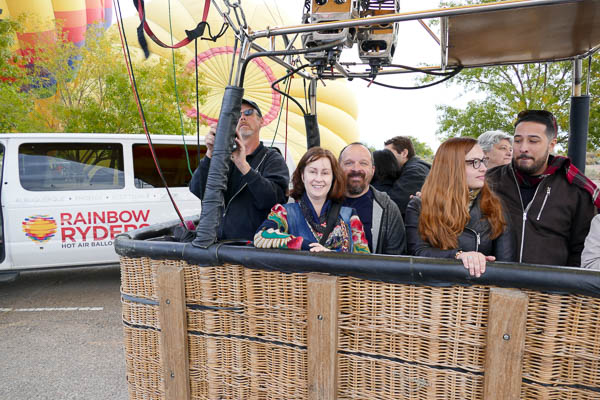 And here are some amazing views from the ride. We really lucked out with the aspen changing colors so late in the season. Troy took us up out of the parking lot, over the suburbs towards the Rio Grande river, and then we dipped down just over the trees until...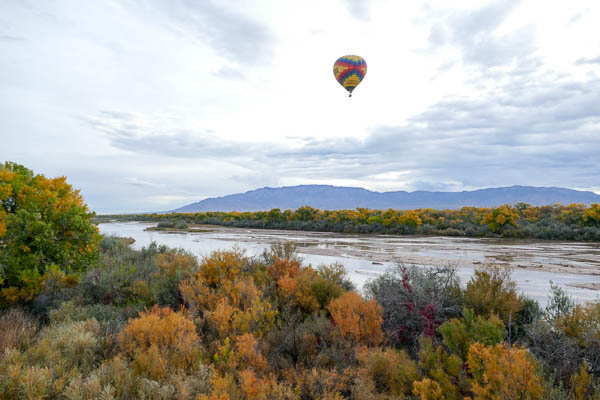 we came within what felt like a foot of the riverbed! Then back up we went! Those are coyote tracks by the way in the mud.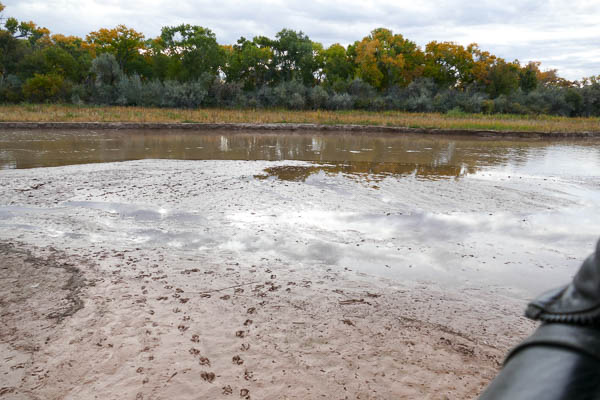 Super pretty, eh?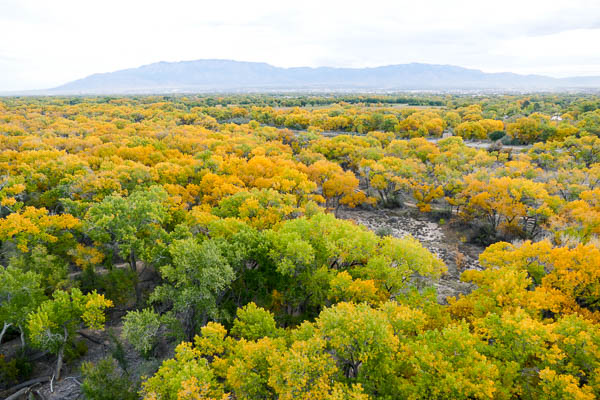 I guess we went up pretty high! I think the max was 4,000 feet.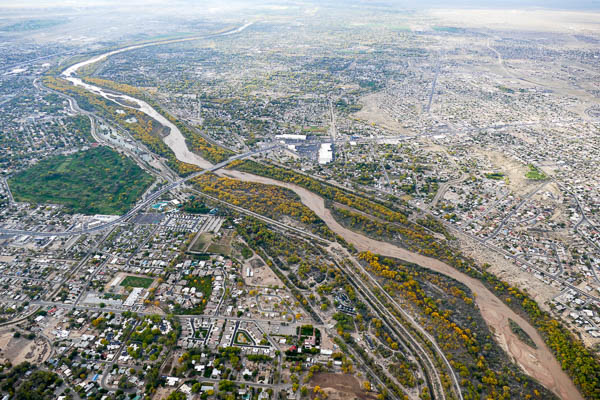 Check out the Albuquerque expanse.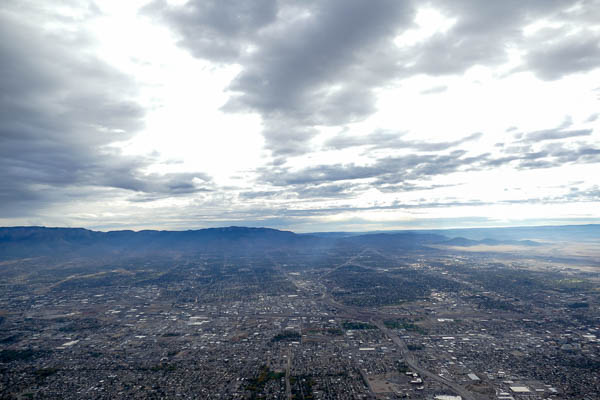 We didn't even see the Happy Anniversary banner on the side until after they loaded the basket back up at the end. We had a very smooth landing, watched the crew pack it all back up, and celebrated with a champagne and fruit juice toast. Plus we got certificates of our achievement, which are TOTALLY going into the scrapbook. :)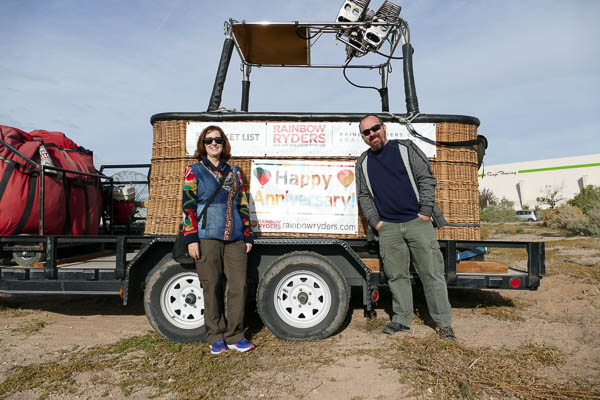 That afternoon we sweated our butts off walking around two areas of Petroglyphs. Native American tribes used to carve symbols and images onto the rocks in the area, but to this day no one knows what they represent or mean. They're roughly from around the 1300s. If some of the local tribes know what they mean, they refuse to tell anyone. This kind of thing just fascinates me because in a way it is a language and I just really want to know what they were communicating to each other. Dangers? Rituals? Where to go for a taco? (See the top left image; looks like a taco in a stand.)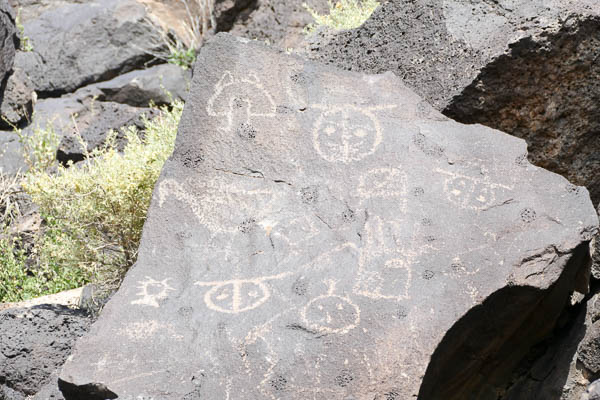 Did they run into Kid N' Play?
One motif I saw a lot is that four-pointed star. It's either filled in or it has a face in the middle.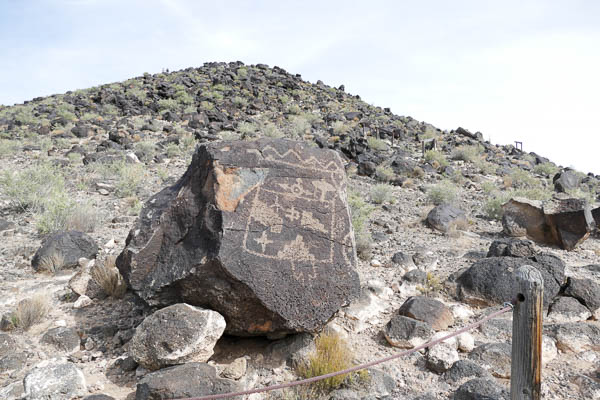 Possibly coyotes, but people with tails??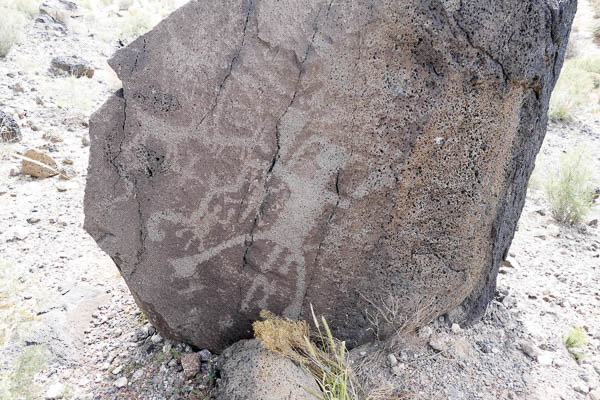 This set to me looks like a bird being set free and a bird trapped in a cage.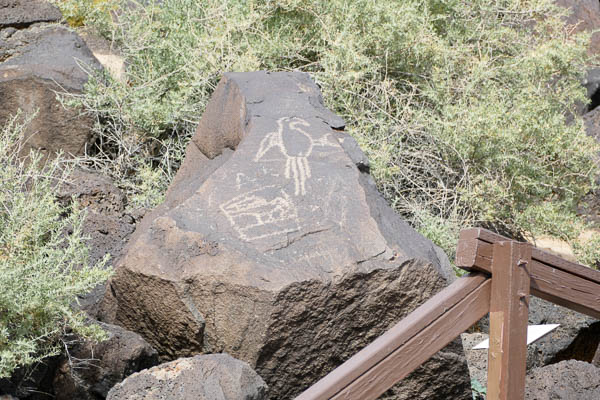 Speaking of birds, this is a Road Runner!!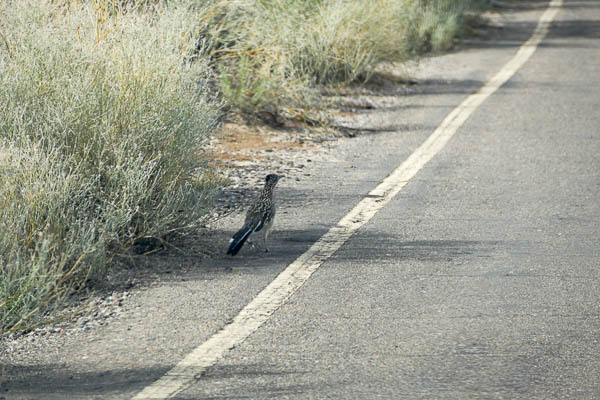 And lastly, we roamed around old town Albuquerque as well as the current modern drag. The old town is rows and rows of one-story adobe structures like this with lots of shops selling souvenirs, jewelry and handmade items.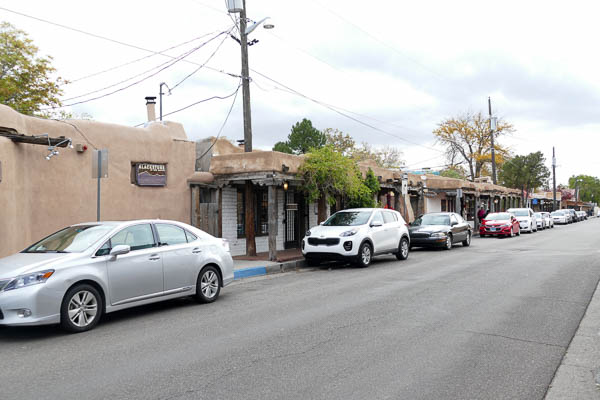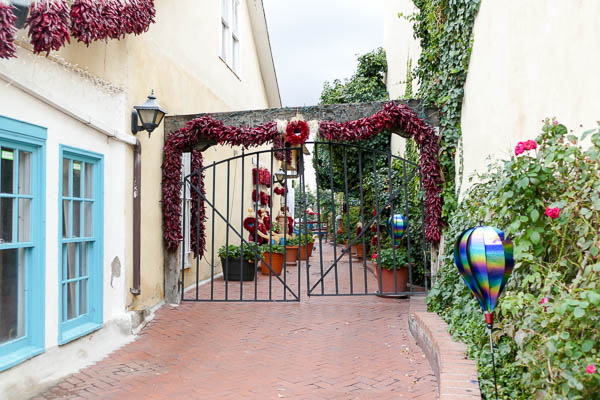 The modern drag. I had been to Albuquerque before: back in 2009, I took a day trip here with some other graduates of the Flight Without Fear program. Wanting to get more experience flying without paying a ton of money or going too far, we spent a Saturday in ABQ. We flew down, had a great Mexican meal at a restaurant around the corner, walked up and down this street checking things out, and flew back. So ever since then, this Library building with the huge book facade has been stuck in my mind. On this trip it was my mission to find it again, and we did!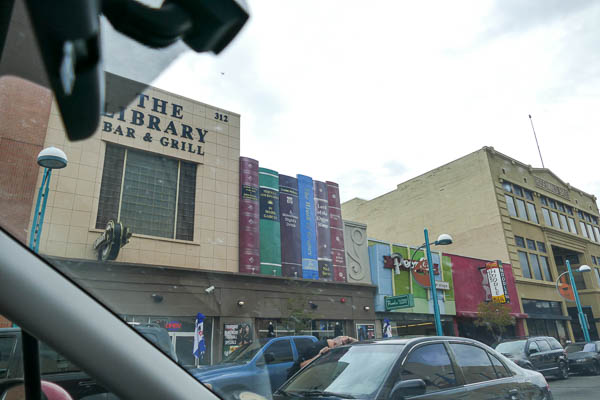 So, overall we really enjoyed our week in New Mexico. We saw a wide variety of things, knocked several things off of my Bucket List, and even got to relax a bit. The day after our hot air balloon ride, it was overcast and rainy. That's the day we walked around the old section and drove through the new section, but we also spent the afternoon chillin' in the hotel. JC gambled and lost while I had a lovely treatment at the spa: an exfoliation, then 20 minutes in a jetted aromatherapy spa tub, then a light massage with lotion.
On our final day we just drove home. It's an 8-hour drive from ABQ straight up I-25. We stopped in a small town in New Mexico right before the border for a warm home-cooked meal to get us out of the wet and the cold. Oh well, it is winter after all!
HAPPY TEN-YEAR HALLOWVERSARY BABE!